The demand for clean, sustainable, and green energy is higher than ever. Microsoft is trying to introduce new settings in Windows 11 to ensure there is very little wastage of energy. In this post, we will talk about Sustainable, Green Power Efficient settings for Windows 11 and how you can configure them on your system.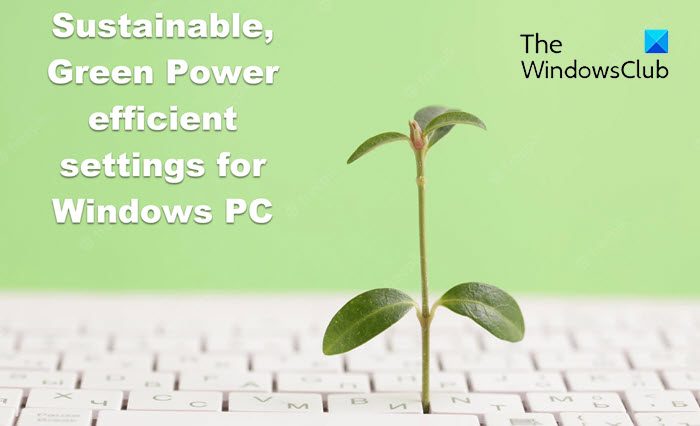 Sustainable, Green, Power efficient settings for Windows 11
To configure Power efficient settings for your Windows 11 computer, make the following adjustments:
Change the turn off screen time
Change the Sleep time
Let us talk about them in detail.
1] Change the turn off screen time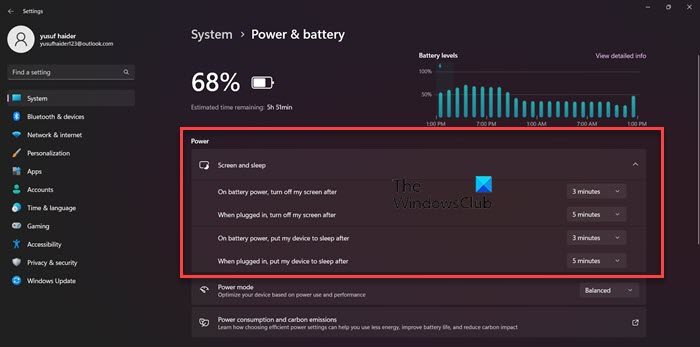 In order to conserve energy, we can not let your screen be on for a very long time. A lot of us leave our computers on and wait for Windows to turn off the screen, although Windows sets screen off time by default which is pretty good, we can do better. So, to conserve your computer's energy, follow thes steps and lower the time it will take for your screen to turn off.
Launch Windows Settings by Win + I or by searching it from the Start Menu.
Click on the System option from the right panel.
Select Power & Battery from the left panel.
Expand Screen & Sleep, and make the following adjustments.

On battery power, turn off my screen after: 3 minutes
When plugged in, turn off my screen after: 5 minutes

Close Settings.
Once you have made these adjustments, a lot of your battery will be saved.
Read: Tips to Conserve Battery Power and Extend or Prolong Laptop Battery Life in Windows
2] Change the Sleep time
Next up, let us change the sleep time as well. Putting your device to sleep when not in use can conserve a lot of your energy. It will not just be good for the environment but also for the battery as changing the device frequently can damage its health. To change the sleep time to what's ideal for your device, follow the prescribed steps.
Open Settings.
Go to System > Power & Battery.
Expand the Screen & Sleep option and then make the following alteration.

On battery power, put my device to sleep after: 3 minutes
When plugged in, put my device to sleep after: 5 minutes

Click on the cross button to close Settings.
This will make sure that your device is not chugging down the battery when you are not using it.
These were some of the adjustments that you can make in order to use your device in a more sustainable manner.
TIP: If you do not see this Settings page, you can Enable the Energy Recommendations Settings page in Windows 11 using ViveTool, right away.
Energy Recommendations in Windows 11 to reduce Carbon footprint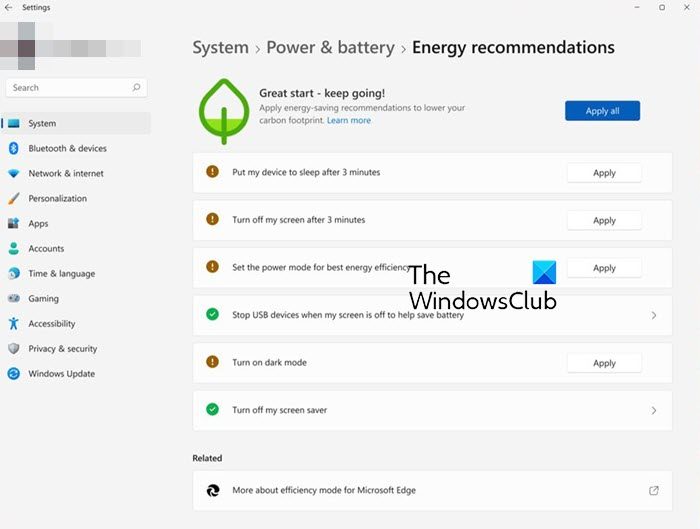 Windows 11 now offers Energy Recommendations under Settings. To configure them, do the following:
Press Win+I to open Windows Settings
Go to System > Power & Battery settings
Click on Energy Recommendations.
You can review and apply these recommendations to improve the energy efficiency of your PC and reduce your carbon footprint

Put my device to sleeps after 3 minutes
Turn off my screen after 3 minutes
Set the power mode for best energy efficiency
Stop USB devices when my screen is off to save battery
Turn on Dark mode
Turn off my screen saver.
Read: Windows Update is now carbon aware in Windows 11
How do I maintain my battery health?
One of the best things you can do to maintain the health of your battery is to not use it when charging. Also, it may sound a bit counterintuitive but charging your battery to 100% or reducing it to 0% can degrade its health. Ideally, you should charge the device up to 50, but since we are not in an ideal world, charging the device to 80% is not a bad option. You should also ensure that your battery is not overheating.
Read: 
How can I make Windows 11 more power efficient?
There are multiple settings you can tweak or modify make Windows 11 more power efficient within moments. You can find these settings in the Windows Settings panel. For that, press Win+I  to open Windows Settings panel and go to System > Power & battery > Energy recommendations.
Read: Tips to improve Battery life of Wireless Keyboard and Mouse.