Windows 11/10 has brought many improvements including improved security. One of those improved security features is an option to sign in with a PIN code. If you're encountering the error message Something happened and your PIN isn't available on your Windows computer, you can try our solutions we will present in this post to successfully resolve this issue.
When you encounter this issue. you'll receive the following full error message;
Something happened and your PIN isn't available.
Click to set up your PIN again.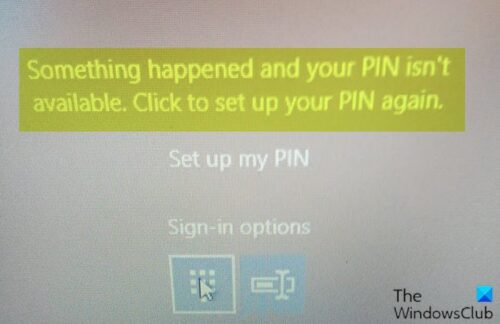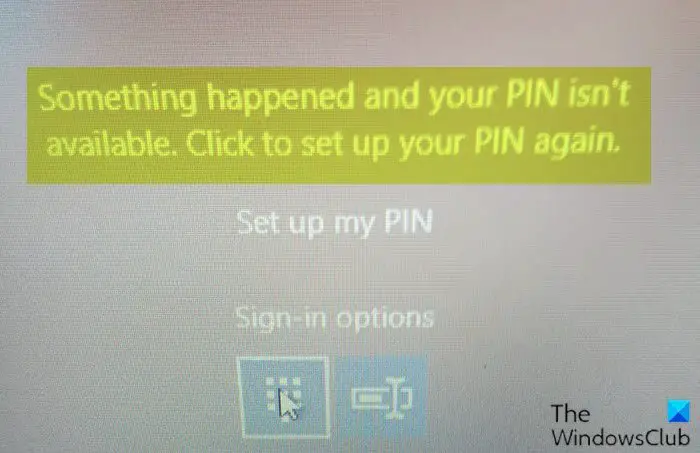 Something happened and your PIN isn't available
If you're faced with this Something went wrong and your PIN isn't available issue, you can try our recommended solutions below, based on either of the two scenarios peculiar to you and see if that helps to resolve the issue.
1] If you know your Microsoft Account or Local Account password, simply click on Sign-in options and choose the password and log in. After login, you can remove the existing PIN and then add a new PIN.
In the event the above doesn't work, you can boot to BIOS settings of your device and check if the secure boot is turned on and the legacy boot is off. This configuration may solve the issue immediately.
2] If you don't know the password and don't have Sign-in options link at the login screen, try to boot into Safe Mode first. Try the fixes mentioned in this article and check if you can add a newer PIN then. After adding a new PIN, the issue will no longer present.
Still, if you can't boot into Safe Mode, you may need to reset your Windows 10 device without affecting personal data.
Another solution you can try is to delete the NGC folder (the directory path is given below) and add a new PIN code.
C:\Windows\ServiceProfiles\LocalService\AppData\Local\Microsoft\NGC
We hope this helps you in resolving the Something happened and your PIN isn't available issue on Windows 10!
Fix: Windows Hello errors while creating a PIN.
A PIN is a set of numbers, or a combination of letters and numbers, that you choose yourself. Using a PIN is a quick, secure way to sign in to your Windows 10 device. Your PIN is securely stored on your device rather than in the cloud, keeping it safer.
Your comments are most welcome.
Related: Windows asks for PIN instead of Password on Sign-in screen.