Some users lately have been reporting the 0x80280013 error with Windows when they try to log in with their PIN. This error usually keeps occurring multiple times and sometimes the users are also asked to change their PIN with the error message like, "Something went wrong and your PIN isn't available (code: 0x80280013). In this post, we will learn about some feasible fixes to this error.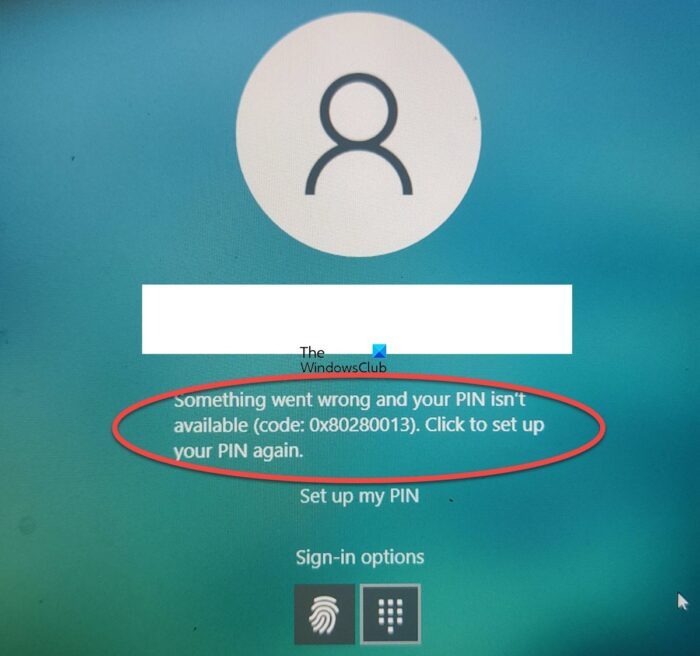 Fix PIN Error 0x80280013 on Windows 11/10
You can use the following suggestions to fix PIN Error 0x80280013 on Windows 11/10 PC:
Update or Rollback Windows Updates
Login using your password and Reset your PIN
Boot in the Safe Mode and delete NGC Folder
Turn Off Fast Startup
Use System Restore
Something went wrong and your PIN isn't available (code: 0x80280013)
1] Update or Rollback Windows Updates
Update your Windows to the latest version available. You can check the available updates from Settings > Windows Update > Check for Updates.
On the other hand, if you have started seeing this error after any particular update, you can uninstall the Update via Settings and then hide it.
2] Login using your password and Reset your PIN

Obviously, you first need to log in to reset your PIN, so you can use your password to log in here and then reset or remove the PIN to avoid this error.
Press Win+I to open Settings.
Go to Accounts > Sign-in options.
Go to Use a PIN to sign in to Windows, apps, and services.
A new pop-up will open where you can reset your PIN
This normally works, but if it doesn't work for you, move on to the next fix.
Related: Your PIN isn't available Status 0xc000006d
3] Boot in the Safe Mode and delete NGC Folder

If you cannot log in for any reason or error, you can boot your PC into Safe Mode and make the required changes. Here we need to delete the NGC folder in your PC to avoid this PIN error. For those who don't know, the NGC folder on our PC holds your PIN-related data and if any of the data in this folder gets corrupted, you will not be able to log in using your PIN.
When we delete this folder, the system automatically creates a new one and this may help you get rid of the Error 0x80280013.
To enter into Safe Mode- Power off your computer and turn it on again. Before the Windows load, press the power button and hold it for at least 5 seconds.
Repeat it and your PC will boot into the recovery mode
Go to Troubleshoot > Startup Settings > Enable Safe Mode.
Once you have entered the Safe Mode, navigate to
C:\Windows\ServiceProfiles\LocalService\AppData\Local\Microsoft
Locate the NGC folder, right-click and delete it.
Reboot your PC and try to login in.
Remember that you need permission from the computer's administrator to delete the NGC folder.
Related: Something happened and your PIN isn't available
4] Turn Off Fast Startup
Fast Startup is turned on by default on our Windows PCs, but turning it off can help you fix the Error 0x80280013.
To turn it off, press Win+R and type Control Panel.
Go to Power Options and select Choose what the power buttons do from the left panel.
Uncheck the tab 'Turn on the fast startup' and click on Save Settings.
See if this fixes your error.
Fix: 0xd00000e5, 0x8007139f, 0x80090030 PIN errors
5] Use System Restore
Creating a System Restore Point before performing any technical change in your system is always a good idea. This way, you can take your system back to the date when the error was. If you have any System Restore Point created on your system, you can take your PC back to that point and see if you are still getting the Error 0x80280013.
To go back to a Restore point:
Launch your PC into repair mode and then go to Troubleshoot option.
Click on the Advanced option and then select System Restore.
Remember that you won't see this option if you have already created a System Restore Point.
These are a few common fixes that may help you to fix the 0x80280013 login error on Windows 10. If none of these fixes are working for you, we would suggest you reinstall Windows on your PC.
Please let us know via comments if this post helped you.
Read: List of PIN Error Codes on Windows with solutions
How do I fix error code 0x80280013?
Reset your PIN first and see if that helps. There are some other fixes also such as deleting the NGC folder or turning off Fast Startup. You can also use the System Restore point to get rid of this error. However, if any of them doesn't work, you need to reset your PC.
Why does Windows 11 keep asking for my PIN?
This could be due to some corrupt files in your PC Settings. Before you try any other fix, try to remove the PIN login by accessing the Sign-in options page of the Windows 11 Settings app and then set up Windows Hello again.
Read- Windows Hello keeps asking me to set up a PIN in Windows 11.