If your Outlook calendar is not showing holidays on your Windows PC, this article will help you resolve the issue. In normal circumstances, the Outlook calendar displays regional and global holidays to help users manage their schedules. This can be frustrating if you depend on these updates to plan your working days and holidays.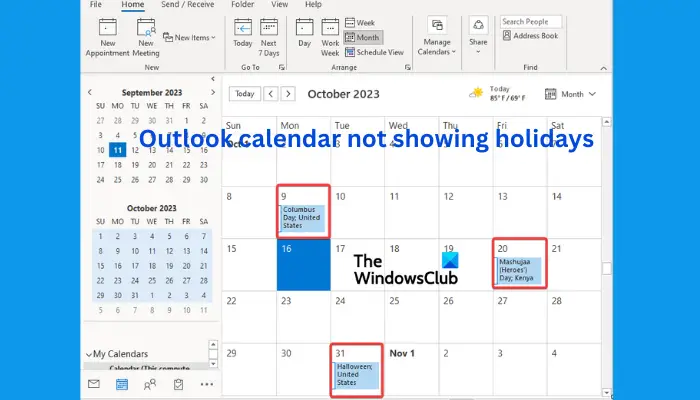 Once you log in to your Outlook app for the first time, the holidays are not updated, and you need to activate them for the countries you want manually. However, if you've already activated holidays and you can't see them, then there is an issue. The problem can happen abruptly or after an app or system update.
Why is Outlook's calendar not showing holidays?
There are several possible reasons why holidays are not showing up on your Outlook calendar. The following are some of the causes of this issue:
Microsoft can remove holidays in Outlook for certain regions by default, so you won't see them.
If you are using old versions of Outlook or current ones with missing updates.
Incorrect dates and times, or synching issues from one device to another,
A user might have disabled the holidays option in Outlook's customization settings.
There could be a bug, app changes, or other temporary technical issues with the Outlook calendar.
There could be other possible causes of the problem, but whatever it is, we need to fix it quickly.
Fix Outlook calendar not showing holidays
When the Microsoft Outlook calendar is not showing holidays in your region, shows wrong dates, or has other Outlook holiday issues, we recommend fixing the issue using the following solutions.
Delate and then manually add holidays to the Outlook calendar
Update Office and Windows
Repair Microsoft 365
Clear Outlook's cache
Reinstall Microsoft 365
Let us look at these solutions one by one.
1] Delete and then manually add holidays to the Outlook calendar
We recommend deleting the calendar information in Outlook, adding it back manually, and ensuring you update the app. Sometimes, your holidays might be disabled, and the best way to resolve them is by manually adding them to your Outlook calendar.
To delete calendar information in Outlook, open Calendar and go to View > Change > List > Arrangement > Categories. Scroll down and locate the Holidays category, select the holidays you want to delete, and then select Home > Delete.
Next, add the holidays manually to the Outlook calendar. To do this, perform the following steps:
Open Microsoft Outlook and go to File > Options. On the left side, locate and click Calendar.
On the right side of the window, go to Calendar Options and select Add Holidays.
A new small wizard will appear; select your country and click OK. Wait for the app to add the holidays.
NOTE: You can select more than one country or region to add holidays from.
2] Update Office and Windows
Windows PCs automatically install updates unless the feature is disabled. An updated version of Office or Windows ensures that all issues in the previous versions are resolved. To update Office, follow the steps below:
Open Outlook and click on File.
Next, select Office account and then click Office updates.
Select Update Options which is an option next to Microsoft 365 and Office Updates.
You will see a drop-down menu; select Update Now.
Finally, restart your computer and launch Outlook to see if you resolved the error.
Follow this post to update Windows.
3] Repair Microsoft 365
Repairing Microsoft 365 or Office ensures that technical hitches in the app are resolved. To repair Microsoft 365 or Office using the Control Panel, perform the following steps:
Search for Control Panel in the Windows search bar, and select Open.
Go to the Programs option and click Uninstall a program.
Look for Microsoft Office, click it, and select Change.
Select either Quick repair or Online repair, and click Repair to initiate the process.
Finally, wait for the process to complete and restart your computer.
4] Clear Outlook's cache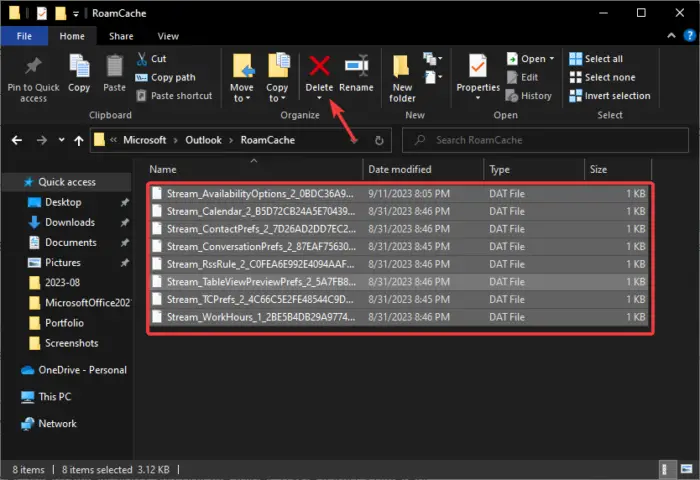 When you clear Outlook's cache, you delete app data that might be corrupted or outdated. These files can cause issues in the Outlook calendar.
To clear Outlook cache, open the Run dialog box, copy and paste the path %LOCALAPPDATA%\Microsoft\Outlook\, and press Enter on your computer keyboard. Next, locate and double-click on the RoamCache folder to open it, and delete everything in that folder. Alternatively, you can copy the folder, paste it into a different location on your computer, and then delete it.
Windows will create new files when you restart your PC, hopefully resolving the Outlook calendar not showing holidays issue.
5] Reinstall Microsoft 365
Reinstalling Microsoft 365 or Office should be the last solution if nothing else works. Usually, calendar issues can be resolved with the above solutions, but in rare cases, you might need to reinstall Office or Microsoft 365.
First, you need to uninstall the app from the Control Panel in the Programs section. After that, go to the official Microsoft 365 website, download, and install the app.
That's it for now. We hope one of the solutions works for you.
Read: How to add National Holidays to Calendar app
How do I fix calendar problems in Outlook?
If you run into calendar issues in Outlook, ensure that the syncing is working properly, repair the app, or clear the app data in the system files. If those solutions don't work, you can add the calendar manually or reinstall Microsoft Office or Microsoft 365.
Read: How to display two Time Zones in Outlook Calendar
Where is Outlook holiday file?
The Outlook holiday file is located at drive:\Program Files\Microsoft Office\Office xx\LCID\outlook.hol for example, C:\Program Files\Microsoft Office\Office14\1033). XX is your Office version number like Office 19, etc. Holiday event dates are saved in HOL files and shown in the Outlook calendar.