Windows 10 features an easy way to monitor and control data usage. If you do not have an unlimited data package or plan to monitor the amount of data a computer is consuming, then this feature comes in handy. This feature comes in handy to monitor kids' PC in terms of data usage since Microsoft Family doesn't tell anything about it. In this post, we will show you how to view, set up, remove, reset, edit, manage the Data Usage Limit on Windows 10.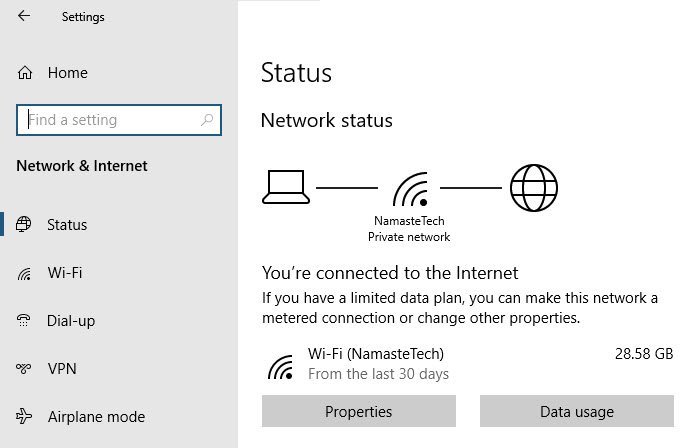 Manage Data Usage Limit on Windows 10
Data usage tracking is not new in Windows 10, but it has been reorganized in May 2004 Feature Update. In some ways, it has taken a step back, but their new features are useful in terms of usage. When you open Network and Internet settings, data usage details are upfront for the connected network. It represents 30 days of usage and clearly gives the message that if you are on a limited network, you can manage it by following the data usage button.
Data usage was earlier available as one of the sections under Network and Internet, which is merged with the status section. The only advantage I can see is that it makes it clear upfront. It is beneficial for many countries where data still doesn't come cheap.  We will cover the following topics for:
View data usage
Setup and view the remaining data
FAQ's Windows 10 Data Usage
How to view data usage on Windows 10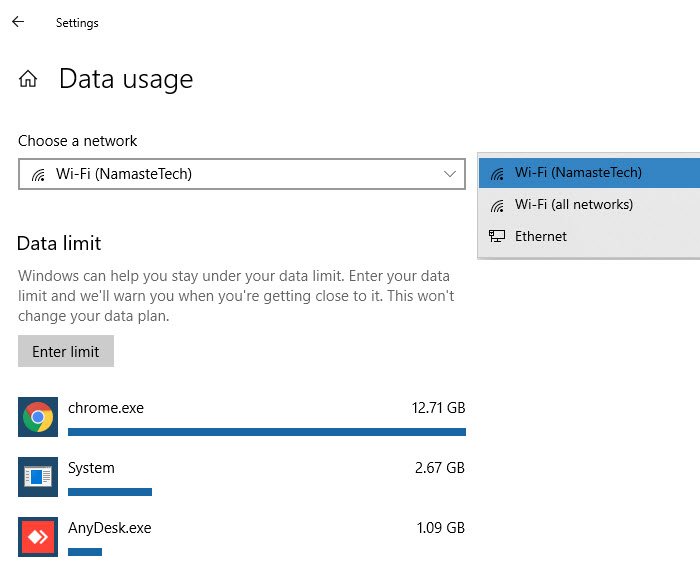 Windows 10 monitors network traffic on all the adapters connected to Windows 10 PC. If you have both ethernet and wifi adapters, you can view data usage on a per adapter basis. The data usage that is shown upfront is one with which you are connected at that moment.
Open Settings ( Win + I)
Navigate to Network & Internet > Status
The amount of data used on the connected network is displayed above the Data Usage button.  Click on the button.
It will open the Data Usage section where you can select the network from the drop-down menu.
Once selected, it will show details of per-app data usage, and the option to configure the data limit for that network.
How to set up data usage limit on Windows 10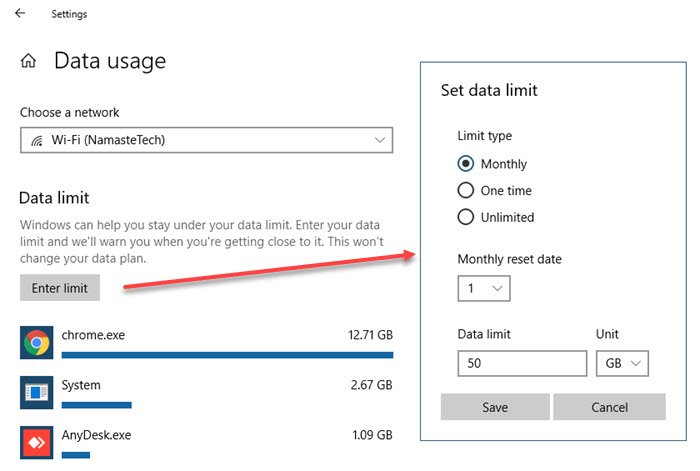 Open Settings, and navigate to Network and Internet > Status
Click on the Data Usage button, and then select the network from the drop-down menu.
Then press the Enter Limit button.
It will open a pop-up window where you can set the limiting factors:

Limit Type: Monthly, One Time, Unlimited
Monthly reset date: Make sure to match it with the billing cycle
Data Limit in terms of GB or MB

Click the save button, and ti will refresh to display the following information.

Time left until reset with the exact date.
Data used
Data Remaining.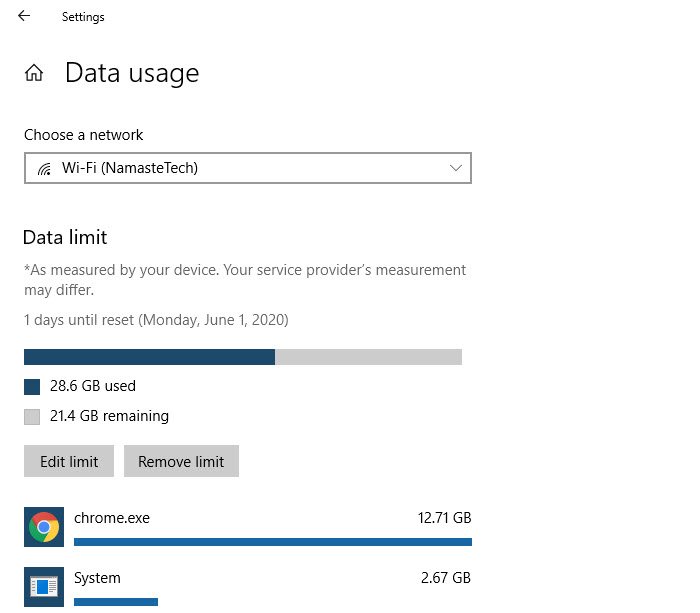 Interesting to note that data was always monitored, and only when you enable the option, it is shown differently. Do note that the data is only calculated for this device. Most of the homes have setup router, and if you want to tally it with ISP stats, it is better to look at data logged in the router. This setting is only to understand the data usage of the computer and on a per-application basis.
Windows 10 Data Usage FAQ
How to remove the data usage limit in Windows 10?
Open Settings and go to Network & Internet  > Status, and click on the Data Usage button. If you want to remove the data limit for the current network, simply click on the Remove limit button. If it's for a different adapter you wish to remove, then select it from the drop-down menu, and select it. Then remove the limit.
Post this; no warning will be displayed about data usage even though it will be collected in the background if you ever wish to see it.
How to reset data usage on Windows 10?
Open Network and Internet settings and click on the Data Usage button. Select the network adaptor of which you want to reset the limit. Scroll to the end of the page, and click on Reset usage stats. The button has been oddly placed at the bottom. Once you do that, the calculation of data usage will start again. There is no way to disable this feature as of now.
How to view remaining data?
Under Network & Internet > Status, click on Data Usage, and then select the adaptor for which you want to view the remaining data.  If you have set up the Data Limit earlier, you should see a  progress bar, which indicates how much of the data limit has been consumed. Under that, you have exact details of the consumed data and the remaining data. There is no way to set or view the data limit of individual applications.
How to edit data usage for a network?
Go to Settings > Network and Internet > Status. Click on the Data usage button, and then click on the Edit limit button.  Now you can change the data usage settings in terms of limit type, monthly reset, and data limit.  Do note it will change accordingly, and will not reset the already collected data.
I hope you like the new feature of data usage in Windows 10 May 2004 update. Earlier, there was a dedicated section of data usage in the Network and Usage section. It offered a dashboard and a centric approach to data usage management. But now Microsoft has decided to change things.