Some PC gamers are reporting the issue where the League of Legends (usually abbreviated LoL) main game process does not launch on their Windows 11 or Windows 10 gaming computer. This post provides the most adequate and applicable solutions affected gamers can try to resolve the issue.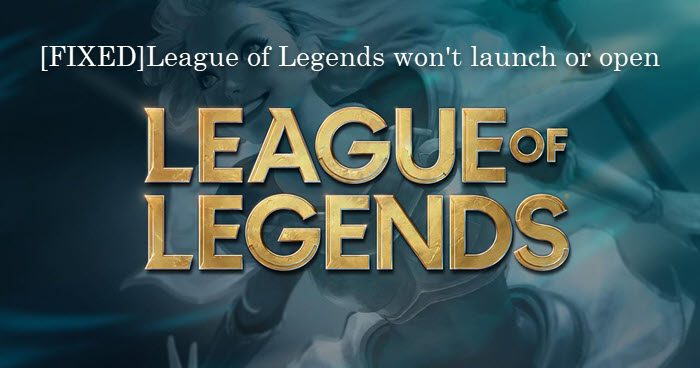 You're likely to encounter this issue on your gaming system due to one or more of the following reasons;
Pending updates for the game
Outdated GPU drivers
Corrupt Game Client or Shortcut
Interferences from other processes
Insufficient or lack of Admin privileges
Internet Connection issues
League of Legends not opening or loading on PC
If the game League of Legends won't open or launch or open on your Windows 11/10 gaming PC, you can try our recommended solutions presented below in no particular order and see if your problem is resolved on your gaming system.
Initial checklist
Manually check for League of Legends Client update/patch
Troubleshoot in Clean Boot state
Update graphics card driver
Verify Integrity of League of Legends Game Files
Edit League of Legends Config File
Reinstall League of Legends
Let's take a look at the description of the process involved concerning each of the listed solutions.
1] Initial checklist
For possible quick fixes, you can try the following tasks one after the other; and after you must have completed each, you can check if the LoL game can now open or launch without issues on your gaming device – if not, you can then proceed with solutions proper as detailed below.
Use the LoL client EXE file to launch the game directly. You can first attempt to run League of Legends to open the game in a generic way, which requires you to use the game executable file (lol.launcher.exe) by simply double-clicking this EXE file. If the game doesn't open, try restarting your PC and then launch the LoL client on your PC.
Run League of Legends with admin privileges. You can use the lol.launcher.admin.exe application in the game installation directory folder in File Explorer. Alternatively, you can right-click on the LoL shortcut, go to the Properties > Compatibility tab and check the Run this program as an administrator option – this setting persists unless it is changed or the game is uninstalled.
Kill all other unnecessary running background processes. You will have to kill multiple unwanted processes to allow new processes to open, as a full RAM or high CPU usage can stop your computer from launching any further processes. On the other hand, if all the running processes are integral to your computer's functioning for the game to run, your only option is to get a RAM upgrade.
Check your Firewall and internet/network connection. Without the internet you will not be able to play League of Legends; so it's likely the Windows Firewall or your third-party antivirus firewall or dedicated firewall can be responsible for restricting LoL game access to the internet. So, make sure to allow the LoL client through Windows Firewall and you can also whitelist the app. For third-party security software, refer to the manual or check the software settings menu. In the same vein, to rule out general connectivity issues on your gaming PC, you can check and fix potential network and internet connection problems.
Read: Fix The Sims 4 not opening or launching on Windows PC
2] Manually check for League of Legends Client update/patch
Generally, when a network is detected or when the game is launched, any online game updates gets automatically applied. In some cases, due to one reason or another, these updates or patches are not received by the game; in which case, you'll have to manually check and install the updates/patches if available.
To manually check for League of Legends Client update/patch, do the following:
Press Windows key + E to open File Explorer.
Next, open the RADS folder.
Next, open theProjects folder.
Now, locate and delete the following two folders:
Next, return to the main game directory and delete all the asi.ms.win…dll files in this install directory.
Exit File Explorer.
Run the LoL game launcher.
If still the game League of Legends won't launch on your Windows 11/10 gaming PC, you can try the next solution.
Read: Fix RADS Error on League of Legends on Windows PC
3] Troubleshoot in Clean Boot state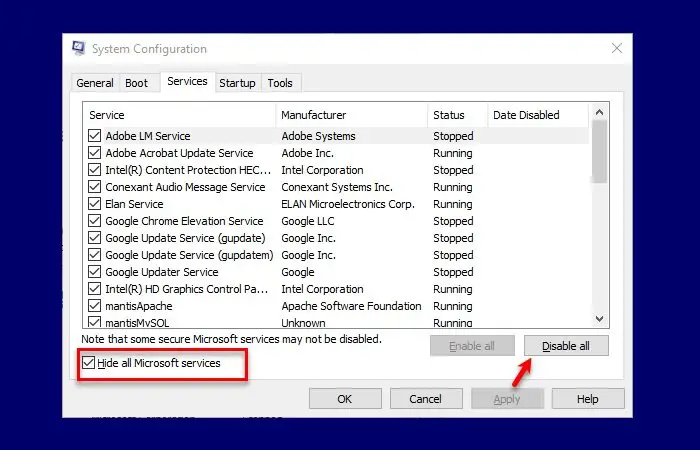 It's well known that in some cases, most especially third-party rocesses and applications that run in the background can stop or intefere with the normal functioning of other programs on a Windows 11/10 computer – this is likely the case here as well, which is preventing the LoL game from launching on your device.
This solution requires you to troubleshoot in Clean Boot state to start Windows by using a minimal set of drivers and startup programs, which eliminates software, processes or services conflict. If LoL game runs smoothly in Clean Boot state, then you may need to manually enable one process after the other and see which is the offender that creates problems for you. Once you have identified it, you need to disable it or uninstall the software that uses this culprit process.
Read: Call of Duty Vanguard is crashing and won't launch on PC
4] Update graphics card driver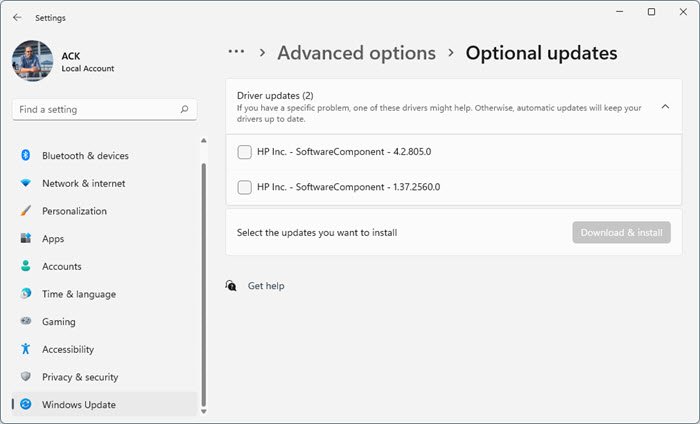 You may be experiencing the issue in hand if your graphics card driver is outdated – consequently, these old drivers may not be compatible with the LoL game. In this case, you have the following options to get the latest graphics adapter driver:
If the issue persists after this task or your graphics card driver is already up to date, you can try the next solution.
5] Verify Integrity of League of Legends Game Files
Over time game shortcuts or launchers tend to become corrupt; when this happens, the affected game will not open as expected. Also, If there are missing game files, the game may not run – in this case, to fix the issue and get these files back, you will have to check the integrity of the files in the game installation folder. This action will also repair corrupt or missing files that were caused by an inappropriate installation process.
To verify the Integrity of the League of Legends Game File, do the following:
Open the lol.launcher.admin application (the game manager interface) in the game installation directory on your computer.
Click on the Settings gear icon.
Select Initialize Full Repair option from the menu. The file verification process will take a while to complete.
When the procedure completes, close the window.
Restart your computer.
All the missing files will be restored to the League of Legends installation folder, and any corrupted system file or cfg file will be replaced with healthy copies.
Read: GTA 5 not launching or running on Windows PC
6] Edit League of Legends Config File
By modifying or editing the LoL game Config files which contain the game configuration details, you might be able to run LoL on your Windows 11/10 gaming computer. Do the following:
Open File Explorer.
Navigate to and open the League of Legends folder.
Next, open RADS folder, then the System folder.
In the open folder, locate the user.cfg file and right-click to open with Notepad.
Now, scroll through the text document and find the following line:
 leagueClientOptIn = yes
Change the yes to no.
Save (Ctrl+S) and exit the text editor.
Now, launch the LoL game and see if the game opens without issues. Otherwise, try the next solution.
7] Reinstall League of Legends
At this point, if the issue in focus isn't resolved yet, it may be that you are dealing with a case of bad or botched game install or even severe game files corruption that a repair is already done wasn't able to fix. In this case, the viable solution is to reinstall the LoL game.
You can uninstall the LoL game – for a clean uninstall to remove all residual files that might be left over which can interfere with a new install, we recommend you use a third-party software uninstaller, To install the game again on your Windows 11/10 gaming system, connect with your Riot ID on the Riot Games website and download League of Legends.
Hope this post helps you!
Related post: Fix Resident Evil Village not launching on Windows PC
What do you do when League of Legends won't open?
If League of Legends won't open or launch on your Windows 11/10 gaming computer, you can try the following suggestions:
Make sure LoL is really closed.
Reboot your computer.
Launch the game directly.
Try running the game as Administrator.
Close potentially interfering apps.
Run a Full Repair of the Game.
Reinstall the Game.
Update or Reinstall your GPU Driver and Windows.
Why does my League of Legends keep crashing?
Most likely due to corrupt game installation files. So, if you noticed your PC running slow after a few games, as well as League constantly crashing, deleting the log files is a simple fix. You can freely delete all files in your Logs folder for LoL to help boost performance.