If you receive an IRQL_GT_ZERO_AT_SYSTEM_SERVICE Stop Error on your Windows 11/10/8/7 computer, then this post may interest you. When you receive such a blue screen error, or stop code, the computer is shut down abruptly to protect itself from data loss. A hardware device, its driver, or related software could well be the cause.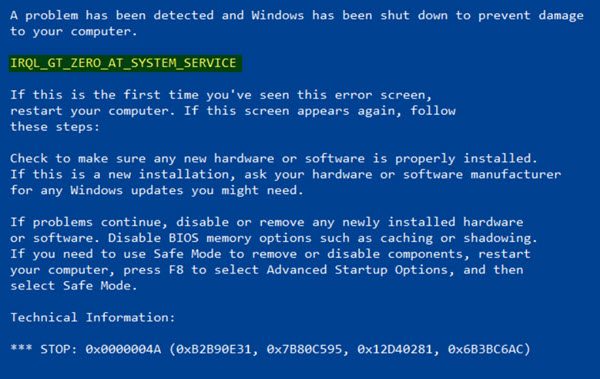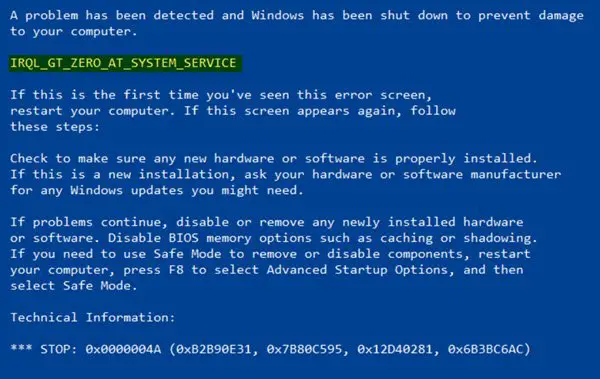 IRQL GT ZERO AT SYSTEM SERVICE
There is not much information available about this on the net and all that Microsoft says about this Blue Screen is:
The IRQL_GT_ZERO_AT_SYSTEM_SERVICE bug check has a value of 0x0000004A. This indicates that a thread is returning to user mode from a system call when its IRQL is still above PASSIVE_LEVEL.
If you receive this error, here are a few ideas I can offer:
1] Run Blue Screen Troubleshooter
Run the Windows Blue Screen Troubleshooter and see if that works for you.
2] Update Windows OS and all installed software
Make sure you are using the latest version of all your installed software and ensure that your Windows 11/10 is updated.
3] Update Drivers
Ensure that all your Device Drivers are updated.
4] Update BIOS
Check your system BIOS carefully Is an update available from the manufacturer of the system or motherboard? If so update the BIOS. Check the BIOS documentation carefully; resetting all BIOS options to their defaults can sometimes resolve an issue caused by over tweaking.
5] Check Hard Disk
Run ChkDsk to check your Hard Disk for errors.
6] Check your Memory health
Run the Windows Memory Diagnostics Tool and Memtest86+ to check your Memory health.
7] More suggestions
There are some advanced Blue Screen troubleshooting suggestions available which you can take a look at.
Hope something helps!