When you try to format your storage drives including HDDs, USBs, SSDs, SD cards, etc using the format command in Command Prompt on your Windows 11 or Windows 10 computer, Windows may be unable to complete the formatting with the error message Invalid media or Track 0 bad – disk unusable. This post is intended to help you with easy solutions to resolve this issue on your system.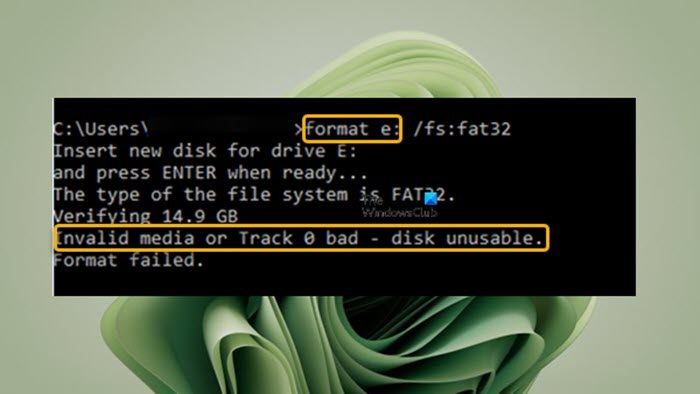 When you encounter this error while formatting your drive, you may not be able to access the data on the storage device. The error doesn't necessarily mean Track 0 is bad as you may get the error due to other reasons including:
Damaged or corrupted MBR or partition table.
The drive is not configured correctly.
Bad sectors on the hard drive.
Corrupted drive partition.
Hard drive with Unallocated space in Disk Management.
Write protection is enabled on the drive.
A track on a disk drive is a circular path on the surface of a disk on which information is recorded and from which recorded information is read. The Track 0 itself is located at the very start of a disk and is used to save information about the layout of the disk and generally consists of the first 64 sectors of the disk which includes the Master Boot Record.
Invalid media or Track 0 bad – disk unusable
If you get the error message Invalid media or Track 0 bad – disk unusable when you attempt to format an HDD or SSD, USB drive, SD card, etc on your Windows 11/10 PC, then our recommended fixes presented below should help you resolve the issue with the storage drive on your system.
Recover files/data using Data Recovery software
Check USB connection for external drives
Disable Write-Protection
Format drive to another file system
Format the drive via File Explorer, using DiskPart, Disk Management, PowerShell, or OEM software
Run CHKDSK
Repair Master Boot Record (MBR)
Replace storage drive
Let's look at the description of the process as it relates to each of the listed solutions.
1] Recover files/data using Data Recovery Software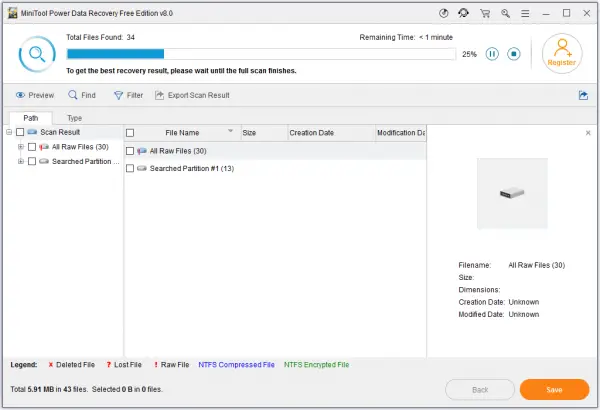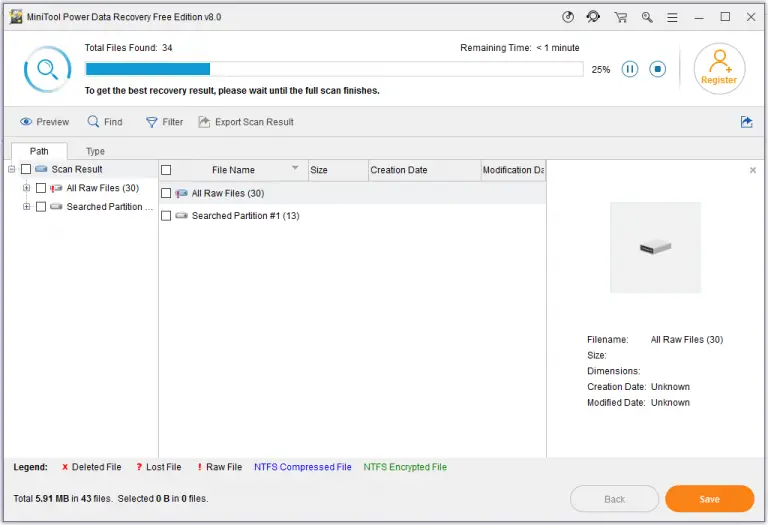 The solutions to the storage drive Invalid media or Track 0 bad – disk unusable error can cause data loss. So, assuming the drive contains important data that you do not have a backup copy, then we suggest before you proceed, you can use a free data recovery software like the MiniTool Power Data Recovery to attempt recovery of files/data residing on the drive.
Do the following:
Download and install the MiniTool Power Data Recovery on your PC.
Launch the software.
From the Main interface, you'll see several options like This PC, Removable Disk Drive, etc.
Now, select the drive that you want to scan for the file recovery operation.
The scan will now begin, and as the scan progresses, you'll be shown more and more files. You can either look through these files and pick a few selective ones or click on the Save button at the bottom-right corner to create a separate location for these files.
Once the scan completes, you will get a prompt stating that the recovery has been successful.
Exit MiniTool.
Now that you have recovered your files on the drive, to forestall future occurrences whereby you could potentially suffer permanent data loss at a single point in cases like this, we recommend the 3-2-1 Backup Rule which is interpreted as follows:
3: Create one primary backup and two copies of your data.
2: Save your backups to two different types of media.
1: Keep at least one backup media offsite.
2] Check USB connection for external drives
If you have encountered the error in view on external drives you have connected via USB, it could be due to minor connection issues. In this case, you can do the following and see if the format problem is solved.
Change the USB port/cable.
Connect your external hard drive or other storage devices to another computer.
If on a desktop PC, connect your USB drives to the rear port which provides a more stable power supply compared to the front ones.
3] Disable Write-Protection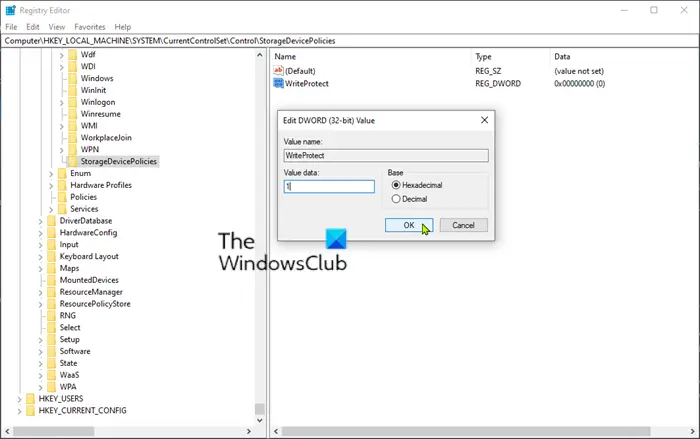 You may encounter this error if Write-Protection is enabled on the drive you're trying to format. To fix this, you need to disable Write-Protection on the drive. First, look for and set to off the physical switch if it's a flash drive or SD card, or an SSD/HDD in an enclosure. If there's no hardware lock, then you can disable Write-Protection for removable drives using Group Policy or Registry Editor or you can use DiskPart utility to remove Write-Protection by following these steps:
Open Command Prompt.
Type diskpart and hit Enter.
Now, type the following commands in the given order and hit Enter after each line:
List volume
Select volume #
Replace the # placeholder with the volume number corresponding to your drive.
Attributes disk clear readonly
Once all commands are executed and the process is finished, type exit and hit Enter to close the Command Prompt.
Read: How to Format Write-protected USB Pen Drive in Windows
4] Format drive to another file system
Generally, three file systems, including FAT32, NTFS, and exFAT, are available in Windows. The error in focus can occur if you're formatting the drive using an inappropriate file system. In this case, to rule out this issue, you can format the drive using a different file system. For instance, if you are using an SD card over 4GB; format the drive as a FAT32 file system. For an external hard drive, format the drive as NTFS, unless you are going to use the drive with both Mac and Windows, in which case format the drive as exFAT.
Read: How to use Mac-formatted HFS+ Drive on Windows computer
5] Format the drive via File Explorer, using DiskPart, Disk Management, PowerShell, or OEM software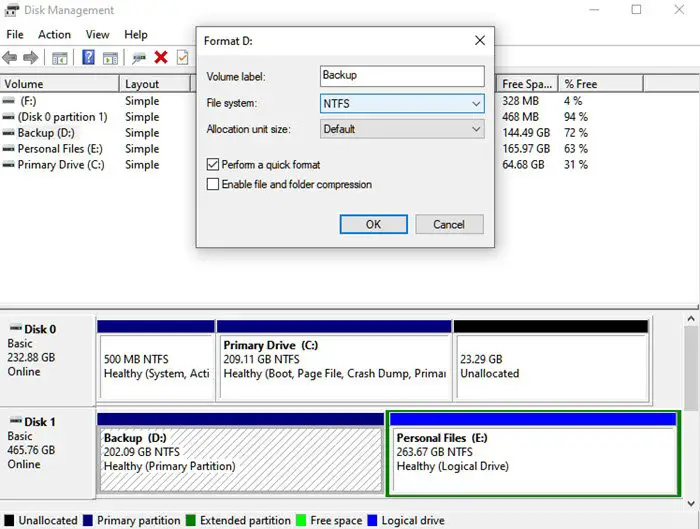 Sometimes, when you connect your drive to a Windows 11/10 PC, the drive may not be in File Explorer due to which you may not be able to format your drive, and hence the error in view. The reason could be that Windows has not assigned any letter to the drive. In this case, you may check your drive in Disk Management and assign a letter and file system to the drive. Another route to go to formatting the hard drive/USB/SD card, etc. is using the DiskPart utility as this command-line utility helps in quickly formatting the drive partitions or changing them to NTFS or FAT32.
So, since you are having issues formatting your drive using the format command in Command Prompt, you can try formatting the drive using PowerShell or refer to the post how to format the hard disk or drive for instructions on how to format the drive using the following methods:
File Explorer
DiskPart
Disk Management
OEM software
Read: Quick Format vs Full Format – What is the difference?
6] Run CHKDSK
The error may also occur due to bad sectors on the drive. If Windows can't complete the drive formatting and prompts this error message, the chances are that your drive is corrupt. In this case, you can run the CHKDSK command to fix the corrupted drive or drive with bad sectors. The command will look something like this:
chkdsk /f /r X:
Where:
/f switch fixes errors detected.
/r switch Identifies Bad Sectors and attempts recovery of information.
X represents your system drive letter.
This procedure is slightly different from how to run CHKDSK on external drives.
7] Repair Master Boot Record (MBR)
Track 0 is located at the beginning of the hard drive that stores the partition table of the disk and Master Boot Record (MBR). The MBR consists of an initial executable code to boot the Operating System (OS). This information is essential for a drive to boot and function properly. As we have already identified that a corrupted or damaged MBR is a potential culprit to the error at hand, to resolve the issue in this case, you need to repair the Master Boot Record file.
Read: How to repair the EFI bootloader in Windows
8] Replace the storage drive
Ultimately, if you have exhausted the suggestions here but the issue is unresolved, then it becomes apparent the drive in question is unrepairable and can't be salvaged. In this case, the only option available to you is to get a replacement drive. In addition to the physical storage drive, it's recommended good practice to take advantage of a cloud storage service.
I hope this post helps you!
Now read:
Why is my disk unreadable?
Your disk can be unreadable whenever you try to access the drive If the hard drive consists of bad sectors. You may see the error – disk structure is corrupted and unreadable. In this case, to resolve the issue, you can try running the CHKDSK command to scan and fix the corrupt hard drive. This is a common cause of data loss, as corrupted files are often unusable.
Can a hard disk be repaired?
Hard disks can be repaired. However, it's not advisable to continue using a repaired HDD. The recommended best practice is to have the contents of the drive recovered immediately using any reputable data recovery software and then discard the drive as the chances of the drive failing in the future are high. Although, it's imperative to point out that most hard drives have a lifespan of three to five years.