"Format" as a word in computers is very popular, and a well-known word among computer users. We all have done that, especially with USB drives. That said, what people are sometimes afraid of is when it comes to formatting the hard disk and partitions. After all, we have data on them, and we do not want to lose them. In this post, we will share how to format a Hard Drive or Disk. We will also look into types of Format, and tools that can help you delete files so they cannot be recovered.
Types of  File System
When you format using any tool, you will get the option to choose a format type. The standard formats are Fat32, NTFS which are used on Windows. FAT32 was extremely popular but has been replaced with NTFS. The latter offers enhancements and security. Another significant advantage of using NTFS is that it can be read by macOS as well.
How to format a Hard Drive or Disk
These are some of the best ways to format a hard drive or disk. Make sure to take a backup before formatting anything. Once the formatting is complete, then it cannot be recovered easily.
Using File Explorer
Disk Management Tool
Diskpart
Disk Management Software (OEM and Third-Party)
Connect to another computer.
If you wish to format part of a hard drive or hard disk, then you can use the first two methods, but if you want to format a complete drive, you can use any of the last two methods.
1] Using File Explorer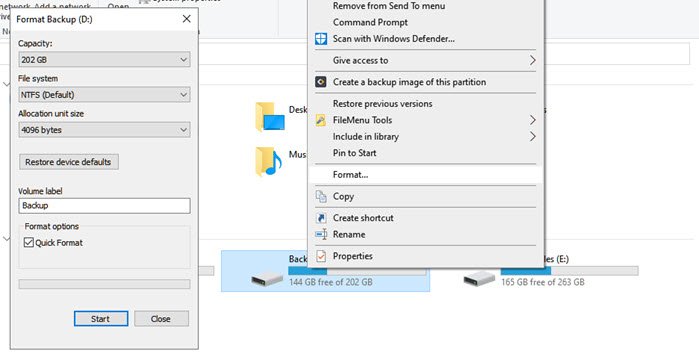 The easiest way to format a drive is to right-click on it and then choose to format it. It will open the format window where you can select the default option, Quick or Full Format and choose to format. The window also lets you add a drive name, but you can always do it later.
Windows 11/10 now offers NTFS for hard disk, but for external storage, you should other options such as exFAT and FAT 32. The first one is for Linux.
2] Disk Management Tool
If you wish to do more than just formatting a drive, you can try the Disk Management tool. It's an advanced tool that will need admin privileges.  It allows you to create, delete, merge partition(s). So if your goal is to increase the partition of the primary drive because you are running out of space, then you can use this tool. However, it is time-consuming should only be used when you do not have any other option.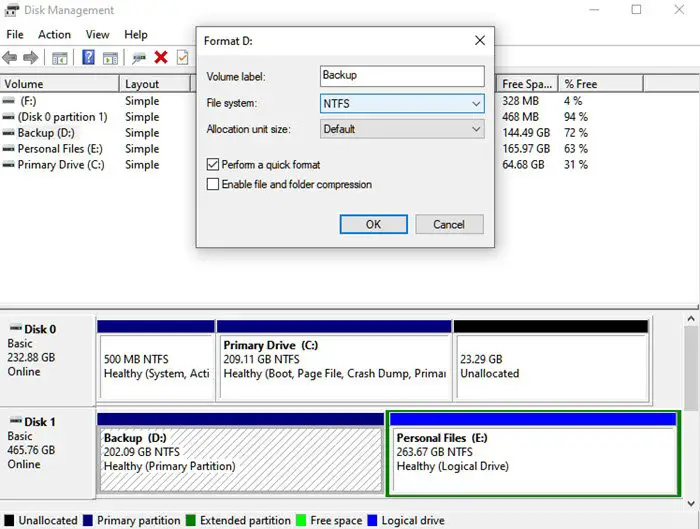 Type Disk management in the start menu, and then select "Create and format hard disk partitions" listing. The disk management window will display a list of connected storage devices and partitions.
Right-click on the partition you want to format
Select Format, and it will open the options window.
Choose what works for you, and click ok.
Once the process is complete, the drive will be ready to use. You can do it for any number of partitions except for the primary drive where Windows is installed.
3] Diskpart Tool
Diskpart is a built-in system tool offered by Windows, which can easily format drives, but it has to be used with great care as there is no user interface. Open Run prompt (Win +R) and type cmd. Then use Shift + Enter to launch a command prompt with admin privileges. Execute the command in the same order as below.
Diskpart

list disk

select disk #

format fs=ntfs quick label=backup

exit
Where # is the partition number, the last command will format the partition, and then name the label as "backup."
4] Disk Management Software (OEM and Third-Party)
Most of the OEMs offer software for HDD and SSD. These software offer options to format drives along with other tools. For example, I am using a Samsung SSD tool that comes with Samsung Magician software. The software allows you to format the complete drive, and also create a bootable USB drive if you wish to reinstall Windows after the formatting is complete.
You can try other free disk & partition management software that can offer a better user interface and clear option. However, make sure to understand what you do with the software.
5] Connect to another computer
Probably the best way to completely format a hard drive is by using another computer. Once you connect, use the disk management tool and first delete all partitions of your drive, and then if you need to recreate the partitions. If you do not create partitions, Windows Setup can help you do that when you install it.
Read: How to use Mac-formatted HFS+ Drive on Windows computer
How to format the System Drive?
If you need to format the primary drive, then read our guide on how to format a computer.  You can do it using Windows 10 Reset PC option or using a bootable USB drive and even through third-party software.
So these were the methods you can use to format the hard disk or hard drive. I hope the post was easy to follow, and you make sure to perform this carefully, especially after you take a backup.