When a computer gets old or when you are handing it over, you must delete everything on the computer. As a matter of fact, it important that you also secure wipe the computer, so the files are not recoverable. In this post, we are looking at multiple ways to format a computer.
Before we start, you may have to decide a few things based on the scenario. Have you lost access to the computer, and you need to format? Do you have a Windows 10 Installation DISK or bootable USB drive? Also, it will need one to have technical skills to choose what to delete and where to reinstall, and what should be done. It's not hard, but you have to be careful, so you don't put a lot of time repeating the process or not lose data accidentally.
Lastly, before we start, you must backup all the data on the computer, including data that can be on your folders, download folders, and the desktop. If you are handing over the PC to someone else, you must delete the files from all the partitions, and connected drives once the backup is complete.
How to format a computer
While I have tried to keep the guide as simple as possible, there is a lot of technical aspects to the topic. While they work, you must know precisely what you are planning to do.
Using Windows 10 Installation Media
Reset Windows 10 PC
Connect the Storage device to another computer
Secure Erase SSD and HDD
Format a Data drive.
Do note that this is different from formatting a drive or hard disk or partition.
1] Using Windows 10 Installation Media
If you have lost access to PC, and you are not able to get into your account, you will have to use the Windows 10 Bootable USB or DVD if you have any.  If you don't, you can download Windows 10 Media Creation Tool to create one.
Once done, the first thing you need to make sure that the first bootable device in the BIOS is set to the USB drive, and then the SSD/HHD of the computer.  It will make sure when you reboot the computer; it will boot using the USB device.
When it finally boots up, you should see a screen that will look exactly like a new installation process. During this Windows setup process, the disk management interface will appear.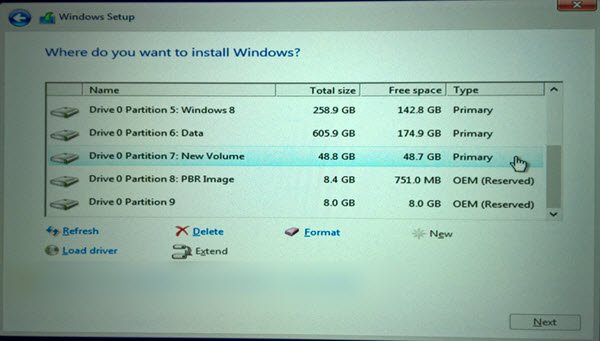 It is using that you can choose to format or delete the existing partitions and recreate new ones. You can select each partition and then click on Format.
Finally, install Windows, and your computer will be as fresh as new, and it will be safe to hand it over.
2] Reset Windows 10 PC
This method is the easiest and straightforward to use. Available in Windows 10 Settings > Update & security > Recovery > Reset this PC. When using this feature, you will have the option to choose to keep files and folders or remove everything from the computer.
Since you planned to format the PC, go ahead with Remove everything option. It will remove all files and apps, and then install Windows.
Read our complete guide on how you can Reset Windows 10 PC. It is handy when you don't have a CD or Bootable drive with you.
TIP: This post may help you if you receive a There was a problem resetting your PC  message.
3] Connect the Storage device to another computer
If the above options are not your choice, you can connect the storage device to another computer. It will allow you to copy all the data to another computer, and then you can disk management tool to format the partitions on the drive you just connected. You can then replug the drive to the original computer, and your computer is as good as new.
Related: How to Restore Factory Image and Settings in Windows 10.
4] Secure Erase SSD and HDD
While it is essential, it is optional if you are not worried much about your data. While formatting deletes all the files, recovery software can still find files on the drive. So its important that use software to secure erase SSD and HDD.
Most of the SSDs come with OEM software that can easily securely delete the files. For example, Samsung Magician Software offers secure erase SSDs with the option to create a Windows bootable USB. You can then use the USB to boot and install Windows. However, it works only with SSD and not HDD. For everything else, check out our recommended list of software that can securely wipe hard drives.
5] Format Data drive
If it is a Data drive you want to format (which does not have the OS installed, or a USB or external drive, then you can simply use the Disk Management Tool. Open it from the WinX Menu, select the Data drive, right-click on it, and select Format. This will wipe clean all the data on the drive, so ensure that you have backed up important data from it.
These are some of the best, and working methods you can follow to format a computer. Windows 10 has come a long way, and it is now rather easy when you plan to dispose of a laptop or reinstall Windows. While the OEM Secure wipe option is the best way to go ahead, but if you don't have SSD, then you can follow any of the above methods.
However, make sure to always back up your data before taking this extreme measure.