A lot of free data recovery software are available in the market. If you wonder how they are able to recover your data easily, the answer is that the data wasn't deleted from your system at all. When you empty your system's recycle bin or use SHIFT+DEL to delete a file or folder, the operating system merely marks that space as unoccupied. Later, when new data is written at the same location, the original data gets completely deleted.
Free Secure Delete software for Windows 11/10
This could be a problem for those who intend to permanently delete confidential data. The deletion tools which delete data in a manner that cannot be recovered are called secure delete software products. Let's take a look at some free secure eraser or shredder software for Windows 11/10/8/7:
SecureDelete
Freeraser
Prevent Restore
Shredder8
File Eraser
PermaDelete
Overwrite
PCDiskEraser
File Shredder
Smart Disk Cleanup
We have already taken a look at some free File Shredder software like Free File Wiper, SDelete, Cipher, Microsoft Surface Data Eraser, CCleaner, DBAN, OW Shredder, and DeleteOnClick.  Now let us take a look at some more Secure Delete software.
1] SecureDelete
The SecureDelete software securely overwrites deleted files using the Gutmann and DOD 5220.22M algorithms so that the files can never be recovered. It also uses another faster, though less secure algorithm to securely delete your files. The procedure is simple. Use the options to add files or folders on the app and then click on the option to delete them. Select Empty Recycle Bin on the app to securely delete the files and folders.
SecureDelete also has options to clear the paging file at shutdown. Paging files work as a supplement of the RAM and some expert hackers can use it to recover securely deleted data. Thus, SecureDelete is excellent free software for protecting your data. Check more about it on the company website here.
Read: What is Data Remanence?
2] Freeraser
Freerazer uses the "shredding" technique to securely delete data. It shreds the space occupied by your deleted data. This way, the data becomes unrecoverable. The software modifies the data into something unreadable before deleting it and then shreds the space occupied by the data after ordinary deletion. This way, simple data recovery tools cannot retrieve the deleted data. However, this procedure isn't fool-proof. Experts might be able to retrieve a part of your deleted data by checking through the paging file, though that rarely happens. The tool can be downloaded from freeraser.com.
3] Prevent Restore
Prevent Restore is another data deletion software that replaces the empty space with useless values so data recovery software products cannot be used to retrieve the data. Other than on the hard drive, it could be used for USB drives, external hard drives, memory sticks, etc. The only limitation is that the free software doesn't support CDs and DVDs. You could read more about it on their official website here.
Read: How to wipe Hard Disk and MFT clean.
4] Shredder8
This app was published by Apparillos in May 2013. The latest update has made the app 300 times faster and more efficient than its earlier versions. You can permanently delete file contents and multiple directories simultaneously. Download this file eraser software from the Microsoft Store for free. This app frees up space by cleaning nested folders from any writable storage device on your Windows 10 PC.
5] File Eraser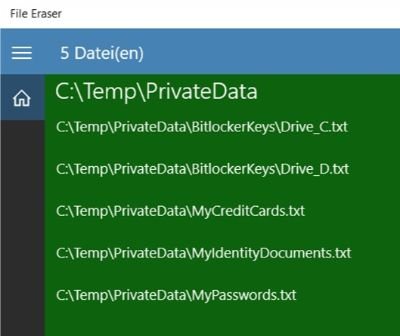 The File Eraser software deletes files in bulk for quick disk space clean-up. The app was published by L.C. Enterprises early in 2016. You will find this app right here. It takes less than 9MB of storage space. It can filter files and folders according to your need and delete selected ones, or all of them.
6] PermaDelete
This app was developed by Developer's Tree in 2017. PermaDelete ensures that all unnecessary files are permanently deleted instead of going to the Recycle Bin. This app will shred all unnecessary files and folders. You just need to select them and hit 'Delete'. Download this free app from the Microsoft Store and you're sorted.
7] Overwrite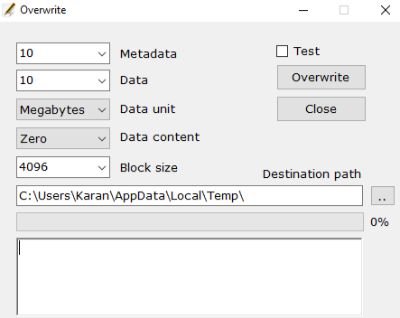 As then name specifies, Overwrite is a software that overwrites the space occupied by the data deleted through the regular process so that it cannot be recovered through data recovery software. However, unlike any other software on this list, it uses command lines to replace the space. Some information about your system's configuration might be needed from your end. The complexity of the software assures that it does its job right. It could be downloaded from here.
8] PCDiskEraser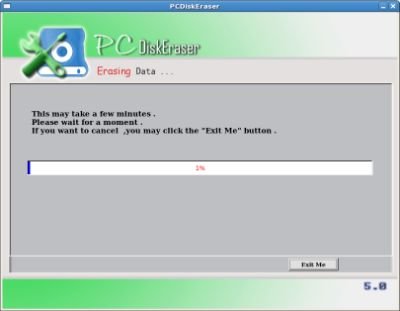 PCDiskEraser is a free and easy-to-use software product. It meets DoD 5220.22 specification and is a perfect product for those who intend to return their leased computers or dispose of the assets. The team at PCDiskEraser is trying to target corporate users who are using shared systems and those who intend to sell their old computers further. It is available for download from their official website here.
9] File Shredder
The author of the File Shredder app believes that everyone deserves the right to privacy and software meant for deleting confidential files should be free of cost. The File Shredder software shreds your deleted confidential documents in a manner that they cannot be recovered. It fills up the space marked as unoccupied after the ordinary deletion of files and folders so that simple data recovery software cannot retrieve the files. While a few complicated procedures could still be used to recover fragments of the deleted data, this tool could be counted as a very helpful one. Please read more about it on the company's official website here.
10] Smart Disk Cleanup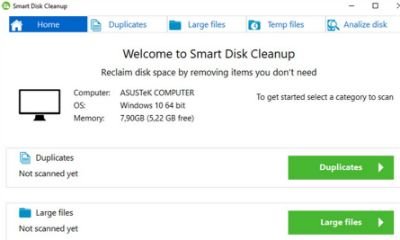 This Smart PC Solutions app helps you get rid of all unnecessary files in a few simple clicks. The cleanup process is safe and easy. It can free up gigabytes of your disk space. Download this freeware from the Microsoft Store to get rid of temp files, cache, browser cookies, obsolete large files, all kinds of duplicate files, and any file you choose.
Read next: How to Securely and Safely dispose of old Computers.