Some of you may think 'shift-deleted' or 'virus-deleted' data will be lost forever, but in fact, most lost files can be recovered, including deleted data, and data saved in lost or damaged partitions. There are some data recovery software that are capable of doing this. In this post we are going to introduce the free file recovery program, MiniTool Power Data Recovery Free Edition.
MiniTool Power Data Recovery Free Edition Review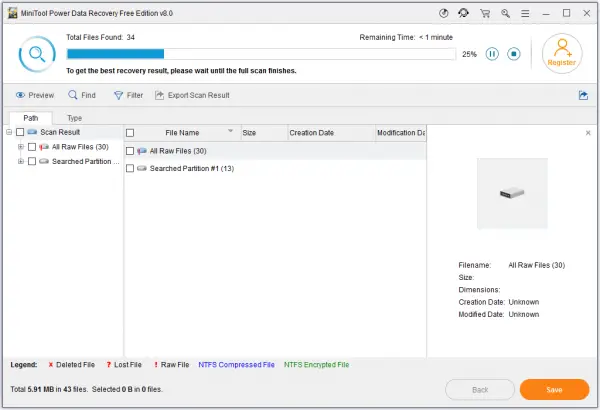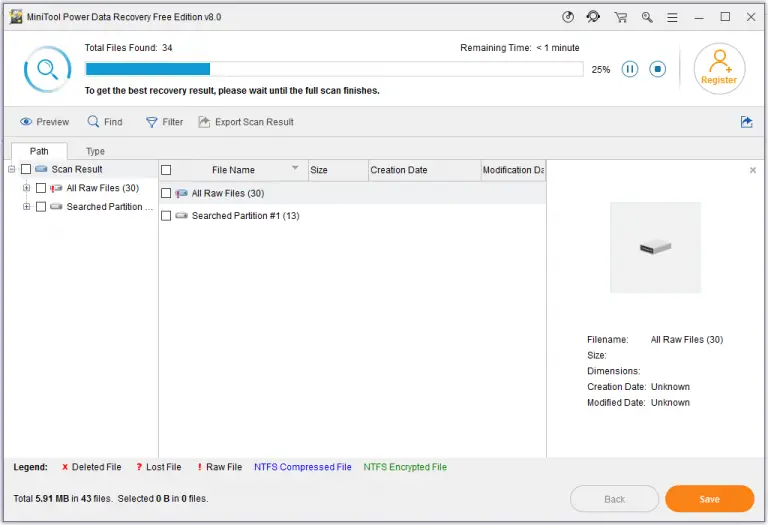 Like most data recovery programs, MiniTool Power Data Recovery Free Edition can help us recover deleted files from deleted, lost, damaged and RAW, but existing partitions. These are just basic recovery capabilities, and it is the following features that make this freeware stand out: scan and recover media files only, recover data from CD and DVD, and preview data recovery effect when Windows cannot boot.
Digital Media Recovery
By employing digital media recovery feature, we can pinpoint and recover lost media files like pictures, videos, and audios, thus saving a lot of time and avoiding unnecessary work, for it only scans and displays digital media files.
In Digital Media Recovery interface, all media files are classified and saved in different folders. We can make use of "Advanced Filter" to filter files by file name, file size, creating time, etc., which is quite useful when there are lots of scanning results; or use "File Preview" to preview selected files so as to avoid recovering needless data, but our text shows it only supports viewing text and image files; or pinpoint data via "Find file".
CD/DVD Data Recovery
Some people may think it unbelievable to recover data from CD and DVD, but CD/DVD Recovery module of MiniTool Power Data Recovery Free Edition can really do this. It deep scans CD or DVD to recover deleted, erased, and formatted files.
Preview Data Recovery effect when Windows cannot Boot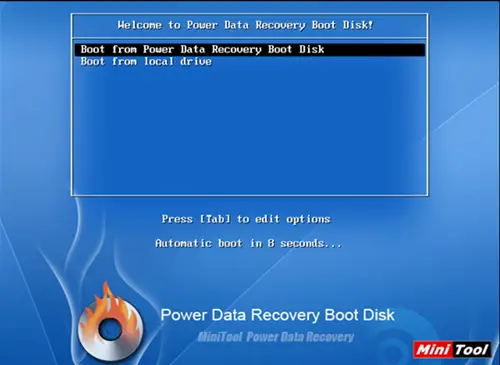 Our computer may be unbootable, at times, due to a virus attack or corruption in system boot files. This tool includes MiniTool Power Data Recovery Free Edition, which provides a free bootable disc, which can enter a computer without OS to look for lost files. Nevertheless, this license is just for preview use. If you plan to recover this data, you will have to separately download MiniTool Power Data Recovery Boot Disk. Its free version too lets you recover data from unbootable computers, with a cap of 1 GB.
The latest version offers the following:
A new interface with simple steps to recover data.
Improved the data recovery engine.
Speed up the scan process to find lost data more quickly.
Listed the found files during the scanning process.
Allowed to pause or stop the scan when you have found your needed files.
Allowed to save files while scanning to enhance data recovery efficiency.
Easy to recover the deleted files larger than 4 GB in Windows 10.
Verdict
The free edition has one limitation, and that is, it can recover only limited data recovery of up to 1 GB, while there are several other free data recovery software that do not offer such limitations.
It supports several RAW file types including *.m4v, *.3g2, *.wtv, *.wrf, *.pps, *.dps and 4096-byte-sector-based hard drive.
As long as you recover data within 1GB and Windows can boot normally, MiniTool Power Data Recovery Free Edition is a good choice. If Windows can not boot, use Power Data Recovery Free Edition Boot Disk to see whether you can find desired files.
Visit www.minitool.com/data-recovery-software/free-for-windows.html if you'd like to get one.
Have a look at Lazesoft Recovery Suite too.