Lazesoft Recovery Suite Free Home Edition is a Boot Disk that can repair your crashed Windows computer, recover files and data from deleted, formatted or damaged partitions, clone or backup disk and even reset your forgotten or lost Windows password.
Imagine a situation where the system which you are working on for years suddenly stops working!  All your important files, installation settings, etc, would be gone. If you were to face such a situation, you could recover your system with ease using the free Lazesoft Recovery Suite.
Lazesoft Recovery Suite for Windows PC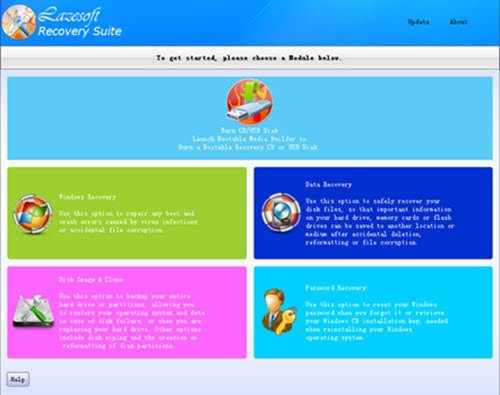 With Lazesoft Recovery Suite you can recover your data present on your Windows system. The data can be recovered even if the file has been deleted or the partition formatted. This suite also helps you in recovering Windows login and password if your system is crashed.
Let us have a look at some of its modules and features.
Windows Recovery
There may be times where your system may have been taken over by malware, which could result in boot and crash errors. The Windows Recovery feature can be used for repairing any boot and crash errors caused by virus infections or accidental file corruption.
Data Recovery
The Data Recovery module can help you recover deleted or lost files from your hard drive, memory cards or flash drives after accidental deletion, reformatting or file corruption.
Recover My Password
There is only one password which you use to log in to your computer. What if you lose it for some reasons? Recover My Password feature can be used for recovering/resetting your Windows local or domain administrator password when you have forgotten or lost it. It can also be used for recovering your Windows CD installation key, which is needed while re/installing your Windows operating system.
Disk Image & Clone
Prevention is better than cure! It is a good practice to back up your system on a regular basis. Disk Image & Clone feature helps backup or clone your entire hard drive or partitions, allowing you to restore your operating system and data in case of hard drive failure – or when you are replacing your hard drive. Other options include Disk-Wiping and the creation or reformatting of disk partitions.
The latest version of Lazesoft Recovery Suite also includes some other useful features like:
 Clone GPT disk
 Backup and Restore GPT disk
 Create UEFI boot USB disk/CD/DVD
 Lost Partition Recovery for GPT disk
 Create WinPE 5 x86 boot disk
 Create WinPE 5 x64 boot disk
 Show Disk Properties
 Edit Sector
 Change GPT Partition Type
 Change Volume Drive Letter
 Create VHD disk
 Install Windows on VHD
 Map Network Drive
Quickly reset Windows Local and Domain Account admin password
Instantly repair PC when Windows can't start normally
You can download the LazeSoft Recovery Suite from its official website here. The home edition of LazeSoft Recovery Suite (29 MB) is free to download and use. You can also access the various guides present on the LazeSoft website which teaches you how to use the tool.