If while gaming on your Windows 11 or Windows 10 computer and you're experiencing High Disk & Memory Usage, then this post is intended to help you. In this post, we will provide the most suitable solutions affected PC gamers can try to successfully resolve the issue and improve their gaming experience.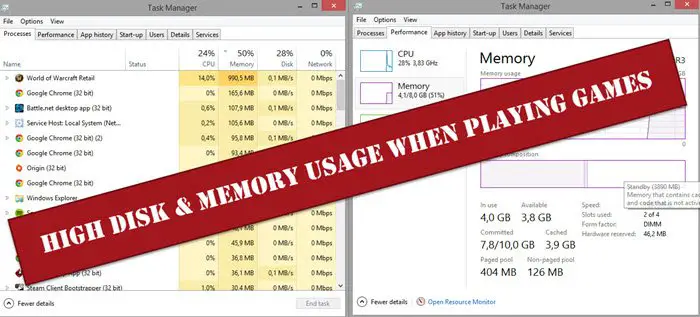 Does disk usage affect gaming?
Games performance can vary depending on the type of storage media. Hard drives are slower than SSDs, so using HDD may affect not just the loading time of the game, but performance can take a hit if the game accesses content from storage regularly and the hard drive can't keep up – consequently impacting your gaming experience.
What should my memory usage be when playing games?
This largely depends on your gaming persona. Generally, 16GB of RAM is going to be the best option for avid gamers who casually streams games. But for casual and hardcore gamers that don't use the PC for much more than gaming, 8GB of adequately fast RAM should suffice.
High Disk & Memory Usage when playing Games on Windows PC
If you're faced with this High Disk & Memory Usage when playing Games issue on Windows 11/10 system, you can try our recommended solutions below in no particular order and see if that helps to resolve the issue.
Run AV scan
Run CHKDSK
Disable Windows Search Indexer
Disable Superfetch Service
Disable Hibernation
Play game in Clean Boot state
General fix for High Disk & Memory Usage on Windows PC
Let's take a look at the description of the process involved concerning each of the listed solutions.
1] Run AV scan
A malware/virus infection can potentially give rise to this High Disk & Memory Usage when playing Games issue on your Windows gaming rig. To rule out the possibility of malware infection being the culprit, you can run a full system antivirus scan.
You can run a full system antivirus scan with Windows Defender or any reputable third-party AV product or run Microsoft Safety Scanner. Also, in severe cases, you can run perform Windows Defender Offline Scan at boot time or use bootable AntiVirus Rescue Media to recover your system if somehow your computer is failing to boot.
2] Run CHKDSK
CHKDSK is a viable solution to the issue at hand which can be caused by bad sectors on the drive.
To run CHKDSK on your Windows 11/10 computer, do the following:
Press Windows key + R to invoke the Run dialog.
In the Run dialog box, type cmd and then press CTRL + SHIFT + ENTER to open Command Prompt in admin/elevated mode.
In the command prompt window, type the command below and hit Enter.
chkdsk /x /f /r
You will receive the following message:
CHKDSK cannot run because the volume is in use by another process. Would you like to schedule this volume to be checked the next time the system restarts? (Y/N).
Tap Y key on the keyboard to proceed.
Reboot your computer to let CHKDSK to check and fix the errors on the computer hard drive.
After CHKDSK completes, check to see if the issue is resolved. If not, try the next solution.
3] Disable Windows Search Indexer
This solution requires you to disable Windows Search Indexer and see if that helps.
4] Disable Superfetch Service
Some affected PC gamers were able to resolve this issue by disabling the Superfetch service on their Windows computer.
5] Disable Hibernation
Disabling hibernation on your Windows gaming rig is also a known fix to the issue at hand. If disabling hibernation didn't work for you, proceed with the next solution.
TIP: You can use Windows Boot Performance Diagnostics to detect Windows Boot Performance problems.
6] Play the game in Clean Boot state
There may be conflicting apps and services interfering with the game or game engine thereby spiking the game disk and memory usage. In this case, you can perform a Clean Boot of your Windows 10/11 computer, and then play the games in that state – where only basic and essential services run and there is no issue being triggered by third-party applications or additional built-in features.
Read: How to Free up, Reduce or Limit RAM usage in Windows 11
7] General fix for High Disk & Memory Usage on Windows PC
Since this is an issue of high disk and memory usage, this guide will show you how you can fix 100% Disk, High CPU, High Memory usage in Windows 11/10.
Hope this helps!
Can RAM increase FPS?
Depending on how much RAM you have installed on your Windows gaming rig, adding more RAM could increase your FPS. However, if you have a low amount of memory, for example 4GB-8GB, adding more RAM will increase your FPS in games that utilize more RAM than you previously had.
Must read:
Can SSD help FPS?
Typically, SSD won't help your FPS per se, but what the SSD hardware installed on your gaming rig can do is prevent hitching and stuttering in games. The main benefit of an SSD as against an HDD is faster access to data stored on the drive – storing a game on an SSD will significantly speed up the time it takes to open a game, save/load games, and load maps/levels.
Related post: Games crashing on PC after upgrading to the latest version.