PC Gaming has come a long way and people are now playing all sorts of games on their computers. But who would have thought that instead of playing games on our computer, we will stream them from somewhere else? The tool that we are talking about today is not linked to a streaming service but rather it lets you stream your games to other people in the world. Parsec is a free, fun game streaming tool that lets you play local multiplayer games with your friends even when they are sitting in the other corner of the world.
Parsec game streaming software
As I mentioned, Parsec is not a usual game streaming service. Rather it is a well-built technology that lets you stream games right from your computer. Parsec claims to have almost zero latency because they have built their own networking protocol, frame-time management, hardware specific optimizations, video encoding, and decoding techniques. All this when combined, gives you the best possible streaming experience. On a test setup with LAN ethernet connection, Parsec claimed that the tool just added 7ms of latency.
Talking about features that you are concerned about; you can think of this tool as your very own game streaming service. You can create a gaming party and start streaming your favorite games. Your friends can join your party, watch you play or even play alongside you. The best part about it being, they do not need to be physically present or have a computer with gaming level specifications.
You can play almost any game and effectively convert any local multiplayer game to an online multiplayer game. Creating a party is very simple, you just need to enter the name of the game that you are going to play. A party can be public or private, public parties can be found by other users via party finder. You can also set up other rules such as blocking some applications etc.
Once the party has been created, you can share its link with your friends so that they can join it. Or it will automatically show up if you are already friends on Parsec. You can add up to 8 players in a party and those players will be able to play the game alongside you. Parties can be edited and customized later. You can also use the Party Finder to join existing public parties on Parsec. Once you are inside a party, chat feature can be used to chat with friends and share any information related to the game or the party itself.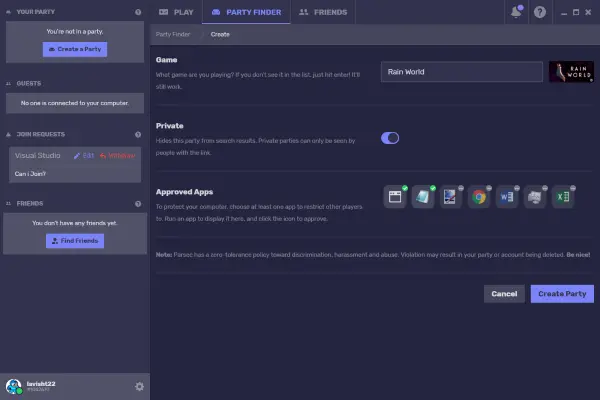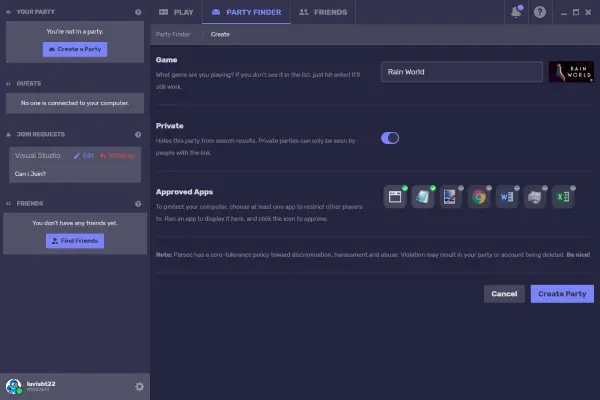 The tool also offers a variety of settings and customizations. You can customize the client by enabling immersive mode, VSync, and overlay. Hosting can also be customized by selecting a bandwidth limit, resolution of the video stream and approved applications. The program also supports plenty of keyboard shortcuts that can be customized. And lastly, under the account section, you can customize the theme, change notification settings and connect your account with Discord.
Parsec is a wonderful tool for gamers. It brings the concept of live game streaming to reality for day to day user. The tool is very seamless although a lot of things are happening underneath. The technology is absolutely stunning and designed to make your gaming experience better. Click here to download Parsec.