Windows 10 is pretty straightforward and contains many new features and functionality improvements. "It's one core, one store, one platform", says Microsoft CEO Satya Nadella. No matter what device you are using, Windows 10 works everywhere. As always Microsoft is pretty considerate about the new users of Windows 10. While the company released a demo website for Windows 10, there is also a built-in Windows Store app 'Get Started' typically designed to help users understand the latest OS better and in an easy way.
Get Started with Windows 10
Get Started app will help users learn about and get started with Windows 10. Includes detailed instructions, slideshows, and videos.
Type Get Started in the search bar and select the desktop app to get the windows below. You will several tabs on the left side, each one explaining a feature or function in Windows 10.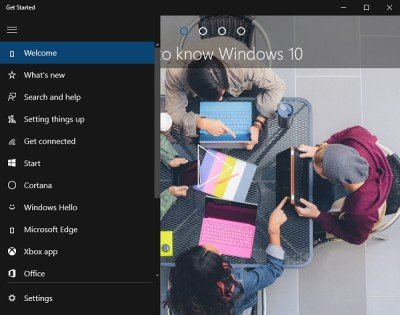 Welcome
The first tab takes you to the video tour of Windows 10. This video explains to you about the Start Menu, live tiles, getting new apps from the store, the new search bar, action center, Cortana, and Edge web browser.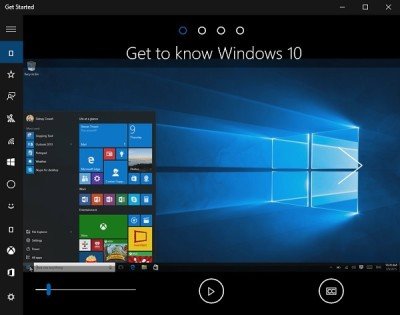 What's New
This tab shows you what is new in Windows 10 and how to use these new features in your Windows 10 PC. This is where you can learn a lot about the newly added features, which include, Microsoft Edge, Cortana, Start Menu, Tablet Pen for Tablet users, photos app, and sign-in options.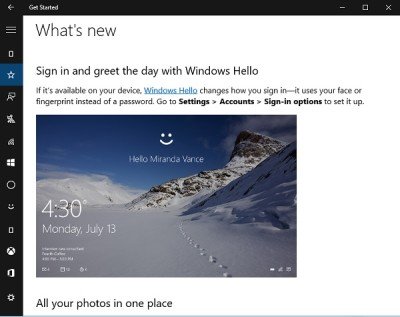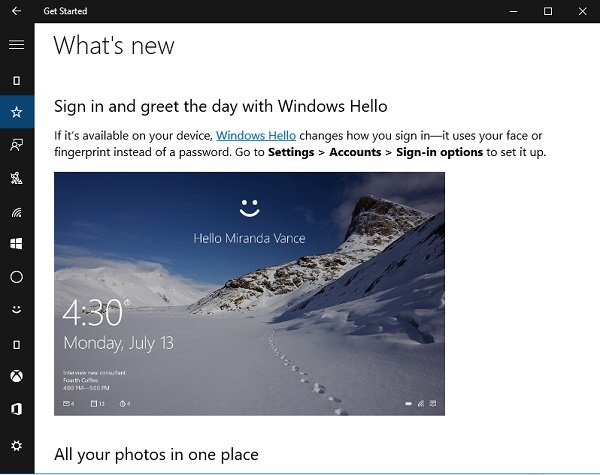 Search and Help
Search for anything anywhere. This tab tells you about the newly added search bar and how you can use it. You just have to enter the search term in the search bar and the feature will give you the results from your PC as well as from the web. Use this search bar to search your files, apps, settings, photos, videos, and music across your PC and OneDrive.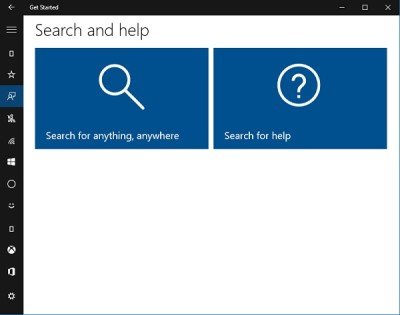 Search for help is a new feature added to Windows 10 where you can type a question, and you'll find help from Microsoft and Cortana.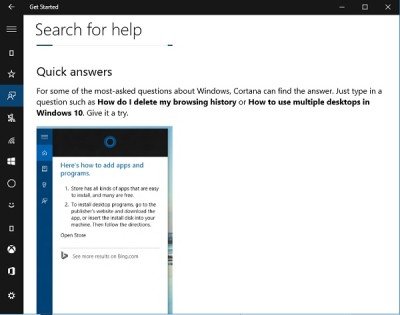 Setting Things Up
This is a tab where you can learn about Settings of your Microsoft account, signing in your PC with Microsoft account, settings up your account picture, your family, settings up your email and calendar as well as setting up your PC protection. Click on any settings to get the detailed instructions and guidelines.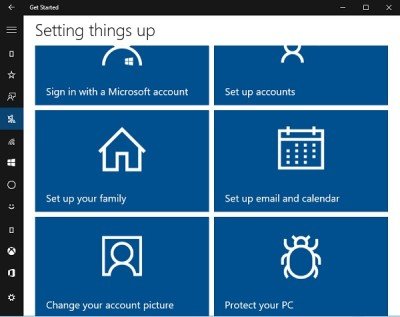 Get Connected
This tab helps you learn about the connectivity options in Windows 10, may it be your connection to the internet via Wifi or Cellular network, connectivity to a printer or to Bluetooth devices. The tab also helps you learn about troubleshooters for both WiFi and Cellular networks. Click on 'Why Can't I Get Online' and you can run the troubleshooters.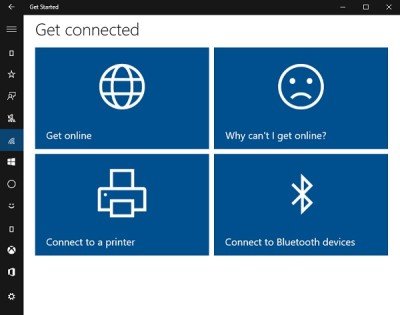 Start
Know your Start Menu in detail from here. What all is included in the new Windows 10 Start Menu, how can you pin an app in your Start menu, and finding your apps and programs are explained in this tab.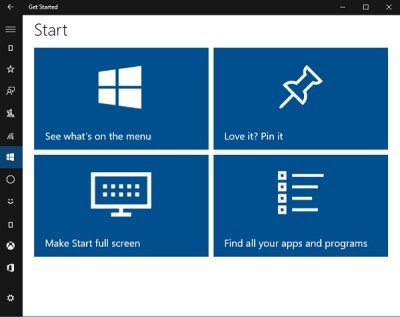 Cortana
Want to know about Cortana? This is the right place. Here you will know how Cortana helps you find things on your PC, track packages, manage your calendar,  find files, tell you jokes and chat with you. Learn more about Cortana here and get the fullest of your digital assistant.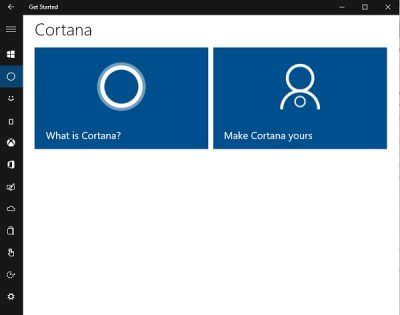 Windows Hello
This tab shows a video presentation of Windows Hello and helps you learn how it is a more personal and secure way to sign in to your Windows 10 devices with your touch or just a look. Without even typing a password, you can get an enterprise-grade security for your Windows 10 PC with Windows Hello. It also helps you learning how Windows Hello keeps your info private.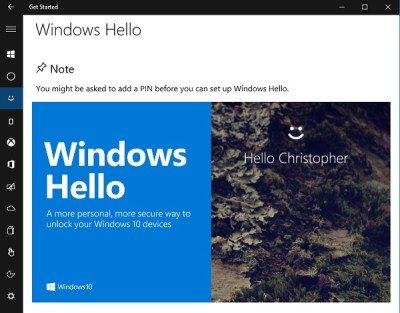 Microsoft Edge
Get to know about the latest Microsoft web browser from here. Also, see how Cortana and Microsoft Edge together make a great duo. This tab gives you a detailed look at Edge and all its features.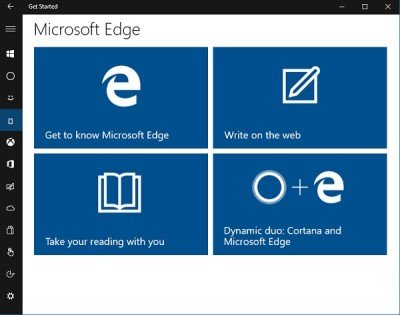 Xbox App
If you are new to Xbox, this tab will help you learn a lot about it. Learn about Gamertag, and streaming your games from Xbox. This tab also helps you learning how you can find your friends on Xbox app and how to record your game clips and screenshots. 
Office
If you are confused about using the Office version for your Windows 10 desktop or tablet or a mobile, this tab helps you greatly. Learn about Office Desktop apps and Office Mobile apps in detail. There is also a video presentation on how to make Windows 10 Enterprise easier and use the advanced productivity features of Office apps.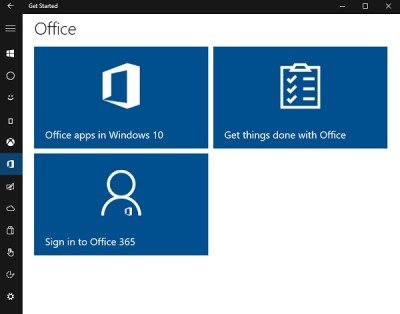 Personalization and Settings
As you know, Windows 10 brings a completely new setup for Settings and Personalization, this tab helps you learn about the same. Here you can learn about changing the themes, desktop background and colors and much more. You can also learn about how to personalize your PC Lock Screen.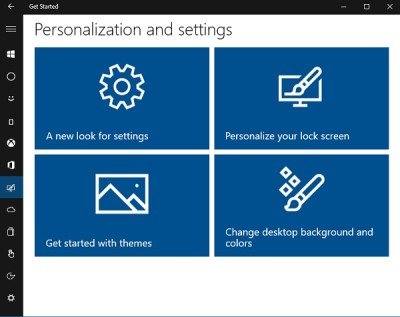 Saving and Syncing the Content
Direct access to OneDrive is one of the major functionality enhancements made in Windows 10. From the Saving and Syncing tab in Get Started app, you can learn about how to use OneDrive on your PC and how to access your saved files on various devices. There is also a detailed guide on how to backup and restore your files.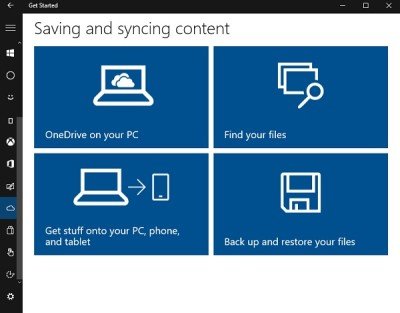 Apps and Notifications
Learn how to explore the Store, choose apps and move them around in your disk drives. There is also an option of grouping the apps into Windows 10 desktop, Group apps into desktops, where you can group apps together for whatever you want by creating virtual desktops. Learn more and choose how you want to install your app's updates.
Continuum and Touch
This is where you can learn how to operate Windows 10 on your touch-friendly devices. Using Continuum & touch with Windows and using a pen are some useful categories included here. You can also learn various touchpad gestures for your Windows 10 touch devices.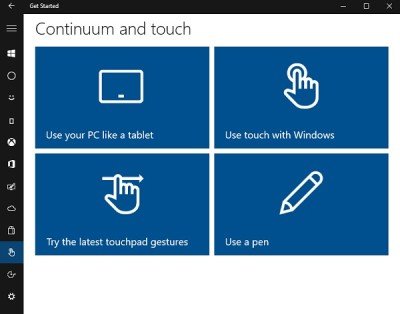 Ease of Access
Last comes the Ease of Access section in Get Started desktop app. This tab includes detailed instructions about making your PC easier to use, adjust the Narrator settings and speech recognition and learning about the keyboard shortcuts in Windows 10.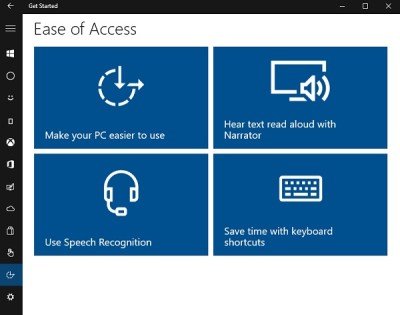 Tips for IT Administrators
The app also has tips for IT admins. To access them, go to Browse topics and select Tips for IT administrators.
Overall, Get Started desktop app is a good detailed guide of Windows 10 for the users who have just upgraded their PCs and want to learn more about the latest OS.
No more digging the Internet to know about the latest features and performance enhancements added in the new OS. You have it here in the app, in this post titled Windows 10 tips and tricks – and well, here, of course!
Also, take a look at this free Windows 10 eBook from Microsoft and this one from Lenovo.