In this post, we will see how to set up Cortana in Windows 10 and enable Hey Cortana. We will also see how to set up your mic or microphone, so that Cortana can understand you properly.
Cortana is your digital assistant built into Windows 10. Using Cortana you can search the web, find things on your PC, keep track of your calendar and even engage in light chat.
Set up Cortana in Windows 10
To begin with, click inside the taskbar search box. The Cortana settings box will appear as shown below. Move the slider to On position, to enable Cortana, so that it can give you suggestions, ideas, reminders, alerts etc on your device. Also move the slider to the On position for Hey Cortana here. If you scroll down, you will find settings that let you turn on or off, Flights information and Taskbar tidbits.
If ever you need to access these settings again, you have to click on the hamburger menu > Notebook > Settings.
Once you have enabled Cortana, you will next see a privacy statement as follows. Click on I agree to proceed.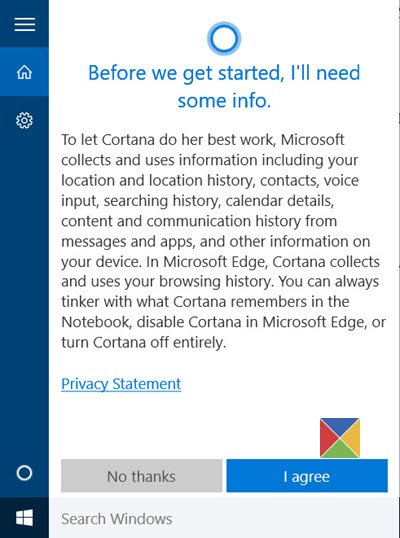 Next it will ask you for your name. Enter a name that you'd like Cortana to call you as, and click Next.

You then be asked for access to use your location to serve you with better results. Clicking on Yes and Allow is recommended in my opinion.
Once done, the Privacy settings app will open up. Choose the apps you want to allow access to your location.
Having done this, you may exit the Privacy settings app.
Now you are all set to go! If you click inside the taskbar search box, you will see the following display.
Click on the Mic icon in the bottom right corner and start speaking.
If you mic is not configured properly and Cortana is not able to hear you properly, the following box will automatically pop up, asking you to set up your Mic. Click on Next.
Cortana will give you a phrase to repeat. So clear your throat, get ready and click Next.
You will be asked to read a sentence. Read it clearly, ensuring that there is no other noise in the room.
Once done successfully, click on Next, and you will see that your microphone has been set up correctly.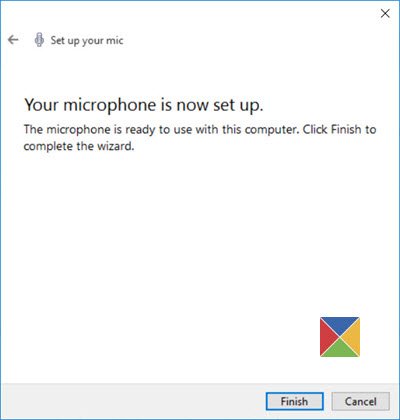 Now try again and ask Cortana something. Try asking How old are you or saying Tell me a joke and see if you get a suitable response.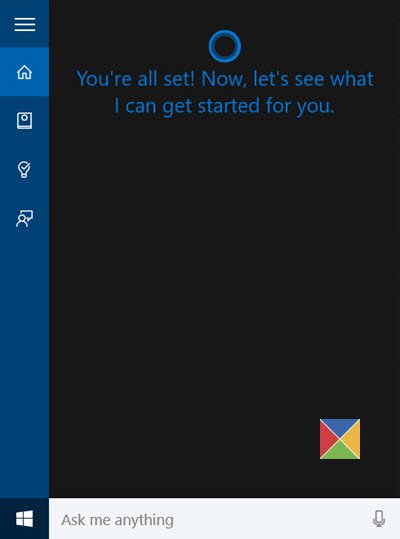 You will see Cortana respond.
In case you abandon this process half, way, you can always pick it up later on. When you next click inside the taskbar search, you will see Cortana display the following Welcome back message.
You can then continue where you had left.
Want more? take a look at these Cortana Tips and Tricks. Also read Windows 10 Tips and Tricks.
If Cortana is not working or enabled for your country, set your Region to the United States. You will see the setting in Settings > Time & Language > Region Language, under Country or region.
See this post if Cortana and Taskbar Search are not working in Windows 10.
Next, we will see how to use Cortana integration in the Edge browser. From time to time, you may want to clear Cortana Search Content. If you do not use Cortana, you can Turn Off Cortana in Windows 10.