Cortana keeps track of all the commands and searches you make. It is available in the Cortana app, and also in the Microsoft's Privacy Dashboard. If you do not want your search activity, history, voice activity, and any interaction with Cortana, then it's a good idea to clear it. Microsoft offers a way to do it, and it will clear Cortana Search Content in Windows 10 linked to your account.
Clear Cortana Search Content in Windows 10
These are the four places at which you can configure to clear
1] Clear from Cortana App
If you are on a shared PC, and you do not want anybody to know about it, then it is best to clear it from within the app. Follow the steps
Open the Cortana app and click on the three-dot menu
Select Settings, and then Privacy
Click on the Clear button under the Chat history section to remove all chats.
It will clear all messages between you and Cortana on this device. If you are on a share PC, the best way to clear all chats is to sign out of your Microsoft account.
2] Clear Search History
Like other search engines, Bing uses your search history to give you better results, including personalization and autosuggest. Cortana also uses that data to provide you with timely, intelligent answers, personalized suggestions, and complete other tasks for you. Follow this link and then click on Clear History. The page lists all recent search terms, and you can choose to delete all or selected ones.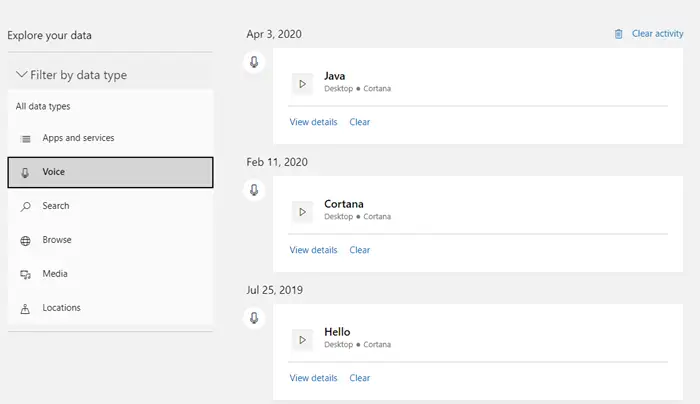 3] Clear Voice Activity
Using Voice command is very easy with Cortana. You don't need to use "Hey Cortana" anymore, and instead use  "Cortana" to invoke it. Like the search history, Cortana keeps track of all the searched terms. Microsoft has clearly stated that they collect and store audio recordings so that it can enhance user experience with better speech recognition and other personalized speech experiences. Follow this link to view and clear voice activity. It will only reveal voice searches, and like history search, all can be cleared or selected ones.
Here is an additional tip, if you do not want Cortana to track your voice further. Go to Settings > Privacy and toggle off two settings.
Speech
Inking and typing personalization
However, when you do that, you will not be able to converse with Cortana anymore. Similarly, with typing recognition off, Cortana will not be able to personalize anything based on your search term.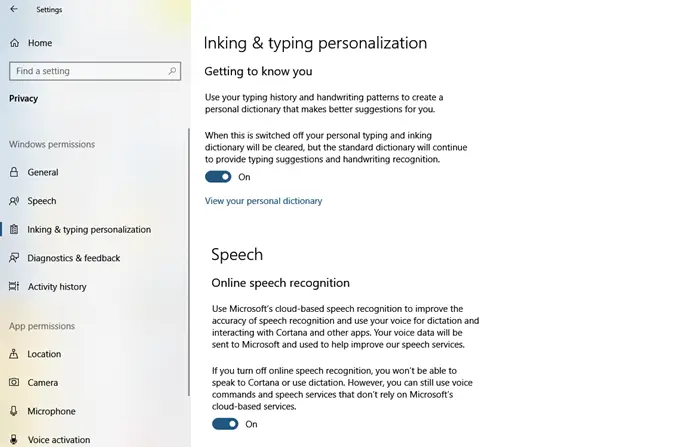 4] Cortana Notebook
In the recent version of Cortana, there is no access to Notebook. However, the data is still there. So if you want to clear that as well, follow this link and click on the Clear Cortana data. It will remove everything.
I hope the post was easy to follow, and you were able to clear the Cortana search content in Windows 10.