For one reason or the other, the USB ports may stop working on your Windows 11 or Windows 10 computer, and you may notice that the Generic USB Hub device is missing or not showing in Device Manager – then this post provides the most suitable solutions affected PC users can apply to resolve the issue.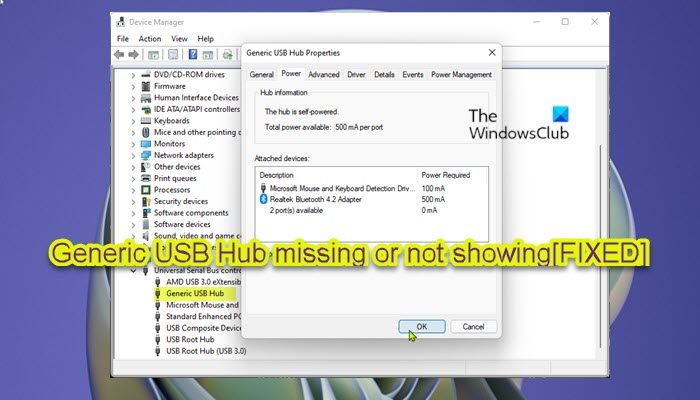 What is Generic USB Hub in Device Manager?
The function of the Generic USB Hub in the Device Manager of your PC is to split a single USB port into several ports as large as four to seven different ports. With a Generic USB hub, PC users can connect your system to several devices at once. This feature saves users the stress of connecting and removing different devices. There are 3 common hub types viz;
Root hub
Powered hub
Self-powered hub
These three hubs have different capabilities but serve the same purpose; which is to expand a single USB port so that you can connect more peripherals to your computer.
Generic USB Hub missing or not showing in Device Manager
If the Generic USB Hub is missing or not showing in Device Manager in your Windows 11/10 system, you can try our recommended solutions below in no particular order and see if that helps to resolve the issue.
Enable USB ports
Show Hidden Non-present devices
Update Generic USB Hub drivers
Reinstall Universal Serial Bus controllers drivers
Perform System Restore
Let's take a look at the description of the process involved concerning each of the listed solutions.
1] Enable USB ports
This solution requires you to enable USB ports via Group Policy Editor or from the UEFI or BIOS of your motherboard on your system.
2] Show Hidden Non-present devices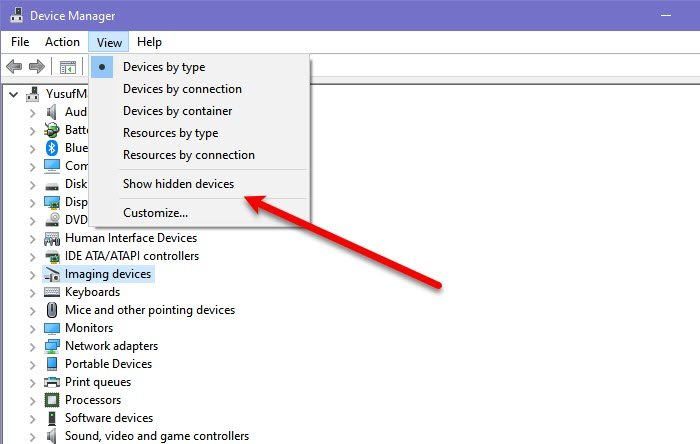 The Generic USB Hub device can be hidden by accident, hence the issue in hand. In this case, to resolve the issue, you can make Device Manager show Hidden Non-present devices – you can do this via Command Prompt or devmgmt.msc GUI.
Try the next solution if the issue persists.
3] Update Generic USB Hub drivers
You can manually update drivers via Device Manager (since the device is missing in Device Manager, you need to to make it show up on Device Manager first as shown in Solution 3 above) if you have already downloaded the .inf or .sys file for the driver, or you can update the driver via Command Prompt.
You can as well get the driver updates on the Optional Updates section under Windows Update or you may also download the latest version of the driver from the manufacturer's website.
However, if the latest drivers are installed, you can rollback the driver or download and install an earlier version of the driver and see if that helps.
Related: How to manually install a Driver using a .INF File.
4] Reinstall Universal Serial Bus controllers drivers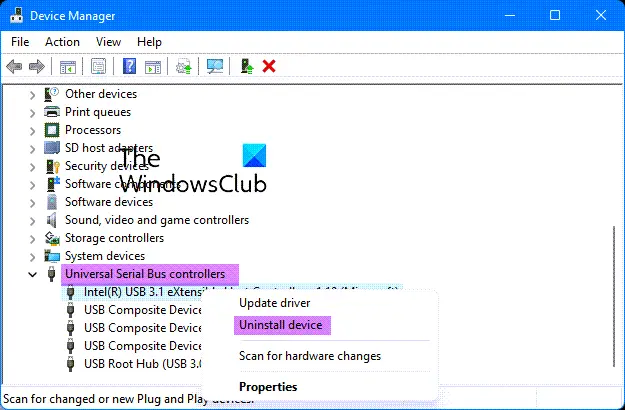 Using the WinX Menu, open Device Manager
Expand Universal Serial Bus controllers
Right-click on each of the entries and select Uninstall
Restart your computer
The required drivers will reinstall.
This takes care of any potential driver file corruption.
5] Perform System Restore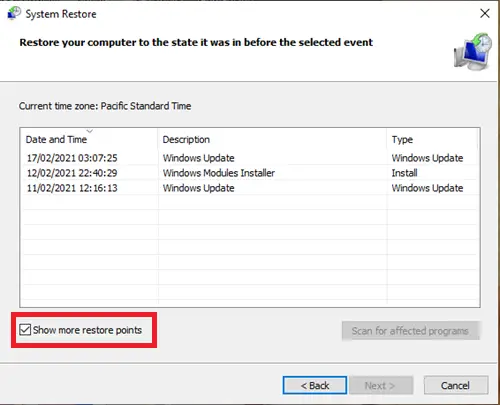 You may be experiencing this issue due to a change that your system has gone through recently which you are totally unaware of. In this case, you can use System Restore (any changes like application installs, user preferences and anything else made after the restore point will be lost) to revert to a date where you're certain that the Generic USB Hub was functioning normally.
To perform System Restore, do the following:
Press Windows key + R. to invoke the Run dialog.
In the Run dialog box, type rstrui and hit Enter to launch the System Restore Wizard.
At the initial screen of System Restore, click Next.
At the next screen, check the box associated with Show more restore points.
Now, select a restore point prior to when you noticed the issue on your device.
Click Next to advance to the next menu.
Click Finish and confirm at the final prompt.
At the next system startup, your older computer state will be enforced. The issue in hand should be resolved now. If not, you can reset the PC.
How do I fix USB device not recognized in Windows 11?
The USB device not recognized error message occurs when the USB device has been damaged or the USB device driver has been corrupted. To fix this issue, first, restart your computer and then check if it helps. The next step is to update or reinstall your USB device driver. It is also possible that the USB port is not working. Connect your USB device to another USB port. If nothing works, your USB device has been damaged.
Hope this helps!
Related post: USB-C not working, charging or recognized.