WINWORD.EXE is the Microsoft Word process listed in the Task Manager. Other Office applications may also rely on the WINWORD.EXE process. Sometimes Windows 10 displays error messages regarding corrupted or missing WINWORD.EXE file. Corrupted or nonexistent WINWORD.EXEe file can, therefore, result in a failed execution of the started process.
The word WINWORD stands for Microsoft Word. However, you can encounter this error when you try to access/open other Office applications like Excel, Powerpoint, Outlook, etc.
WINWORD.EXE error can occur due to several reasons:
Corruptions in the Office suite installation.
Issues with the User Profile. Each user profile has its own set of configurations stored locally so each user can have a customized experience. If any of this is corrupt, you will not be able to launch the application.
Antivirus software can also sometimes consider the Office suite as a false positive and block its operations.
Each Microsoft component has several DLL If any of these are corrupt, you will not be able to launch any of the Office applications.
If any of the components of the Microsoft Office suite are outdated or missing, it may trigger the winword.exe application error.
There are also instances where malware disguises this error message and targets the user. In this case, an extensive Antivirus scan might be needed.
Below is a list of the most common error messages related to the WINWORD.EXE file, that you may receive during a computer or program startup while trying to use a specific function on the machine or application.
WINWORD.EXE is corrupted
WINWORD.EXE cannot be located
Runtime Error – WINWORD.EXE
WINWORD.EXE file error
WINWORD.EXE file cannot be loaded, Module was not found
Cannot register WINWORD.EXE file
WINWORD.EXE file could not be loaded
WINWORD.EXE file doesn't exist
WINWORD.EXE Application Error
WINWORD.EXE failed
WINWORD.EXE is not running
WINWORD.EXE not found
Cannot find WINWORD.EXE
Faulting Application Path: WINWORD.EXE
WINWORD.EXE is not a valid Win32 application
WINWORD.EXE crash wwlib.dll.
These error messages sometimes are accompanied by an error code(s). Nevertheless, whichever of the error you experience, the fix is essentially the same.
Fix WINWORD.EXE errors
There are several workarounds for fixing this error message with the most effective one to repair the Microsoft Office suite.
Run System Restore
Terminate the winword.exe process
Scan your PC with antivirus software
Run Word without Macros
Run Word without add-ins
Reset the Word Registry values to default
Troubleshoot in Clean Boot State
Repair Office
Reinstall Office.
Before you begin any troubleshooting procedure, first restart your system and see if that remedies the problem. It is known that sometimes a restart eliminates the issue. You can try the solutions listed below in no particular order.
1] Run System Restore
Perform System Restore and see if that helps. Restoring your PC to a good prior point where you did not face this error is a good quick way of eliminating this issue.
2] Terminate the winword.exe process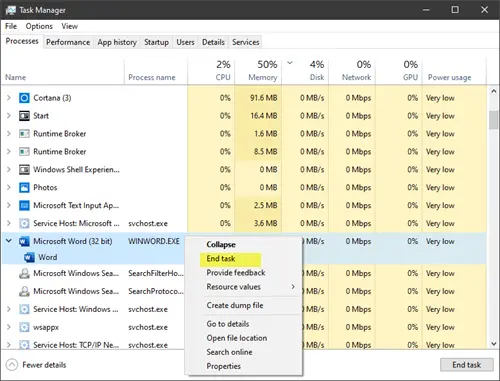 Open Task Manager, locate WINWORD.EXE, right-click on it, and select End task. Then re-launch the Office application.
3] Scan your PC with antivirus software
The legit WINWORD.EXE process is typically found in the following location (For Office 2016):
C:\Program Files (x86)\Microsoft Office\root\Office16
If found elsewhere, it could be malware. Since malware is known to use this name, it is best to scan your computer for any malicious software.
4] Run Word without Macros
To prevent Word from loading the macros type winword /m in the Run box and hit Enter. See if running Word without macros helps.
5] Run Word without add-ins
To prevent Word from loading its add-ins, type winword /a in the Run box and hit Enter. See if running Word without add-ins helps.
6] Reset the Word registry values to default
First, terminate the winword.exe process. Now to reset the Word Registry values to default type winword /r in Run box and hit Enter. Launch Word and see if this helped.
7] Troubleshoot in Clean Boot State

Perform a Clean Boot and try to identify the offender. Clean-boot troubleshooting is designed to isolate a performance problem. To perform clean-boot troubleshooting, you must take a number of actions, and then restart the computer after each action. You may need to manually disable one item after another to try and pinpoint the one that is causing the problem. Once you have identified the offender, you can consider uninstalling or disabling it.
If you recently started to get this error message, recall and check if you installed any recent application on your computer. Below are known conflicting software to watch out for:
Abbyy Finereader
Fun Tools
Toshiba Book Reader
Acrobat PDFMaker
FastPictureViewer
Adobe Acrobat
Also, users reported that Nvidia driver NVWGF2UM.DLL and Canon MF8000 UFRI LT XPS driver might cause the problem. In which case, update the driver(s) to their latest versions after downloading it from the manufacturer's website.
8] Repair Office
Repairing your Office Installation is a useful and effective solution if your installation has got corrupted or is the Office programs are not working properly.
9] Reinstall Office
If your Office installation has become totally corrupted and none of the above solutions have helped you, you may need to uninstall and reinstall the Microsoft Office suite.
All the best!