The MSRPC STATE VIOLATION bug check has a value of 0x00000112. This indicates that the Msrpc.sys driver has initiated a bug check. In this post, we will provide the most suitable solutions you can try to successfully resolve this issue.
What is the msrpc.sys driver?
The msrpc.sys driver is one of the Kernel Remote Procedure Call Provider files, considered a type of Win64 DLL (Driver) file. They are associated with the SYS file extension for the Windows OS.
The Windows kernel RPC is located at C:\Windows\System32\drivers folder. This msrpc.sys file is safe and not a threat to your computer, and therefore should not be deleted or prevented from loading each time Windows starts – otherwise, you can potentially render your PC inoperable.
If you're getting errors with msrpc.sys driver file, the recommended action to take is to uninstall or reinstall any programs recently that may have triggered this error. If this does not fix the issue or you have not installed any program recently, you can perform System Restore.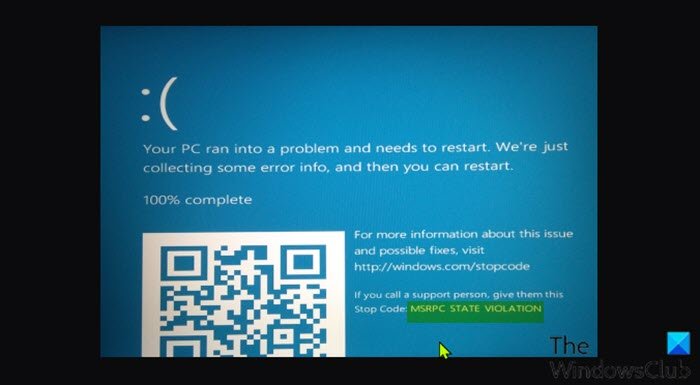 You may encounter this error after a newly installed device driver or program or after you have connected a new device to your Windows PC.
MSRPC STATE VIOLATION Blue Screen error
If you're faced with this MSRPC STATE VIOLATION Blue Screen error on your Windows PC, you can try our recommended solutions below in no particular order and see if that helps to resolve the issue.
Run the Blue Screen Online Troubleshooter
Run SFC and DISM scan
Update drivers
Troubleshoot in Clean Boot state
Run the Hardware Troubleshooter
Before you try the solutions below, check for updates and install any available bits on your Windows 10/11 device and see if the error reappears.
Let's take a look at the description of the process involved concerning each of the listed solutions.
If you can log in normally, good; else you will have to boot into Safe Mode, enter Advanced Startup options screen, or use the Installation Media to boot to be able to carry out these instructions.
1] Run the Blue Screen Online Troubleshooter
Always recommended to start troubleshooting Blue Screen errors on your Windows PC by running the Blue Screen Online Troubleshooter. If the wizard wasn't helpful in resolving the MSRPC STATE VIOLATION Blue Screen error, yoiu can try the next solution.
2] Run SFC and DISM scan
The System File Checker (SFC) and DISM (Deployment Image Servicing and Management) are both native tools to the Windows OS which PC users can utilize to fix corrupt or missing system/image files on the Windows 10/11 computer.
3] Update drivers
If this BSOD error started to appear after you have connected a new device to the system, then you need to check the device compatibility with the version/build of Windows 10/11 that you're currently running. If the device is compatible, then you need to download the latest drivers from the official website of the device manufacturer and install them. However, if the latest drivers are installed, you can rollback the driver or download and install an earlier version of the drivers.
4] Troubleshoot in Clean Boot state
Unnecessary system and cache files, processes, services present or running on your computer can trigger this error. In this case, you can troubleshoot in Clean Boot state and see if the issue at hand is resolved. Otherwise, try the next solution.
5] Run the Hardware Troubleshooter
This solution requires you to run the Hardware Troubleshooter to fix problematic devices. You can also manually check for faulty hardware by removing any recently installed hardware – check for faulty components if the issue isn't with new hardware. So check your hard drive first and then check all other hardware components.
Hope this helps!
Does factory reset fix Blue Screen of Death?
In some cases it does. BSOD errors on Windows PC are mostly related to hardware and driver issues. Basically, when you reset your Windows PC when you encounter a BSOD error, it only fixes a few minor issues with the driver. Also something to take note of here is, if the cause of BSOD is related to hardware, resetting your PC won't resolve the issue – your best option is to replace the hardware.
How do I fix Blue Screen error crash and restart?
The Windows 11/10 OS is configured by default to automatically restart when a BSOD occurs. Usually, when this restart happens, you won't have enough time to read the error message with the accompanying error code and determine the cause of the issue. So, to prevent this automatic restart, you need to disable automatic restart on system failure for your PC.