Some users are experiencing system crashes when they try to do some demanding tasks. When they try to probe the issue via Event Manager, they see error message while gaming or while executing demanding tasks:
ProblemEventCode: LiveKernelEvent
Code: 141.
If your PC crashes while gaming and you see LiveKernelEvent Error 141, 144, 1a1, ab, 193, 117, 124, 1a8, etc. in Event Viewer, then this post will help you.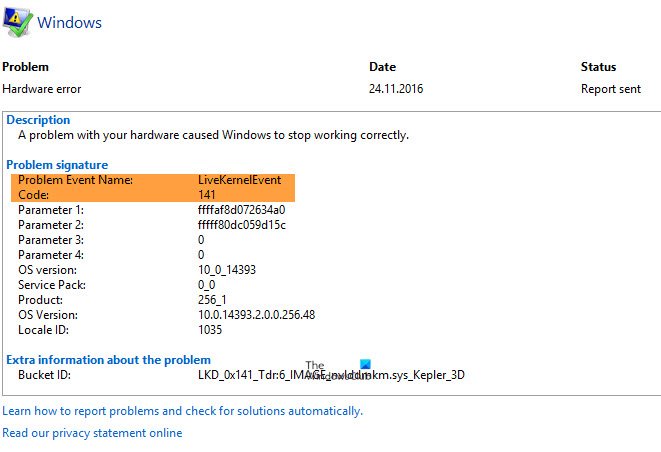 What is a LiveKernel Event?
A problem with your hardware or device driver can cause Windows to stop working correctly. When this happens, a LiveKernelEvent with an error code like 141, 144, 1a1, ab, 193, 117, 124, etc is recorded in the Event Manager.
What causes LiveKernelEvent errors?
There can be many different reasons why you may face this error. However, the issue is usually encountered while doing graphic-intensive tasks, for example, playing a demanding gaming title, editing a video, etc. We can say that it has something to do with the Graphics driver or an inferior Graphics Card. Alternatively, you can also experience this error because of corrupted files.
Fix LiveKernelEvent Errors on Windows computers
These are the things you can do to fix LiveKernelEvent Errors on Windows:
Update or Rollback your Graphics Driver
Do not Overclock
Run SFC and DISM
Upgrade your CPU
Let us talk about them in detail.
1] Update or Rollback your Graphics Driver
Let us start with updating your Graphics Driver. You need to make sure that you are running the latest version of the Graphics driver that you are using. You can download it from your manufacturer's website and install it on your computer. Do that, and check if the issue is fixed.
Some of you may want to use free tools like AMD Driver Autodetect, Intel Driver Update Utility or Dell Update utility to update your device drivers. NV Updater will keep NVIDIA Graphic Card Driver updated.
If you recently updated your graphics driver and this issue started, then maybe you want to roll back your driver and see.
2] Do not Overclock
Overclocking is a technique that allows your CPU and GPU to run at a higher frequency. But in the case of inferior hardware, this can lead to your computer crashing abruptly. So, do not Overclock.
Sometimes, you do not manually give higher voltage to the CPU or GPU but the software that you have installed can do the same for you. So, check for any such overclocking software, such as AMDRyzenMaster, Performance Maximizer, Intel Extreme Tuning, or CPU-Z for overclocking.
3] Run SFC and DISM
The issue can be because of a corrupted system file. The best way to fix those files is by running SFC and DISM commands. So, launch Command Prompt as an administrator and run the following command.
sfc /scannow
Dism /Online /Cleanup-Image /ScanHealth
Run them and see if the issue persists.
4] Upgrade your GPU
Usually, users with inferior GPU face this issue. But before concluding anything it is better to confirm our speculation.
To do that, I want you to download a free Benchmark tool and run it. If your computer crashes while testing your GPU, you know you need to purge some money, you need to upgrade your GPU. If you don't have the funds yet, don't run any heavy software. Accumulate the money, and get yourself a new GPU.
Hopefully, you are able to rectify the system crashing error with the given solutions.
Read next: Windows computer restarts without warning automatically.