If you are facing Windows Audio Device Graph Isolation (Audiodg.exe) high CPU usage or memory leak issues on your Windows 11/10 computer, then this post suggests some ways you could try to troubleshoot the issue. Sometimes a simple computer restart can solve the issue, but you may need to troubleshoot if it does not help.
Windows Audio Device Graph Isolation or Audiodg.exe is the executable that helps you get better sound quality. Apart from sound enhancement, you get different audio effects because of this executable file. By default, Windows OS has this audio engine file located in the C:\Windows\System32 folder.
Fix Windows Audio Device Graph Isolation (Audiodg.exe) high CPU usage on Windows 11/10
Audiodg.exe file may use high CPU or memory if your system is infected with malware or if the concerned audio driver has become corrupted or damaged.
Here are some things you could try to fix Audiodg.exe or Windows Audio Device Graph Isolation high CPU usage in Windows 11/10:
Uninstall and reinstall Skype
Update the Audio driver
Disable all Sound effects
Run Audio Troubleshooter
Scan PC with antivirus
To learn more about these steps, continue reading.
1] Uninstall and reinstall Skype
Completely uninstall the Skype app or the desktop software, restart the computer and then install it afresh and see if it helps.
2] Update the Audio driver
If you have recently installed a new sound device and started getting this high CPU usage problem, maybe you need to install the proper audio driver – or update your existing driver to its latest version. Identify your audio device, go to the manufacturer's site and download the applicable device driver for your computer system.
3] Disable all Sound effects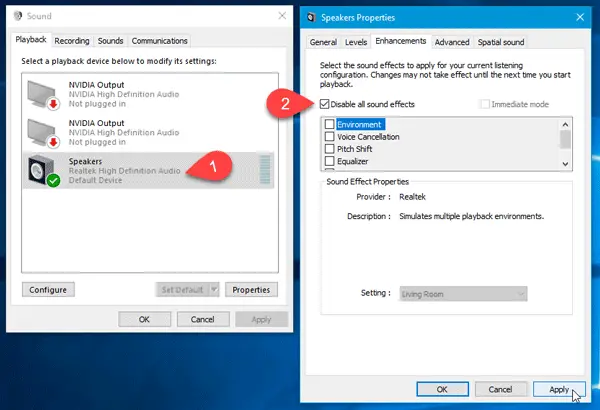 If you are currently using any sound effects (system-wide), you should try disabling that and check whether the problem is resolved or not. To disable Audio enhancements, right-click on the Audio icon in the system tray and select Playback devices. Sound Properties box will open. However, if you are using Windows 11, you need to follow this guide to open the old Sound settings panel.
Your speakers will have a green check mark. Select it and click on Properties button. After opening Speaker Properties window, switch to Enhancements tab. Now, make a tick in the Disable all sound effects checkbox and save your change.
4] Run Audio Troubleshooter
Run the built-in Audio Troubleshooter and see if it helps, You will be able to access it via the Settings Troubleshooters page. If you need more ideas, this post shows how to troubleshoot Windows 10 Sound and Audio problems.
5] Scan PC with antivirus
If the audiodg.exe file is located in C:\Windows\System32 folder it is the legit Microsoft file; else it could be malware. So scan your PC with a good antivirus software to be sure.
Do I need Audiodg.exe?
Yes, you need the Audiodg.exe file on your computer to continue getting better sound quality from the speakers. Whether it is an internal or external speaker, you need this process running to get smooth audio quality from your computer. Whether it is Windows 11 or Windows 10, this service is there on your computer.
Can I uninstall Audiodg.exe?
You can uninstall Audiodg.exe on Windows 11 and Windows 10 computers. It is possible to get the job done via the Windows Settings panel. You need to search for the app in the Apps section and click on the corresponding Uninstall button to remove it from your computer. However, if you haven't used it earlier, you might not find it on your PC.
How do I disable Audiodg.exe in Windows 11/10?
You cannot disable Audiodg.exe on Windows 11/10 PC. However, if it consumes more resources than usual, you can disable all the sound effects and enhancements to fix the issue.
I hope our suggestions help you fix the issue.
Other posts about processes using high resources: