If while you're using your Windows 11/10 PC, you hear audio crackling, static, stutter, or popping sounds emerging from the audio output device/speakers, then one of these fixes is sure to help you.
Audio crackling or popping sounds in Windows 11/10
You need to take a look at the following areas to be able to fix this audio issue on your PC:
Set Processor power management to 100%
Update Audio drivers
Change sound format
Disable ATI HDMI Audio
Run DPC Latency checker.
Let's take a look at the description of the process involved concerning each of the listed solutions.
1] Set Processor power management to 100%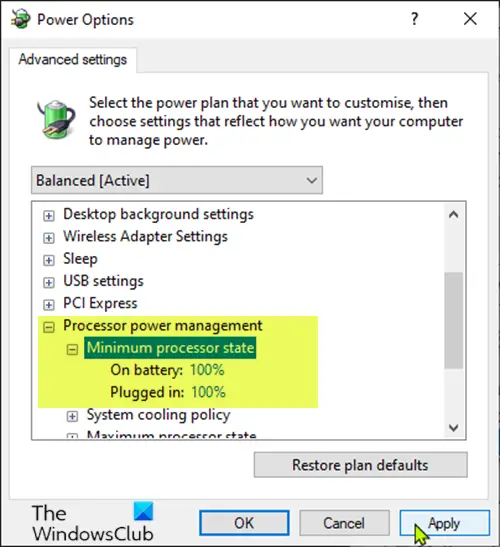 Do the following:
Right-click on the battery icon on the Taskbar.
Select Power Options.
Click Change plan settings for your power plan.
Click Change advanced power settings link.
Scroll down and expand the Processor Power management section and also expand Minimum processor state.
Change the Minimum Processor state to 100%
Click Apply > OK to save changes.
Now check if you're still hearing the popping sound from your computer's speakers or headphones if you have one plugged in. If the issue persists, continue with the next solution.
FIX: Sound Distortion issues on Windows.
2] Drivers causing crackling audio? Update Audio drivers
Update your Audio drivers to the latest available version. Follow one of the methods below to update your device drivers:
If you recently updated the audio driver and then this issue started, then maybe you want to roll back the driver to the previous version and see if that helps.
FIX: Windows Sound & Audio problems & issues.
3] Change sound format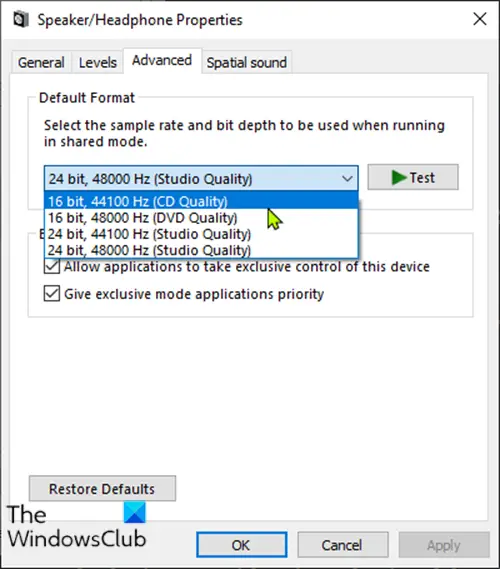 Do the following:
Press Windows key + R to invoke the Run dialog.
In the Run dialog box, type mmsys.cpl and hit Enter.
Click on your speaker having a green tick on it to select it and then click Properties.
Click on Advanced tab.
Choose 16 bit, 44100 Hz (CD Quality) from the dropdown.
Click Apply > OK.
Check if the popping sound issue is resolved. If not, continue with the next solution.
FIX: Headphones not detected or working properly.
4] Disable ATI HDMI Audio
Sometimes ATI HDMI Audio device can be the reason for the audio popping out from your device; disabling the device ensures it is not the culprit.
Here's how:
Press Windows key + X to open the Power User Menu, then press M key to open Device Manager.
Expand Sound, video and game controllers category.
Right-click on ATI HDMI Audio device and select Disable.
If the issue is still unresolved after this, continue with the next solution.
FIX: Strange audio problems coming from your computer speaker.
5] Run DPC Latency checker
High latency can be the issue of many audio problems including the popping sound.
DPC Latency Checker helps to monitor your system and gives the reason for the high latency.
To run DPC Latency Checker software, simply download the tool and install it.
After the tool scans your system, if you see green bars only then your system is in proper condition. But, if you spot red bars then a device is causing some issue and the tool will also show you the name of the device that is failing.
This post will help you if your Audio sounds funny and distorted like chipmunks.
Hope this helps!