A Power Plan is a collection of system settings that tells your computer how to use power in different situations. Power plans are important, and they can be set by the individual depending on what they prioritize as important. For example, some would prefer longer battery life over performance, depending on their situation, location, or computing needs.
Power Plans on Windows 11/10 computers
All PCs have some power plan that is set to a default setting, it could be a balance between power consumption and system performance or any other option. In Windows 10, the user has the option to change the power plan to suit their personal needs. Power plans can be tweaked to a user's preference based on what the user is trying to get. Power plans activate in certain hardware and system changes or based on a user's overall preferences. Power plans can be set to activate or change certain things such as when the PC goes to sleep, screen time off, hibernate, etc.
Power plans can help your PC last longer overall because certain hardware can be set to rest if not in use for a certain amount of time. Power plans can also help the user save on electricity because the PC can be set to be off or sleep if not in use for a time, or the PC can be set to low power use even when being used. Power plans can help a user achieve better performance from the PC based on what they want overall or at a given moment.
Users can set multiple power plans for their different uses. For example, there can be a Power Plan for gaming where performance is key. Another power plan for regular use, this might include setting the PC to lower the screen brightness, etc. There are apps that when installed allow for auto power plans. You can click them or some will allow you to add games or other apps to them and whenever these games or apps are used, a certain power plan is activated with features that would enhance the game/app experience.
How to delete a Power Plan in Windows 11/10

It is sometimes necessary to delete a Power Plan from your list or Power Plans. This might be due to having overlaps in Power Plans. This is where Power Plans might be doing almost the same set of changes and so it is best to just have one. Another important reason might be that third-party software has its own Power Plan settings that may be conflicting with your goals or other Power Plans. For example, you install a PC Booster and it might tweak some hardware that is making the PC use more power or keeping the hard drive from sleeping when you want it to.
This might not have been obvious at first, you might notice that something is off about the PC's sleep time. If you also go to the Advanced Power Plan Setting you might notice the changes that you do not want. In a lot of cases, deleting the system booster will leave their Power Plan in control of the Power Plan settings, so it is important to delete the Power Plan.
Go to Start and click on the Settings icon. 
This will take you to the Windows Settings home screen. Click on System, this will take you to the Display options screen.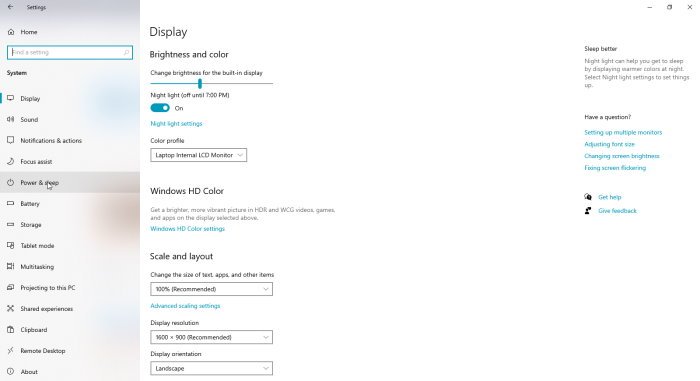 Look to the left panel and click Power and Sleep. This will take you to the Power and Sleep option page which will show the options for making the screen go out when on battery or plugged in and the choice for a time before the PC will go to sleep when on battery or plugged in.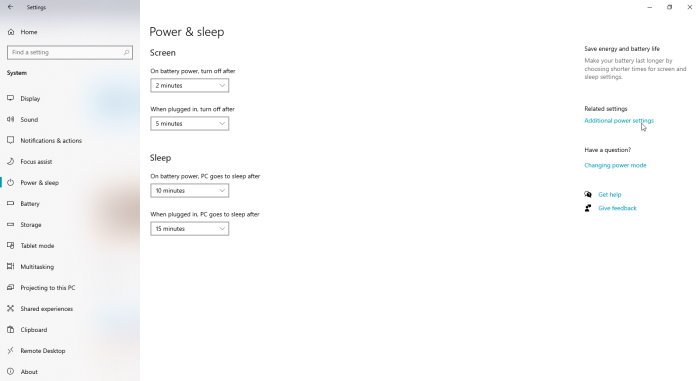 Look to the right and choose Additional Power Settings.
In Windows 11, you could directly open Control Panel > Power Options.
This will take you to a screen that you can Choose or Customize a Power Plan. Here you will see each power plan with a change setting option.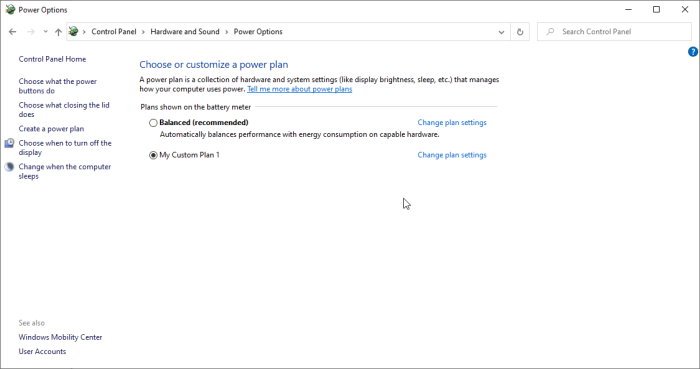 In this option, you will get to modify the Power Plan or delete it. Note that the Balance Power Plan cannot be deleted. Also note that to delete a power plan, you must select another power plan from the Choose or Customize a Power Plan option screen.

Then you go into the Change Plan Settings for the Power Plan you want to delete and choose Delete.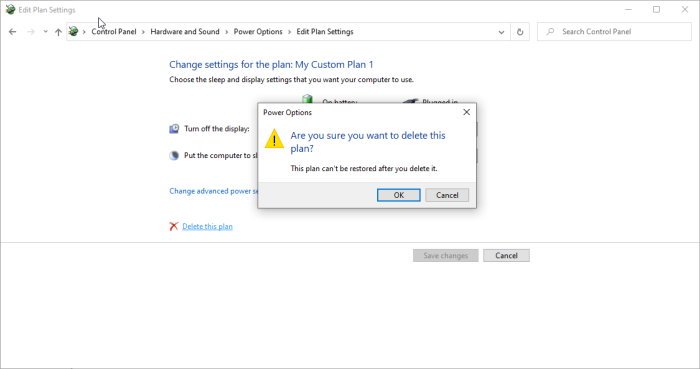 This will bring up a dialogue box asking to confirm your choice if you want to delete just choose ok.
Power Tweaks for Geeks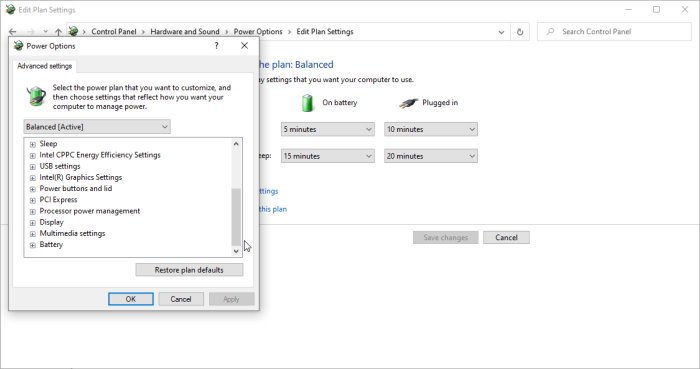 The Power Plan setting can be further tweaked to offer more options to advanced users who know how to get more out of these settings. The user can make certain changes to hardware and software to make them perform differently when on battery power or plugged in. Some of the settings that can be changed are; Windows Explorer, Graphics Card Setting, Multimedia Setting, Processor Power Management. All these will affect battery life and performance hence they can be set to automatically change when plugged in or on battery power. Depending on the setting they will make the PC use more power or less power so it will eventually affect your utility bill. You can always change back to the Power Plan's default if you think you want to keep the original Power Plan setting for the Advanced Options.
Read: How to configure hidden Power Options in Windows 11/10.
Power Plans are great ways to enhance your PC's performance overall. Power Plans will need to be deleted for various reasons. Power Plans are sometimes changed by third-party software so if your PC is performing differently after an install, it could be due to a change in the Power Plan by installed software. Power Plans can be further tweaked to suit the needs of the user.