We tend to use our Windows computers to listen to a lot of music or whatever else that has sound. It's a great way to pass the time when we have little to do, but what happens when the speaker is acting up, you know, giving a strange high-pitched sound.
Now, this should never be viewed as normal, so if your computer is giving off this problem, then there is a technical malfunction that could be either software or hardware.
Strange audio problems coming from speaker
Audio problems in Windows is nothing new, but what happens when your speaker is making some weird high-pitched sound that annoys you more than anything else? Try these fixes to resolve the audio glitches, that's what.
1] Update your audio driver
If it's a software problem, then chances are it has everything to do with the audio driver. Maybe the newest version of Windows 10 doesn't work well with the old driver version. Therefore, it's time to upgrade to the newest version if it's available.
First, you'll need to press the Windows Key + R to invoke the run box. After that, type devmgmt.msc into the box and press Enter to launch Device Manager. The next step is to navigate to "Audio inputs and outputs" and then right-click on the speaker or the driver option.
Finally, click on Update Driver, then "Search automatically for updated driver software."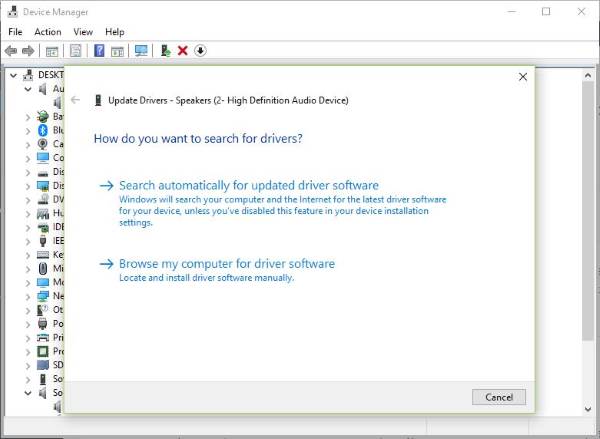 If that doesn't work, you'll need to visit the website of your PC manufacturer and locate the support section where it's possible to download drivers and other software for your computer. You'll need to know your PC's model and model number to find the right drivers.
2] Remove and reinstall the sound card
This is a good fix from a personal yet unrelated experience. You see, had issues with my Wi-Fi once where it always tends to disconnect. By disabling and re-enabling the WiFi card, I would always return to my crazy ways on the web.
A similar action could fix your high-pitched sound issue coming from the speakers.
To get things up and running, click on the Windows Key + Run, then type devmgmt.msc in the box, click Enter, and watch as Device Manager fires up. Navigate to "Sound, Video, and Game Controllers" then right-click on the sound card.
The near-final step is to click Uninstall, then tick the box that says "Delete the driver software for this device." Close Device Manager and then proceed to restart your computer to move forward.
After restarting, the system should automatically reinstall the speaker. If not, follow the above procedure to return to Device Manager. Travel off to "Sound, Video, and Game Controllers" then right-click on the sound card.
Here, simply enable the sound card, restart your computer again, and from there, everything should work as intended.
3] Check the speaker hardware
If all else fails, there might be an issue with the speaker hardware itself, and the best way to get around this is either to have it fixed, or purchase yourself a wired or wireless speaker system that works well with your computer.
Hope something helps!