If Windows 11 or Windows 10 is displaying error 0x8024001D while installing Windows Update or while downloading a game or an app from Microsoft Store, the suggestions mentioned in this post are sure to help you fix the problem. The most common causes of Windows update errors and Microsoft Store errors are the corrupted Windows Update Components and corrupted Microsoft Store cache. According to the affected users, a few minutes after starting the download from Microsoft Store, they see the error code 0x8024001D.
0x8024200D (WU_E_UH_NEEDANOTHERDOWNLOAD)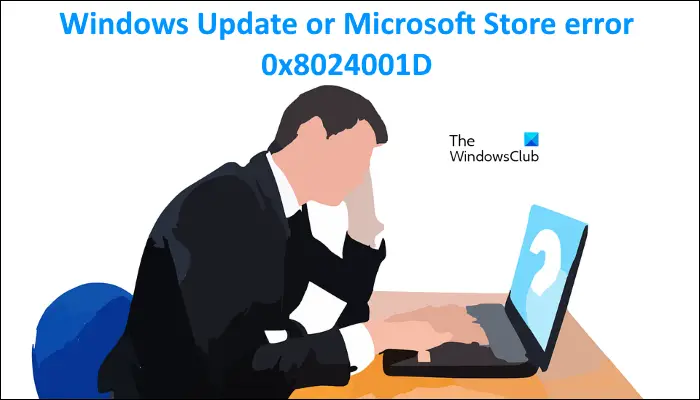 Fix 0x8024001D Windows Update or Microsoft Store error
Go through the following solutions to fix the 0x8024001D Windows Update or Microsoft Store error.
Rename the Software Distribution folder
Reset the Windows Update Components
Update Microsoft Store
Clear Microsoft Store cache or reset Microsoft Store
Below, we have explained all these fixes in detail.
1] Rename the Software Distribution folder
The Software Distribution folder is an important component of Windows Update. It contains the temporary files needed to install the latest Windows updates on a user's system. In case Windows Update fails, deleting the contents inside the Software Distribution folder or renaming it can fix the issue. Deleting the contents inside it is considered safe because Windows recreate the files inside it if removed. Even if you delete the Software Distribution folder, Windows will recreate it.
If any file inside the Software Distribution folder is corrupted, it will create issues while installing the Windows Updates due to which Windows displays an error code. Either rename or delete the contents inside the Software Distribution folder and check if it helps.
Open an elevated command prompt windows, type the following commands one after the other, and hit Enter:
net stop wuauserv
net stop bits
rename c:\windows\SoftwareDistribution SoftwareDistribution.bak
net start wuauserv
net start bits
2] Reset the Windows Update Components
This error code usually appears when running the Windows Update Standalone Installer. To fix the error, reset the Windows Update Components. Resetting Windows Update Components is one of the troubleshooting methods to fix Windows Update problems. You can do it manually or use the Reset Windows Update Tool. After performing this action, the Windows update should get installed on your system without any error.
3] Update Microsoft Store
For the best experience on Microsoft Store, it is always suggested to use the latest version of Microsoft Store. Issues can occur if you are using an outdated version of Store. Check for Microsoft Store updates manually and see if it fixes the problem. To update Microsoft Store, follow the steps below:
Launch Microsoft Store.

If you are a Windows 11 user, go to "Library > Get Updates."
Windows 10 users have to select the See more option and then go to "Downloads and updates > Get updates."

If an update for Microsoft Store is available, it will start installing automatically.
After updating Microsoft Store, the issue should get fixed. If not, try the next solution.
4] Clear Microsoft Store cache or reset Microsoft Store
If the Microsoft Store cache is corrupted, you will experience several errors while installing and updating apps and games via the Microsoft Store. One way to fix the corrupted Microsoft Store cache problem is to clear the cache. To do so, open an elevated Command Prompt and type the following command. After that, hit Enter.
WSReset.exe
This process will take some time. After the process gets completed, Microsoft Store will be launched automatically. Now, check if you can download or update apps or games from the Store.
If after clearing the Microsoft Store cache, the issue still persists, reset Store. An option to reset Microsoft Store is available in Windows 11/10 Settings. The following instructions will guide you on this.
Open Windows 11/10 Settings.
Go to "Apps > Apps & features."
Scroll down and locate Microsoft Store.

In Windows 10. select Microsoft Store and click on Advanced options.
In Windows 11, click on the three horizontal dots next to Microsoft Store and select Advanced options.

Scroll down and click on the Reset button.
The above action will delete the app's data and sign-in preferences. After resetting Microsoft Store, you have to sign into Store again.
Read: Fix Microsoft Store error 0x80131505
How do I fix Installer encountered an error 0x8024001D?
You may see the "Installer encountered an error:0x8024001d" while installing RSAT on your system. By using the RSAT or Remote Server Administration Tool, the IT administrators can manage roles and features in Windows Server remotely. If you cannot install RSAT via Windows Installer, you can try installing it via Windows PowerShell. If this does not work, you have to modify a Registry key.
How do I fix error code 0x8024402c?
The Windows Update error 0x8024402c usually occurs if the firewall or proxy settings on your computer are configured incorrectly. Due to this, the connection to the Windows Update servers fails. To fix this issue, you have to clear the proxy cache after removing characters from the proxy server list. If this does not work, enable the "Automatically detect settings" option in Internet Options.
How do I fix error 0x8024402f?
If you see the error 0x8024402f while installing Windows Update, the first thing that you should do is to run the Windows Update Troubleshooter. Troubleshooters are automated tools that help users fix problems that they face on their Windows devices. In addition to this, you can also try resetting Windows Update Components and deleting the contents of the Software Distribution folder.
There might be a background application interfering with Windows Update. You can check this by troubleshooting your computer in a Clean Boot state. If you find such a program, consider uninstalling it or check for its updated version on its official website.
Read next: Fix Windows Update Error 0x800f080a.