At times, when using a Windows Update Standalone Installer to install Windows Updates, you may see error code 0x80096002. If you face this issue, here is what you can do to resolve the issue and install the update on your Windows computer.
Windows Update Standalone Installer
Installer encountered an error: 0x80096002
The certificate for the signer of the message is invalid or not found.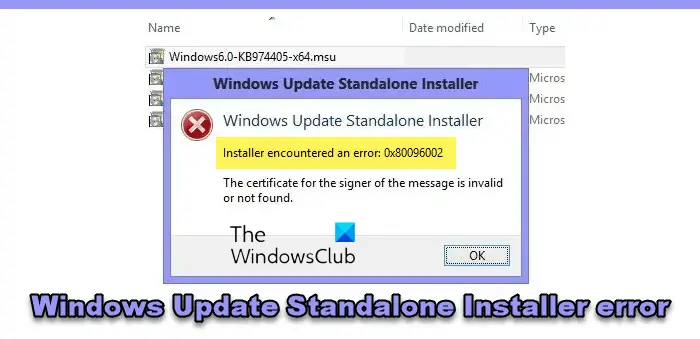 It could be caused if the vendor's certificate, has become invalid, compromised or pulled. But more often than not it could be because the update is not targetted at your OS version. It could occur if you try to install an incompatible update or software on your system. It can also be caused due to misconfigured system files in your operating system. It has been known to occur when you try to install BitLocker To Go Drive Encryption or BitLocker Drive Preparation Tool as well.
Windows Update Standalone Installer error 0x80096002
The following methods have proven to be effective in troubleshooting the error 0x80096002 on Windows 11/10:
Run the standalone installer in Compatibility mode
Enable Windows Identity Foundation
Use Windows Update Troubleshooter.
Make sure to check if the error was resolved after every suggestion. It will help you learn what fixed the problem.
1] Run the installer in Compatibility mode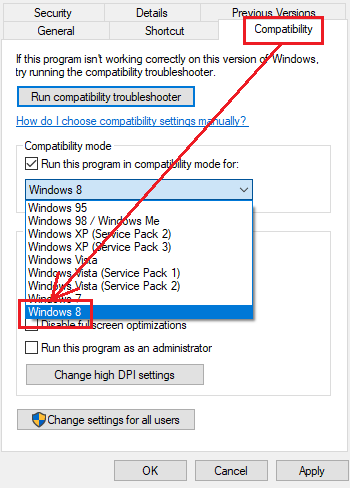 Any incompatibility between the operating system and the update installer package can also trigger errors like this. Some updates are meant for an older version of your operating system. It is also possible that it applies to your version as well. If that's the case, you can use the Compatibility Mode for the same.
Right click on the installer file and select Properties. Then navigate to the Compatibility tab.
You have two options:
Select Run compatibility troubleshooter and let it select the best compatibility options for you.
From the drop-down, select the version of Windows for which you want the installer to run.
Select Apply and then select OK.
Rerun the installer and check if that fixes your issues.
2] Enable Windows Identity Foundation
Some user has reported that enabling the legacy Windows Identity Foundation feature via Turn Windows features on or off helped. See if enabling this helps in your case.
If it does not, you may disable the feature right away.
3] Use Windows Update Troubleshooter
To run Windows Update Troubleshooter:
Open Settings from the Start Menu
Navigate to Update & Security > Troubleshooter
Select Windows Update from the right side panel
Click on Run Troubleshooter.
Follow the on-screen instructions to let it troubleshoot & fix the issue that you are facing.
We hope that the solutions work for you.
Related: