If you are unable to update Windows 11/10 and are seeing Windows Update Error Code 0x800f080a, then this post will be able to help you. This error code is experienced by a wide range of users running both Windows 11 and Windows 10. Solutions to resolve the problem and the reasons behind are mentioned hereinafter.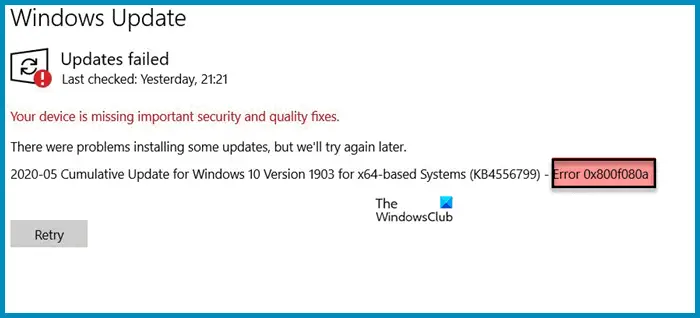 Before resolving the error, we need to know, what's causing it. First and foremost, we have to talk about corrupted system files. Various reasons such as force shutdowns, pending restart, etc can corrupt the files of your system, but, they can be easily resolved with the help of a few solutions.
Also, we need to talk about the corrupted or incomplete Windows Update cache. If you have stopped an update in the middle of a download, these caches are formed and as a result, give you the error code in question.
We can not leave the possibility of a third-party application interfering with the Windows process and causing issues. There are a lot of such apps such as overclocking apps that could have caused the error code.
Now that we know the reasons, let us move to the troubleshooting guide and resolve the issue.
Fix Windows Update Error 0x800f080a
If you are unable to install Cumulative or Feature Update and see Error Code 0x800f080a on Windows 11/10, then these suggestions may help you:
Run Windows Update Troubleshooter
Delete Windows Update Cache
Run SFC and DISM
Reinstall Wireless Adapter
Reset Windows Update Component
Check your data and time
Troubleshoot in Clean Boot
Let us talk about them in detail.
1] Run Windows Update Troubleshooter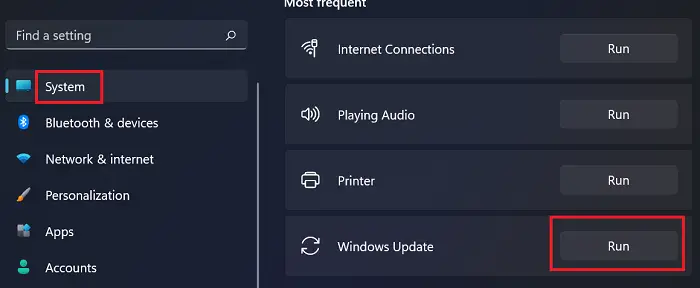 We are going to start resolving the issue using Windows own troubleshooter. This is a utility that will find and resolve the problem if it can. To do that, follow the prescribed steps.
Windows 11
Launch Settings by Win + I.
Click System > Troubleshoot > Other troubleshooters.
Click Run associated with Windows Update
Windows 10
Open Settings by Win + I.
Go to Update & Security > Troubleshoot > Additional troubleshooters.
Click Windows Update > Run the troubleshooter.
Wait for the process to complete and hopefully, your issue will be resolved.
2] Delete Windows Update Cache
Corrupted and incomplete downloads of the update can trigger the Windows Update error. We need to delete the cache and see if the issue persists. So, delete $Windows.~BT & $Windows.~WS folders, restart your computer and retry updating. Hopefully, this will do the job for you.
3] Run SFC and DISM
As mentioned earlier, you can also see the issue in question because of corrupted system files. To resolve it, we have to run SFC and DISM commands.
Hit Win + R, type cmd, and hit Ctrl + Shift + Enter.
Run SFC Command
sfc /scannow
Run DISM Command.
DISM /Online /Cleanup-Image /RestoreHealth
Finally, restart your computer and hopefully, the issue will be resolved.
Read: DISM vs SFC first? What should I use to fix the error code?
4] Reinstall Wireless Adapter
As it turns out a lot of the victims were able to resolve the issue just by reinstalling the Wireless Adapter. And the reason was that their driver got corrupted and installing a fresh driver did the trick. That is why we would recommend you reinstall the driver in question and see if it helps.
Usually, Window tends to install the driver if it goes missing, but it is better to install a copy of the driver from the manufacturer's website.
To reinstall the driver, follow the prescribed steps.
Hit Win + X and select Device Manager.
Expand Network adapters.
Right-click on your WiFi adapter and select Uninstall device.
Then, right-click on Network adapters and select Scan for hardware changes.
Your driver will be installed. Then, restart your computer and retry updating, hopefully, it will work.
5] Reset Windows Update Component
You can see the issue in question, because of corrupted Windows Update files. So, reset Windows Update Components, reboot your system and check if the issue persists. Hopefully, this will do the job for you.
6] Check your data and time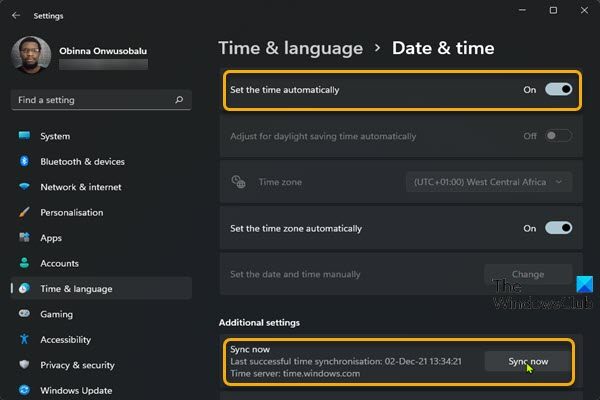 You have to make sure that your data and time are correct. The best way to do the same is by synchronizing the time. Right-click on the data and time from your Taskbar and select Adjust date and time. Then click on the Sync now button and see if the date and time are correct. You can also manually configure the date and time.
7] Troubleshoot in Clean Boot
As we have mentioned earlier, a lot of third-party apps can interfere with the Windows process. To find out what's causing the issue in this case, you need to perform Clean Boot. Then, remove the culprit, and the problem is solved!
How do I fix Windows Update error 0xc1900223?
Windows Update Error 0xc1900223 can be resolved by following the solutions mentioned in this article. It is usually caused by corrupted update files, somewhat similar to the cause of Update Error 0x800f080a. However, we would recommend you check out our guide on how to fix Windows Update Error 0xc1900223.
What is Windows Update error 0x80080008?
The Windows Update error 0x80080008 prevents you from installing the latest Windows Update. It usually occurs due to the incorrect installation of the Wups2.dll file or when the Wups2.dll file has become unregistered. In this case, running the Windows Update Troubleshooter will help. If not, you have to re-register the Wups2.dll file.
Also Read: Windows Update keeps failing with error 0x8007001f – 0x20006.