For some PC users, you may get the Failed to load PDF document error message when you try using the built-in PDF Viewer to open a PDF document in Google Chrome on your Windows 11 or Windows 10 computer. If you have encountered a similar issue, then this post is for you! In this post, we offer suggestions that can help you resolve the issue.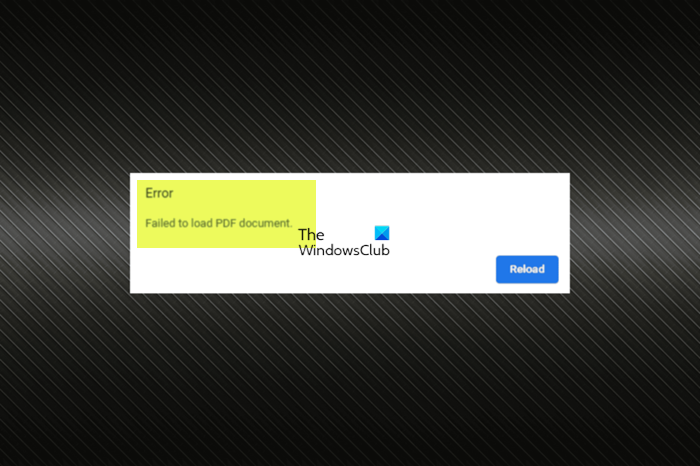 This issue can also occur in other browsers that have a native PDF reader/viewer. You are likely to encounter this problem in Chrome due to the following reasons.
Google Chrome is not updated.
The built-in PDF viewer is not equipped to view protected PDFs.
Misconfigured settings or an issue with the browser itself.
In one particular case where you may get the error message, it simply indicates that the web browser you are using, Google Chrome, is trying to open a secured PDF file within its own native PDF Viewer. In this case, you will have to open the protected PDF using Adobe Acrobat Reader or any other desktop PDF application on your PC.
To troubleshoot viewing PDF files on the web, you can try resetting the display preference in your browser to clear up the viewing issue. In Reader or Acrobat, right-click the document window, and choose Page Display Preferences. From the list at the left pane, select Internet, then uncheck the Display PDF in the browser option, and then click OK to save changes.
Failed to load PDF document in Chrome
If when you try to use the built-in PDF Viewer to open a PDF document in Google Chrome on your Windows 11/10 PC and you receive the Failed to load PDF document error message, then you can apply our suggested fixes/workarounds presented below in no particular order to easily resolve the problem on your system.
Make sure Chrome is updated to the latest build/version
Configure Chrome to download instead of opening a PDF
Clear Chrome browser cache
Disable/Remove problematic Extensions
Use the third-party PDF Viewer Extension
Reset/Reinstall Chrome browser
Use another browser PDF Viewer
Let's see these listed suggestions in detail.
1] Make sure Chrome is updated to the latest build/version
As reported by some affected PC users, the Failed to load PDF document error message could be due to an outdated browser. Sometimes, a glitch or a bug can appear once in a while and affect a particular software functionality – in cases like this or to prevent issues from arising, the best step to take is to always ensure you manually check for and update your browser periodically by following the steps below – sometimes Chrome won't update without user intervention.
Open Chrome.
Click the ellipsis (three-dot).
Go to Help > About Google Chrome.
A new tab will open that shows you the current version installed on your PC. Additionally, Chrome will check for updates. If an update is available, you will be prompted to install it.
Restart the browser once the update completes.
If the issue persists, you can proceed with the next fix.
2] Configure Chrome to download instead of opening a PDF
The error in view might occur due to your content settings in the Chrome browser. By default, Chrome is set to open PDF files internally, but you might be able to change this behavior by simply disabling the PDF Viewer in Chrome and choosing to open PDF files in a dedicated PDF Viewer, but you will have to configure Chrome to download the PDF file instead of opening the file. Once you have the document downloaded, then you can open the file normally using Adobe Acrobat Reader or any of the alternative free dedicated PDF readers for Windows 11/10.
To configure Chrome to download instead of opening PDF documents on your device, do the following:
Open Chrome.
Click the three-dot icon in the upper right corner of the browser.
Go to Settings.
Under the Privacy and security section, scroll down to Advanced.
Click Site Settings or Content settings whichever that are shown.
Scroll down and click Additional content settings.
Click PDF documents from the expanded menu.
Now, make sure the Download PDF files instead of automatically opening them in Chrome option button is toggled on.
Unless you choose a different location, the PDF document will be saved to the default location below:
C:\Users\UserName\Downloads
So, open the default desktop PDF reader software you have installed on your PC, then browse to the location above, then double-click the file to open it. You'll have to do this because even if Adobe Acrobat Reader or any PDF reader is already installed on your computer, if another program, like Chrome, in this case, tries to open the file you will get the error message.
Read: Make Microsoft Edge download PDF files instead of opening them
3] Clear Chrome browser cache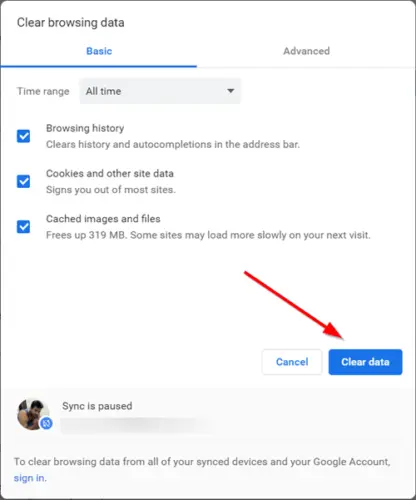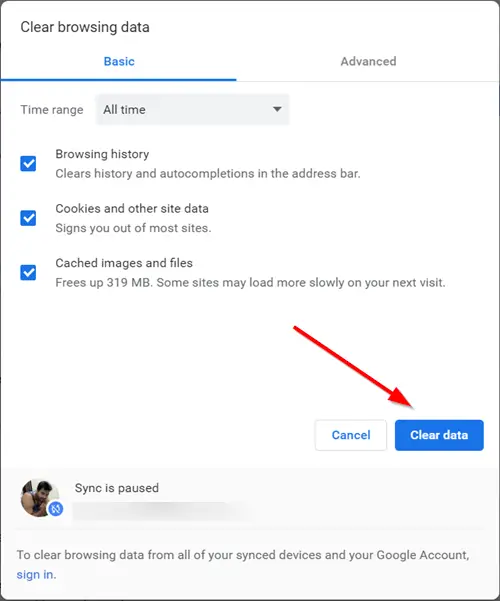 The Chrome browser just like other browsers stores all sorts of files (like Cookies and SuperCookies) on the PC to display certain websites faster, but sometimes cache files can get corrupted, and this can potentially lead to various errors, and likely the error you are currently facing. So, to rule out the possibility of a corrupt browser cache being the culprit here, you can clear the Chrome browser cache and see if that solves your problem. Else, proceed with the next suggestion.
Read: Difference between Cache and Cookies
4] Disable/Remove problematic Extensions
If Chrome is failing to load PDF documents when you try to view these files, it could also be due to some extensions might be interfering with your browser. In this case, to troubleshoot, you can simply disable all extensions, and then restart Chrome. If the issue doesn't reoccur, one of your extensions is certainly causing the problem. Now, you can enable the extensions one by one and in between, see if you can open PDF files using the Chrome inbuilt PDF Viewer. Once you identify the problematic extension(s), you can remove the add-on from the browser or just leave it disabled.
5] Use the third-party PDF Viewer Extension
Some affected PC users reported they were able to resolve the issue in view by downloading and enabling an extension called PDF Viewer in Google Chrome. So, you can try this workaround by following these steps:
Head over to chrome.google.comr and click Add to Chrome to install the Extension to your web browser.
Confirm adding this extension.
Go to the three-dot menu and choose More tools > Extensions to ensure this extension is enabled.
Restart Google Chrome.
You can now open a PDF file and see if the document loads without throwing any error. Otherwise, proceed to the next solution.
6] Reset/Reinstall Chrome browser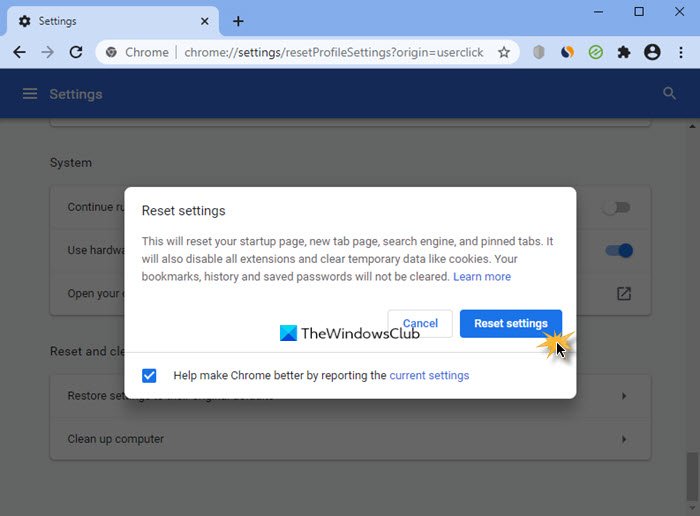 Sometimes, it could be that your current Chrome installation is corrupted or some of the customization or settings you applied on the browser are preventing some of the functions of the browser from working properly leading to the issue in highlight and many other problems. In this case, the most practical solution is to first reset the Chrome browser to default settings. If that doesn't resolve the issue, you can then reinstall Chrome completely. To uninstall Chrome, we suggest you use Uninstaller Software which will remove all files and registry entries associated with Chrome, ensuring that leftover files don't interfere with future installations. Afterward, download and install the latest version of the browser on your Windows 11/10 PC.
7] Use another browser PDF Viewer
Sometimes, it could be the issue at hand is just Chrome browser-related. So, suppose you would prefer to have your PDF documents opened in a web browser. In that case, you can use Firefox PDF Editor or fire up and use Microsoft Edge PDF Viewer since the browser is built into the Windows 11/10 operating system, so you don't need to install the browser.
I hope you find this post helpful!
Related post: Edge Couldn't open PDF, Something's keeping this PDF from opening.