Microsoft Edge is the default PDF reader in Windows 11/10, which is good, as it beats needing third-party, free PDF reader software. But if you're wondering how to change the default PDF reader, then we're here to help out. This post will show you how to change the default PDF reader & viewer, which is Microsoft Edge Chromium browser, in Windows 11/10, to one, of your choice.

Change default PDF Viewer in Windows 11/10
Microsoft Edge is pretty good at being a PDF reader. If you are interested in basic reading, then Edge will suffice.
That being said, Windows is all about the freedom of deciding what you want to use, so if Edge is not your cup of tea, there are several options out there, some of which are even better than Edge. So naturally, some folks will want to change Edge from being the default browser, and that's fine, so let's get down to it.
The procedure to change the default PDF reader is the same as changing any default program.
1] Via Context Menu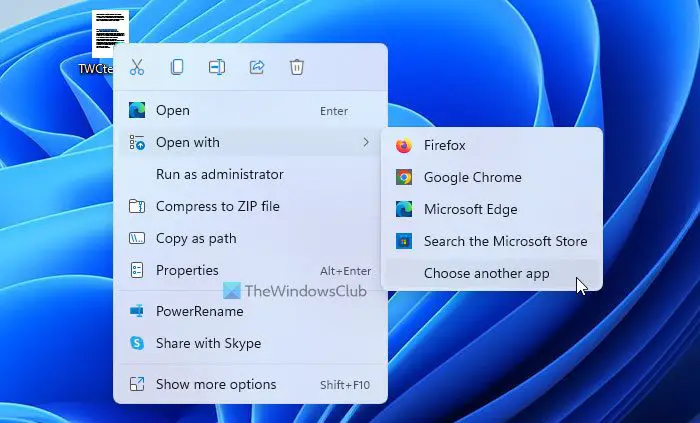 To change the default PDF reader via Context Menu in Windows 11/10, follow the steps given below.
Go to the location where you have a PDF file stored.
Right-click on the PDF file
Access 'Open With' option.
Choose another app.
A pop-up will appear with a list of programs that can open PDF files.
Select a program of your choice.
Check 'Always use this app' box.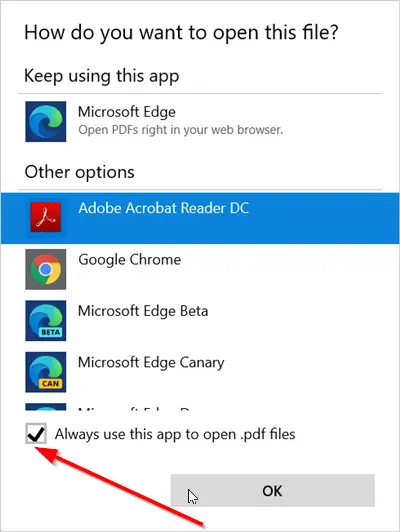 Here's the thing, there's a chance your favorite PDF program may not show up on the list, so what then? Well, instead of clicking on "Choose another app" just click on "More apps" and it should show what you want to see.
2] Via Settings
Windows 11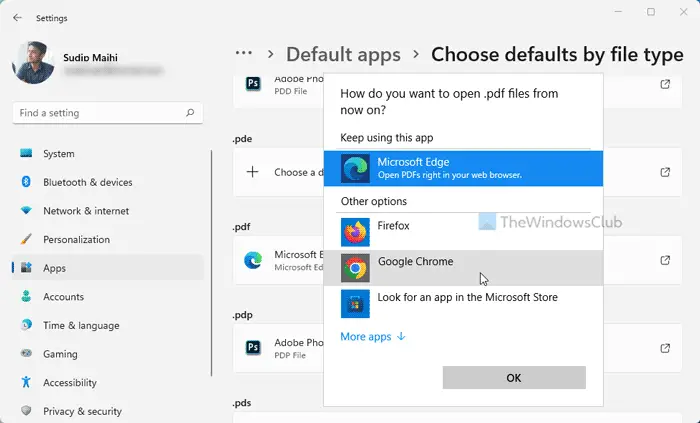 To change the default PDF reader in Windows 11, follow these steps:
Press Win+I to open Windows Settings.
Go to Apps > Default apps.
Click on the Choose defaults by file type.
Find the .pdf option.
Click on the Microsoft Edge browser icon.
Select another PDF reader app.
Click the OK button.
Windows 10
However, if you are using Windows 10, you need to follow the following steps.
Open Settings
Select Apps > Default apps
You may not be able to see the option to change the default PDF Viewer.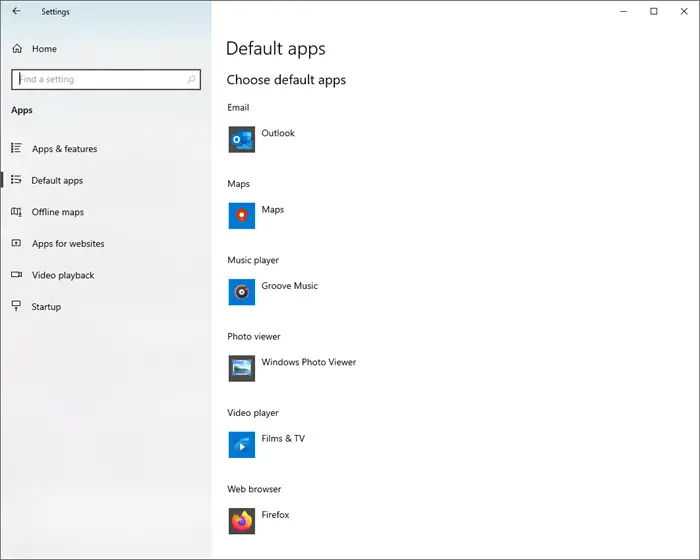 Scroll down and click on Choose default apps by file types, to open this page.
Locate PDF and click on Microsoft Edge which is the OS default.
Select the app you want and set it as the default
3] Via Control Panel
Another way to get this done is by opening the Control Panel, then click on Programs > Default Programs > Set your default program. Wait for the programs to load, and then click on your favorite after. From there, it should be possible to set this program as the default.
Hope this helps!
Why is Microsoft Edge default for PDF?
Microsoft Edge is the default web browser on Windows computers. Microsoft Edge can also open PDF files. When you clean and install Windows OS, you will get Edge pre-installed on your system. Hence, initially, it can be the default PDF reader on your Windows computer. When you install another PDF reader, you can make that PDF reader your default software to open PDF files.
How do I make Adobe default instead of Edge?
To make the Adobe Reader default instead of Edge for opening the PDF files in Windows 11, you can go through any of the steps mentioned above. Right-click on a PDF file and select Open with > Choose another app. Then, select Adobe Reader from the list and tick the Always use this app to open .pdf files checkbox. Finally, click the OK button to save the change.