This tutorial will show you how to enable and use PDF editing tools in Firefox PDF reader on Windows 11/10. The built-in PDF viewer or reader of Firefox has some interesting features that include two-page view mode (Odd Spreads), Even Spreads, Horizontal Scrolling, view document properties, Presentation Mode, etc. Now, it also lets you annotate a PDF using its PDF editing tools. Using these PDF editing tools, you can add text and use ink annotation to draw on PDF with freehand mode. You can also select a color of your choice for using the text tool and ink tool.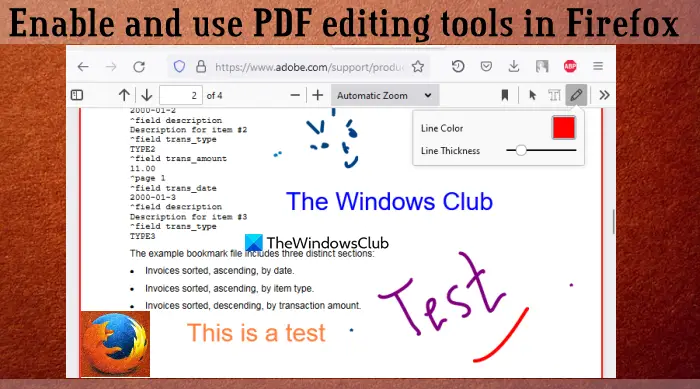 By default, its PDF editing tools remain disabled or deactivated, this tutorial has covered all the steps to activate and use these options. Let's check how to do this.
How to enable PDF editing tools in Firefox PDF Reader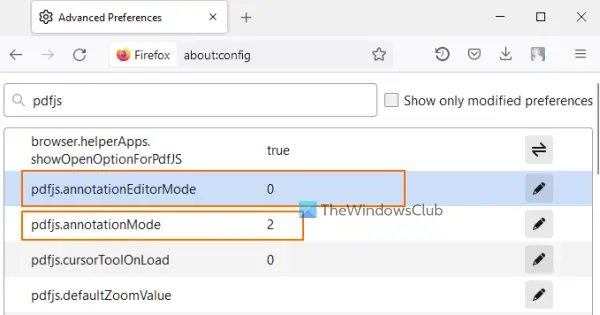 To enable PDF editing tools in Firefox PDF reader on a Windows 11/10 computer, follow the steps mentioned below:
Open the Firefox browser
Type about:config in the address bar and use the Enter key
You will see a Proceed with Caution message. There, press the Accept the Risk and Continue button. This will open the Advanced Preferences page
Look for pdfjs.annotationEditorMode preference and double-click on it or click on the Edit icon available for this preference
Enter 0 in the value field and press the Enter key or click on the Save icon
Search for pdfjs.annotationmode preference and see if its value is set to 2. If not, double-click on that preference, add 2, and press Enter. If the value of this preference is 0, then PDF editing tools will be there, but you won't be able to use them. Therefore, you need to change its value.
The browser restart might be required to save your changes. This will enable PDF editing tools in Firefox PDF viewer. Now let's see how you can use them.
Also read: How to disable Download Panel automatic opening in Firefox.
How to use PDF editing tools in the built-in PDF Viewer of Firefox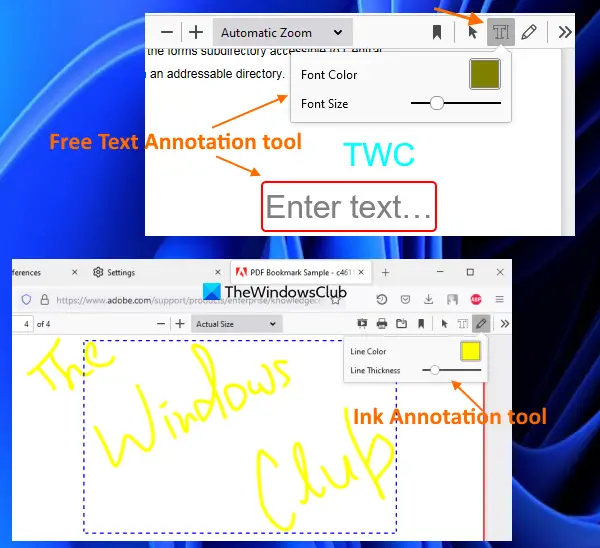 For using the PDF editing tools in the built-in PDF viewer of the Firefox browser on your Windows 11/10 computer, use the following steps:
Open a PDF in Firefox
On the top-right corner, you will see two new tools:

Add Free Text Annotation
Add Ink Annotation

Click on the text annotation tool and then you can select font color and also change the font size (by moving a slider from right to left). When options are set, click on any area on the PDF page and then you can type a custom text. You can also move the added text anywhere by dragging and dropping
In a similar way, when you will click on the ink annotation tool, you will be able to choose a color and line thickness and then start drawing on the PDF pages.
It doesn't come with an eraser tool but you can use undo and redo hotkeys.
To turn off using annotation tools, you can use the Disable Annotation Editing icon (or arrow icon) available just to the text annotation tool. After that, you can download the annotated PDF to your system.
That's it! This feature is similar to what we already have in the Microsoft Edge PDF reader. But Chrome browser hasn't come with such a feature till now making Firefox a step ahead in this direction.
The PDF editing tools present work well. However, more tools are needed in the PDF editing feature such as a highlighter to highlight text in PDF, an eraser, rectangle, arrow tool, etc., to make it even better. As of now, only a text tool and an ink tool are available to use. Maybe, we will see more PDF editing options with future updates.
How do I enable the editing PDF tool?
If you want to enable PDF editing tools in the Firefox browser, then you can do this from the Advanced Preferences page of Firefox. Once the feature is enabled, you can use a text annotation tool and an ink tool to use in a PDF file and save the PDF with annotations. This post above covers all the steps for enabling and using PDF editing tools in Firefox PDF viewer separately.
How do I enable the PDF plugin in Firefox?
By default, the built-in PDF viewer of Firefox remains enabled or turned on so that whenever you click on a PDF file it will open directly in Firefox instead of downloading. But, if you don't like this default setting, then you can make Firefox download PDF instead of previewing on a Windows 11/10 computer. For this, access the General section in Firefox settings, then the Applications section, and select the Save File option present in the drop-down menu available for the Portable Document Format (PDF) option.
Read next: How to save webpages as PDF in Chrome & Firefox.