The KMODE EXCEPTION NOT HANDLED bug check indicates that Windows or a kernel-mode driver accessed paged memory at DISPATCH_LEVEL or above. This appears to be a typical software driver bug and is not likely to be caused by a hardware problem. A third-party driver, e1d65x64.sys associated with Intel(R) Gigabit Adapter-NIC/Wired network NDIS (Network Driver Interface Specification) 6.x driver from Intel Corporation is identified as the probable root cause of this system error. This post provides the most suitable solutions to this driver-related BSOD error.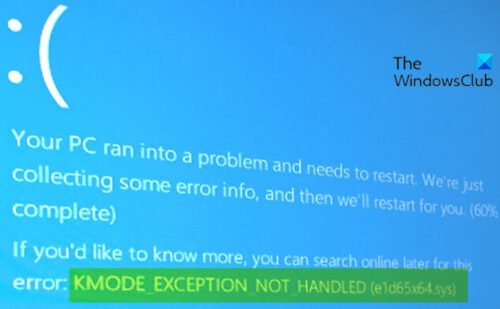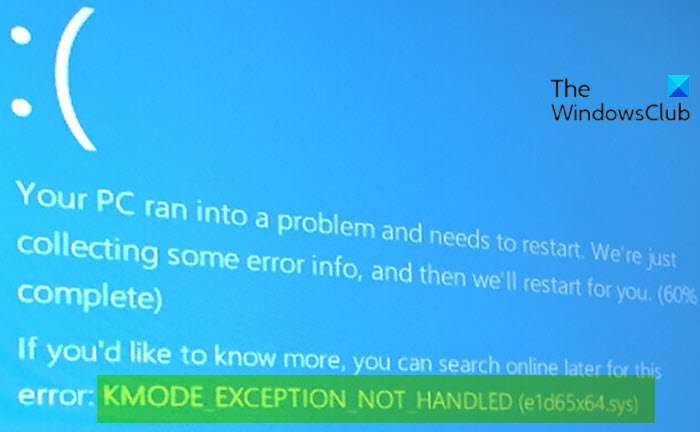 You may encounter this error when gaming on your Windows 11/10 computer.
Fix e1d65x64.sys Blue Screen error
If you're faced with this issue, you can try our recommended solutions below in no particular order and see if that helps to resolve the issue.
Run the Blue Screen Online Troubleshooter
Run Driver Verifier
Update network device drivers
Scan for memory issues
Stop over-clocking (if applicable)
Perform System Restore
Let's take a look at the description of the process involved concerning each of the listed solutions.
If you can log in normally, good; else you will have to boot into Safe Mode, enter Advanced Startup options screen, or use the Installation Media to boot to be able to carry out these instructions.
Before you proceed with the solutions, be sure you have sufficient disk space on the Windows drive – run Disk Cleanup and then run CHKDSK.
1] Run the Blue Screen Online Troubleshooter
The first line of action is to run the Blue Screen Online Troubleshooter and see if the Blue Screen error will be resolved.
2] Run Driver Verifier
This solution requires you to run Driver Verifier on your Windows 10 device. You will get a message about the status of each driver – follow the onscreen instructions to fix the problem.
3] Update network device drivers
Check with Intel Support, drivers, and their forums for known issues. If no newer drivers exist then it may be necessary to revert back to an older stable version.
Run Intel Driver & Support Assistant.
4] Scan for memory issues
Corruption in RAM can potentially make Windows 11/10 unstable and thus trigger Blue Screen Of Death errors. So if you added a new RAM stick, remove it and check if that is causing the error. If not, then you need to run a memory test. Windows will initiate checking for abnormalities in RAM. If it finds any, you need to replace the affected RAM.
5] Stop over-clocking (if applicable)
If you have overclocked your PC, you can simply reverse the change and see if that helps.
6] Perform System Restore
If you have exhausted all the solutions above but the BSOD error is still unresolved, you can restore your system to an earlier point. This will restore your system to an earlier point when the system was working correctly.
I hope this helps!