In an event in June, Microsoft teased the latest version of Windows OS – Windows 11. Following that, Microsoft released the Windows 11 Insider Preview build through the Windows Insider Preview Program. Microsoft has not yet released any Windows 11 ISO – but in this post, we will show you how you can download Windows 11 Insider Preview ISO file from Microsoft directly using the UUP Dump Tool.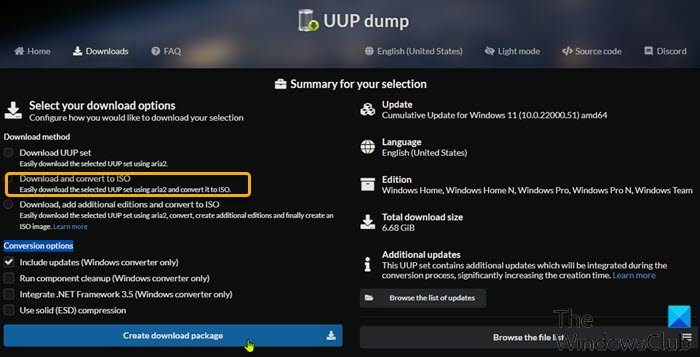 UUP Dump is an open-source dump tool that allows you to download Cumulative Updates, as well as Windows Insider Preview, builds directly from Microsoft servers using a set of scripts and tools, and then repackages the downloaded preview build into an ISO file.
TIP: You can now download Official Windows 11 ISO Image (Insider) from Microsoft.
Download Windows 11 Insider Preview ISO File
The Windows 11 Preview build is readily available for PC users on the Insider Preview program, but if you're unable to select the Dev Preview Channel in Insider settings on your PC or for some reason, you're unable to get Preview builds, then you can simply download the Windows 11 ISO from Microsoft directly using the UUP Dump tool.
Do the following:
Head over to uupdump.net webpage.
Under the Quick options section, click either x64 or arm64 (as of the time of writing this post x86 architecture is not available) next to the desired channel name for which you want to download the ISO image.
On the Server response page, click the Cumulative Update for Windows 11 (10.0.22000.51) link or if there are multiple listings, select the Insider build number you want to download.
On the next page, click the Next bar to select the preferred language for the ISO.
On the next page, tick the editions to include in the ISO file.
Click the Next bar.
On the next page, under Download method section, select the radio button for Download and convert to ISO.
Under the Conversion options section below, you can choose to integrate updates, .NET framework, etc.
When done, click on Create download package bar.
The helper package that will fetch Windows 11 files from Microsoft servers will now be downloaded.
Once done, you need to unpack it and run the tool to build the ISO image.
Do the following:
Note: N edition does not include media features, and Windows Team is an edition for Surface Hub – while the Home and Pro edition are the most widely used consumer editions.
How do I delete MountUUP folder?
When you download Windows ISO from UUPDump.net it may create a large folder. At some point in time, you may want to delete the MountUUP folder but may face a Folder Access Denied – You need permission to perform this action block message. Try to delete it in Safe Mode or use the command line to delete it.