Hardware components of a device are involved in the processing of data, commands, and everything that lies in between. As such, they can be potential points of failure. It is, therefore, necessary to keep them in good health and check their functioning regularly. The pieces of hardware that either equipped with moving parts or generate heat tend to be the ones, failing most often. The Surface Hub Hardware Diagnostic Tool is a handy application that lets the user test many of the hardware components within the Surface Hub device.
The tool possesses the innate ability to test and verify a Surface Hub device account. In today's article, we will walk you through the process of how to use the Account Settings test within the Surface Hub Hardware Diagnostic tool.
Surface Hub Hardware Diagnostic Tool
Device account testing process
Download and install the Surface Hub Hardware Diagnostic tool from the Microsoft Store. Please note that although administrator privileges are not required to run this application, it should be enabled for installing the tool.
Once installed, navigate to All Apps to locate the Surface Hub Hardware Diagnostic application. Click the application to launch it.
When the application starts, a Welcome page will be displayed on the screen, offering a text window to document the reason for testing the Hub.
Following this input i.e., writing a note, select the Continue button as shown in the screenshot below.
Moving to the next screen, choose the Test Results icon. It offers the options to test some or all the components of the Surface Hub Components.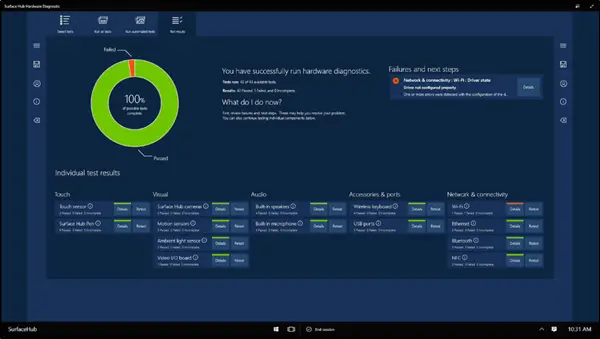 Next, select 'Account Settings'. There, under the 'Account Settings' screen, enter the email address of your device account and select the Test Account button when you are ready to continue. Please note that this section doesn't collect any information. The email and password entered as input are not used for any advertisement purposes. The information persists only until the application is closed or you end the current session on the Surface Hub.
After the testing process is completed or finished, review the results for the following,
Network
Environment
Certificates
Trust Model
Here, each section can be expanded or collapsed by selecting the Plus or Minus sign visible against each topic.
I hope you find this tool useful!
Source: Microsoft.
Related reads:
Microsoft Surface Diagnostic Toolkit helps you run hardware diagnostics
Surface BitLocker Protector Check Tool verifies your BitLocker settings.