in your quest to clean up or free up disk space on your Windows 11 or Windows 10 computer to make room for more storage space, you may come across the MountUUP folder which takes a considerable amount of disk space. In this post, we demystify this folder and also provide ways to delete the folder.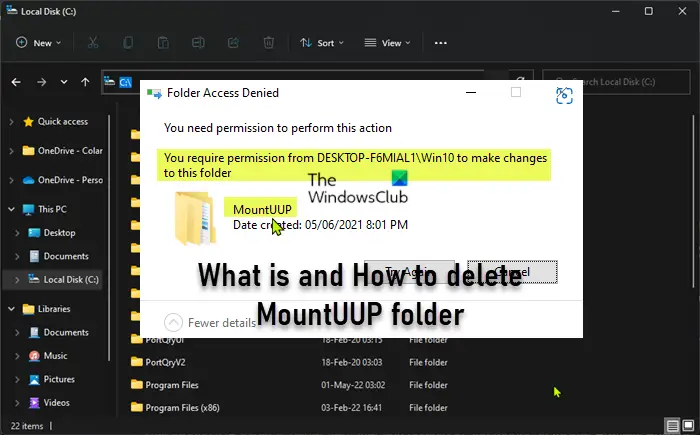 What is MountUUP folder?
The MountUUP folder is generated after you download and mount an Insider Preview Build of Windows. The Insider Builds use the UUP technology to download new Builds on your device which usually is released every week. UUP Technology enables downloading only those components which are updated in the newest Build to reduce the size of the download. The folder sometimes takes up 8-15GB of storage space on your drive. There are known cases where a download glitch causes this folder to grow abnormally high (over 100 GB).
How to delete MountUUP folder in Windows 11/10
It is not recommended, but there is no harm and it's perfectly safe to delete this folder. However, the folder will be automatically re-created when the next Build becomes available for your device. You cannot delete this folder on your system the normal way, as the folder falls into a special protected folder category. So, if you need to delete the folder on your Windows 11/10 device, you can use any of the methods listed below.
Delete folder via Command Prompt in Advanced Startup Options
Run DISM command
Delete folder in Safe Mode or in Clean Boot state
Take Ownership of folder
Use File Deleter software
Let's see a quick description of the mentioned methods above.
1] Delete folder via Command Prompt in Avanced Startup Options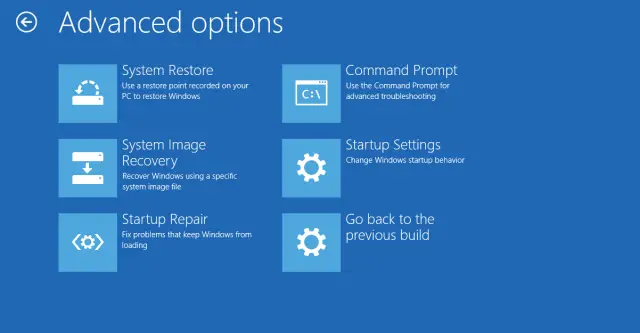 Since Windows will mount files currently stored in the MountUUP folder once the computer boots to the desktop, this method requires you to boot into Advanced Startup Options, and then access command prompt and delete the folder. To perform this task, do the following:
At the sign in screen, press and hold the Shift key and select Restart.
At the Advanced Startup Options screen, select Advanced Options.
Select Troubleshoot.
Under Advanced options screen, select Command Prompt.
In CMD prompt, type the command below one after the other and hit Enter to find the drive containing the MountUUP folder. This is because the drive letter you'll see here is not the same as the drive letter you'll see in File Explorer.
dir C:
dir D:
dir E:
Once you identify the drive letter containing the folder, type the command below and hit Enter to force the system to remove the MountUUP folder.
rd mountuup /s /q
Wait until the command executes
Exit Command Prompt.
Restart PC.
Read: How to protect Files or Folders from being deleted accidentally in Windows
2] Run DISM command
You may be unable to delete the MountUUP folder because it contains a .wim or .vhd file currently mounted on your PC. This method requires you to run a DISM (Deployment Image Servicing and Management) command to unmount and clean up any WIM image currently mounted on your system. To perform this task, do the following:
Press Windows key + R to invoke the Run dialog.
In the Run dialog box, type cmd and then press CTRL + SHIFT + ENTER to open Command Prompt in admin/elevated mode.
In the command prompt window, copy and paste the command below and hit Enter to locate the mounted image.
dism /get-mountedwiminfo
Next, run either of the commands below with the corresponding drive letter of the mounted image.
dism /unmount-image /mountdir:"c:\mountuup" /discard
DISM.exe /Unmount-WIM /mountdir=C:\MountUUP /discard
Once the command executes, exit the CMD prompt.
The folder should be empty now on your drive so that you can delete it now normally.
3] Delete folder in Safe Mode or in Clean Boot state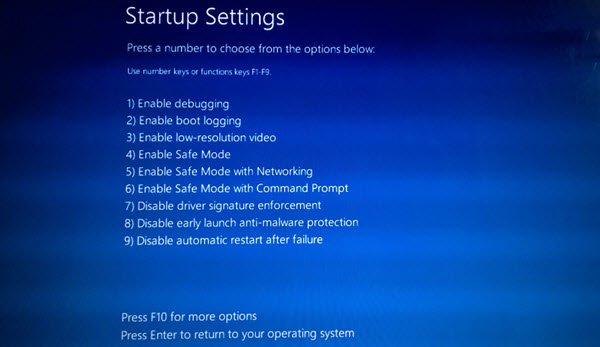 This method requires you to boot into Safe Mode without networking and then delete the folder normally in order to prevent the Windows Update component from using files in the MountUUP folder. You can also try performing a Clean Boot and then see if you can delete the folder in that system state.
Read: What is MSIXVC Folder?
4] Take Ownership of the folder
Due to folder permission restrictions, when you attempt to delete the MountUUP folder, you may get a prompt with the following message;
You require permission from TrustedInstaller to make changes to this folder
In this case, you can take ownership of the folder and then proceed to delete the folder normally.
Read: Restore TrustedInstaller as Owner and its Permissions to default
5] Use File Deleter software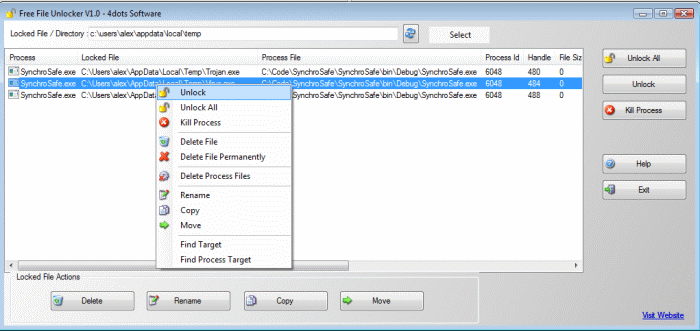 Another viable method that can be applied to successfully delete the MountUUP folder on your Windows 11/10 device is, simply using third-party software like Free File Unlocker to delete undeletable locked files & folders.
I hope you find this post helpful!
Related post: What is WindowsApps hidden folder, and why can't I access it?
How do you force delete a folder that won't delete?
If the problem is due to the Recycle Bin, you can select the target file or folder and press Shift + Delete keyboard shortcut to delete it permanently. This way will bypass the Recycle Bin.
How do I delete a corrupted folder?
If on your Windows 11/10 PC, you find your folder is corrupted, unreadable, or damaged, you can delete it by selecting the folder, then tapping the Delete key on your keyboard, or press Shift+Delete key, or dragging the folder to the recycle bin.
How do I force delete a folder in Windows 11?
You can force delete a folder in Safe Mode. To use this method, first, boot your Windows 11/10 PC in Safe Mode using our guide. Once you're in Safe Mode, launch File Explorer and locate the folder to delete. Then, right-click this folder and choose Delete.
How do you permanently delete files that keep coming back?
To permanently delete files that reappear on your PC, try the following suggestions:
Fix a corrupted Recycle Bin.
Uninstall third-party cloud storage or turn off cloud syncing.
Enable the Prevent Roaming Profiles.
Delete files using specialized software.
Why do deleted files reappear on my desktop?
Your files may keep on coming back on your PC because they might be syncing from your cloud storage. To see if the issue is fixed on your computer, you need to uninstall the program or turn off the cloud storage syncing.