If you are unable to delete undeletable, locked, ghost folders or files from Windows computer use CMD or a file deleter software to delete undeletable & locked files and folders in Windows 11/10/8/7.
At times you may find that you are just unable to delete a file or folder on your Windows computer. When you go to delete such ghost or undeletable files or folders you may get an Error message: Could not find this item.
Alternatively, you may also get the following messages:
Cannot delete file: Access is denied
There has been a sharing violation.
The source or destination file may be in use.
The file is in use by another program or user
The file or directory is corrupted and unreadable.
Make sure the disk is not full or write-protected and that the file is not currently in use.
Delete undeletable & locked files, folders
If you cannot delete files or folders in Windows 10 and then try these suggestions to delete the undeletable & locked files, folders:
Reboot and try
Delete in Safe Mode
Run ChkDsk
Use CMD or PowerShell
Use File deleter software.
1] Reboot and try
First, reboot and see if you can delete it.
2] Delete in Safe Mode
Boot in Safe Mode and then try to delete it
3] Run ChkDsk
Run ChkDsk, and then see if you can delete it.
4] Use CMD or PowerShell
To delete files & folders using Command Prompt open an elevated command prompt and:
Use the del command to delete undeletable files:
del "Path of File"
Use the RMDIR or RD command to delete undeletable folders:
rd /s /q "Path of Folder"
/S : Delete all files and subfolders in addition to the folder itself. Use this to remove an entire folder tree.
/Q : Quiet – do not display Y/N confirmation
This post shows how you can use Windows PowerShell to delete any file and folder effortlessly.
Be very careful while using this method and use the correct commands.
5]  File deleter software
If these methods fail, I suggest you download and use a free file deleter software to delete locked files and folders.
Free File Unlocker, Delete Doctor, Unlcoker, Tizer UnLocker, MoveOnBoot, Wise Force Deleter are some free file deleter software that can help you delete undeletable, hidden, ghost files and folders.
Unlocker unlocks the file or folder if it is being used by any other program and allows you to delete it. Its Explorer integration is a big help, as all you have to do is right on the undeletable folder or file and click on Unlocker.
If no locking handle is found, it will still delete the folder.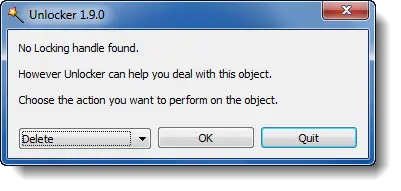 Unlocker is a handy tool to have around in such circumstances, BUT it comes with a pre-checked option of installing a QuickStores toolbar for eBay, Amazon & Shopping.com.  It also places two eBay internet shortcuts on your desktop. You may want to uncheck these options.
TIP: Also take a look at File Locksmith PowerToy.
These posts may interest you too: