There are a lot of folders in Windows which are hidden on purpose. They store important files that should not be modified by a user who doesn't know about their usage. It can be a folder where system files are stored or programs are stored. In this post, we are talking about one such folder— WindowsApps, and if you are not able to access it, then how can you resolve it.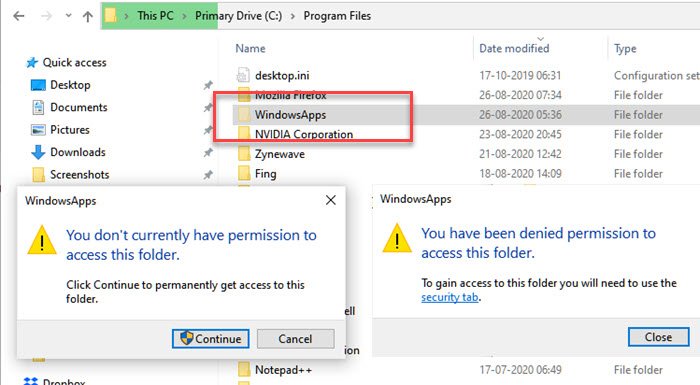 WindowsApps  folder in Windows 11/10
The option to show the hidden folder is straight upfront under the Views section of File Explorer. So if you choose to enable it, and see those hidden folders in the Windows partition, then lets first understand what the WindowsApps folder is. If you try to open it, it will not be accessible even for the administrator account.
What is the WindowsApps Folder used for?
This folder is located in C:\ProgramFiles folder, and contains all the files and apps you download from the Microsoft Store. As a matter of fact, if you ever choose to move programs to another partition, it will create another WindowsApps folder in that drive.
The problem with this folder is that if you move back apps to the primary drive, Windows will choose to keep the folder and will not allow you to delete them. So if you are stuck with such a problem, then this post will help you to resolve it.
Before that, the reason why you are not able to access it is because it is owned by Trustedinstaller user and restricted to System users, and nobody else has permission for it. If you go to the Properties of the folder and navigate to Security > Advanced and click on the Continue button, it will reveal the users and permissions.
Since your account is not on the list, you cannot access it.
Read: What are Peflogs and System.SAV folders?
How to access WindowsApps Folder, and Delete it
It is advised not to change the folder permission, and change ownership of the folder if there are apps installed in it.  It is not possible to delete the folder in the Windows partition, as you will run into an error. If you want to remove the folder which is not empty and which is on a different drive, then you can choose to delete it using the method below:
Assuming you have moved your apps back, you will have to take ownership of the folder to delete it.
Right-click on the folder, and select properties
Navigate to Security tab, and click on Advanced Button and then on Continue button
In the advanced security window, click on Change Link in the Owner section, and add your username to it with full permission.
Check the box which says, "Replace owner on subcontainers and objects."
Apply the changes, and wait for the process to complete.
Close open the security settings again and select the user you just added.
It will now enable the Add button, which will allow you to add permission.
Click on it and then click on Select a Principal link in the next window.
Find and add the same user account, and under basic permission, allow full control.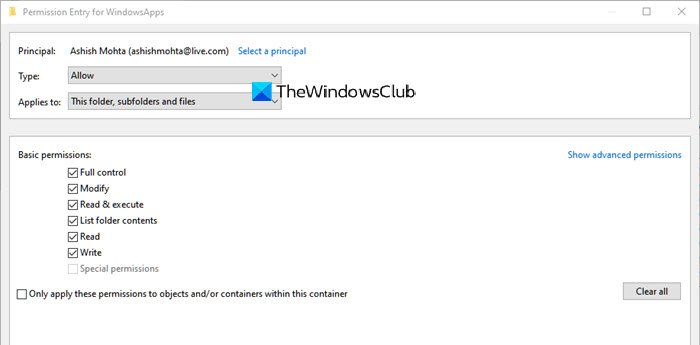 Having done that, you should be able to delete the folder, and the content inside it.
Pro Tip: If there is nothing inside the partition except for these folders, then you can format it and get rid of everything inside it. It is the easiest method, and Windows will not restrict you by any means.
Also read: How to perform WindowsApps Folder Cleanup
I hope this was able to clarify the WindowsApps hidden folder and why you are not allowed to access it. Although we advise that you do not delete it, we have also explained how to delete it from other partitions where you have moved the apps.