Every file and folder on Windows 11/10 has permission attributes. It gives you the authority to edit, read, write, execute, and modify it. It is relatively easy to change file and folder permissions in Windows 11/10. However, it depends on the specific criteria. In this post, we will show how you can change file and folder permissions in Windows 11/10.
How to change File and Folder permissions in Windows
I was talking about individual criteria that you need to meet. Those criteria are user authority or power. If you are an admin user, you can almost change anything in Windows. It includes the ability to modify files that are owned by others. However, if you are standard users, you are limited to changing files that only belong to you. In this post, we will discuss the following:
Types of Users and Permissions
Change Files and Folders Permissions which you own
Manage permission when sharing a file or folder with other users
Change Files and Folders Permissions which you DON'T own.
While it looks complicated, it is relatively easy to manage permissions. What you need to be careful about is the type of permissions.
1] Type of users in Windows & Permissions
While its not necessary, I think its a good idea that you know about this. There are broadly two types of users— local user accounts and local system accounts.
Local user accounts include Administrators, Standard users, Child, and Guest account.
Windows OS manages local System accounts. Accounts with a name such as System, Network service, Local service are all system accounts.
An Administrator can also take over System accounts as well or at least modify the file permissions along with other local user accounts.
Another essential thing, but you should know this. Some of these permissions will not be available for files.
Full Control
Modify
Read and Execute
List folder contents
Read
Write
Special Permissions
2] Change File and Folder Permissions which you own in Windows 11/10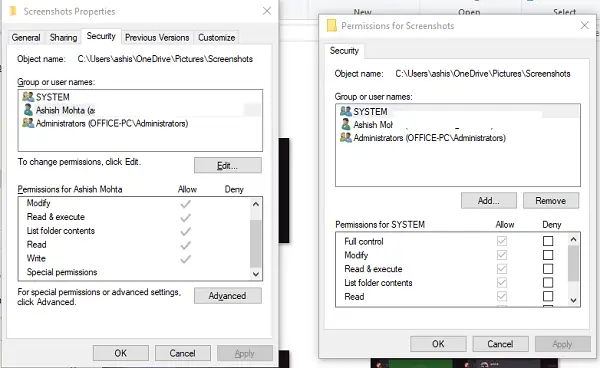 This section applies to all kinds of users. As long as you are managing files and folders which you won, there is not much of a problem. But at times, users have experienced that they are not able to edit files that they own or are created by them. Follow the steps to fix those problems.
Right-click on any folder or file and click on Properties.
Switch to Security tab, and you should see two sections

Group or usernames that have an ownership right on that file
Permissions for the selected user

If you have trouble editing the file or copying files into that folder, then you need to change the permission. Click on the Edit button.
It will open another window where you can select a user, and add missing permissions by checking the box against the type of permission.
Once you are done, click on ok, and then apply the changes.
When changing permission for yourself, it is best to check on the box against Full Control. It will keep you off from any trouble you were having with the file or folder.
How to apply the same permission to subfolders and files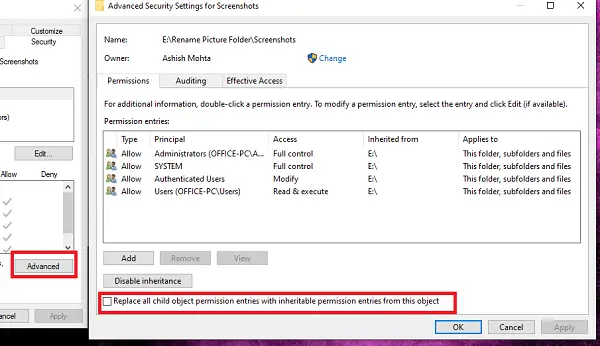 It only makes sense to have full control of all the files and folders inside it. Doing it one by one is cumbersome, and thats where you need to use the Advanced button.
First, make sure to choose the set of permissions or Full control for the top folder
Then go back to the Security tab, click on the Advanced button.
Then select the user, which is yourself, and check the box which says—Replace all child object permission entries with inheritable permission entries from this object.
Click on Apply and then Ok button.
In simple words, whatever the permission, the object, i.e. User, which in this case is you, will be applied to all files, and subfolders.
3] Manage permission when sharing a file or folder with other users
There can be multiple scenarios here:
The file can be shared, but it cannot be modified.
Folders shared with multiple users, but they are not allowed to delete the file or add any file.
Some users are allowed to modify files while others can have read-only access.
Open the permission window by clicking on the Edit button. Next, select the user for which you want to modify. If the user is not there, you can add a new user by clicking on the Add button. It will open a search window which you can use to find the user. Add when you find it.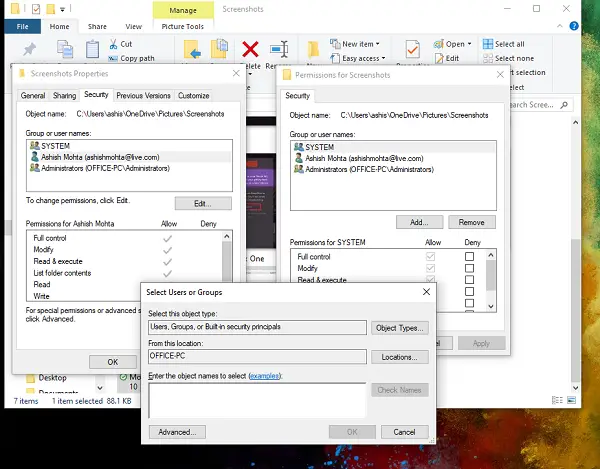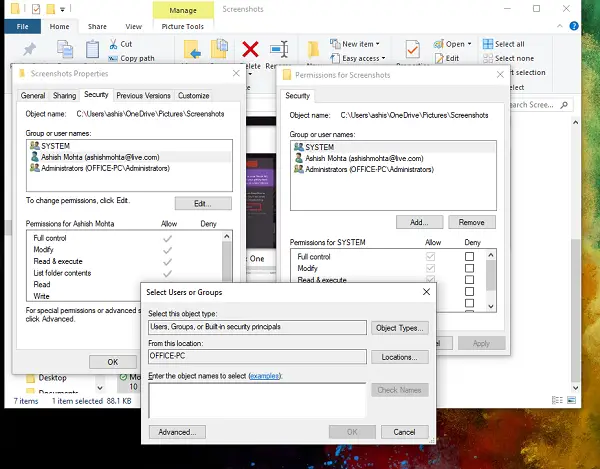 Once the user is available, select it and then assign appropriate permission. Select what you want to allow, and what you want to deny.  It is how you would assign for yourself, except that you are doing it for some other account.
4] Change Files and Folders Permissions which you DONT own
That is where ownership comes into the picture. If you do not own a folder or someone else has modified files in such a way, then you can change it. However, only an admin user can change it for you.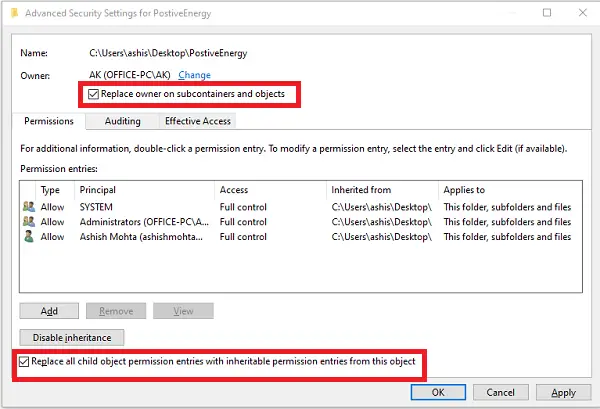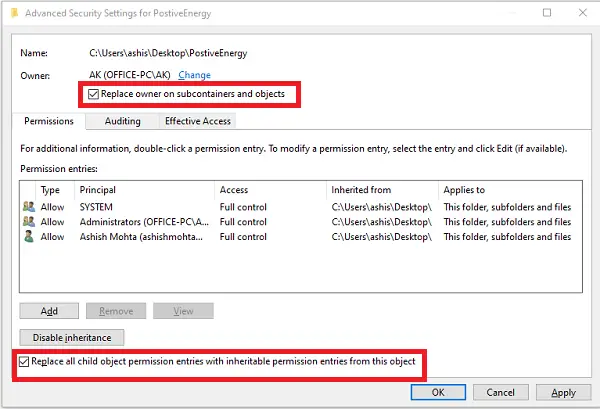 Follow our detailed guide to learn how to take ownership of files and folders which you don't own.
It might be too much to grasp for once, but once you are through, there will be no confusion left. I hope you were able to understand it clearly.
PS: Attribute Changer lets you change file & folder attributes in Windows 11/10 easily.