If you are new to Windows 11/10 and want to learn how you can Log off the computer or Sign out of your Windows after your work is complete, then this basic tutorial is for you. Not only you will learn this, but you will also see how you can Log off in multiple ways.
What happens when you Log off a computer?
Before we start with the methods, let's first understand what happens when you Log off or Sign out. Windows will close all the user applications running in the background, close all files, but leave the computer running. Once you are logged out, you should see the Log-in screen.
If your computer is used often, then it's best to Log Off and keep it running, which will save you from waiting until the computer restarts.
How to Log off Computer or Sign out from Windows 11/10
These are multiple ways to Log off the computer, and you can use any of them with the same effect:
Start Menu
Sign out using the WinX Menu
Alt+Ctrl+Del
ALT+F4
Command Prompt
Desktop Shortcut.
If you are wondering which method you need to use, then it depends on which is the most comfortable for you. I end up using Alt+F 4 as it is quicker than the rest.
1] Sign out using Start Menu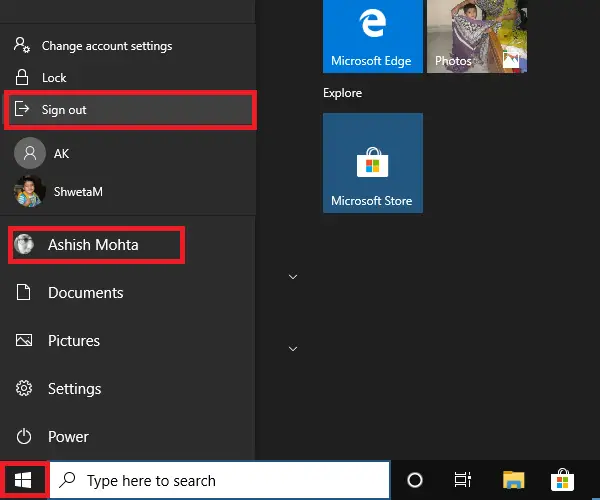 It is a standard method where you click on the Start button, then on your profile icon, and click on Sign-out. If there is any unsaved work or a process that is running in the background, you will be prompted to save the work and close the apps.
2] Sign out using the WinX Menu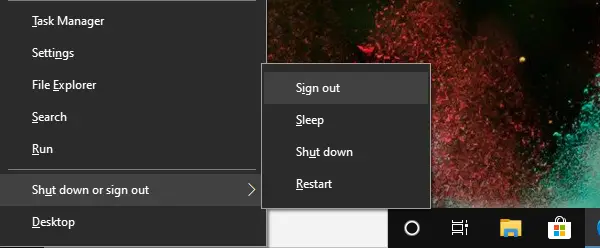 Press WIN+X to open Power Users Menu
Locate menu Shot down or Sign out at the end and hover your mouse over it
Select Sign out
You can also use WIN+X first, then U to open the flyout menu, and then press Enter to Log off the computer.
3] Alt + Ctrl + Del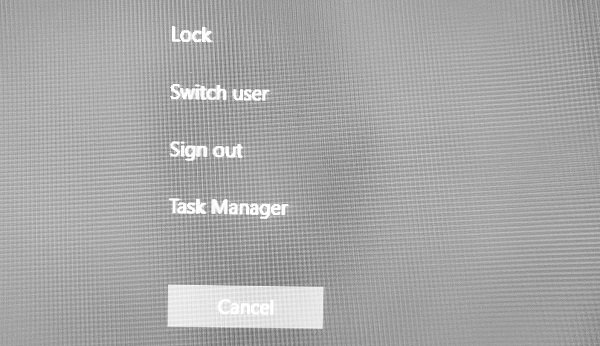 It is one of the classic methods we had used whenever the computer used to hang. It launches a screen overlay, which gives you the option to Lock, Switch user, Sign out, and Task Manager. Choose Sign out.
4] ALT+F4 Keyboard shortcut to Log off from the computer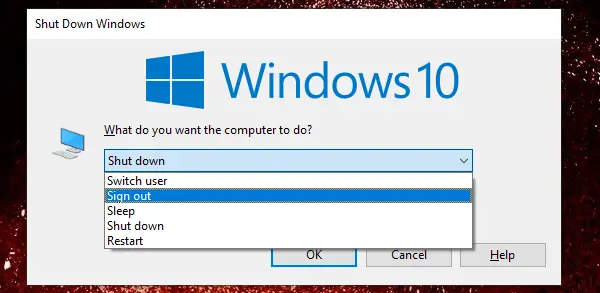 Another classic all-time favorite method I had always used when I was using Windows XP and Windows 7. When on Desktop, press ALT+F4, and it will open a small pop-up window. Here you can choose to Sign out from the drop-down, and then click on the OK button.
5] Sign out from the Command Prompt
Open Command Prompt
Type shutdown -L and press the Enter key
It will log you out from Windows.
You can also execute the same command from the Run prompt.
6] Shortcut to Log off Computer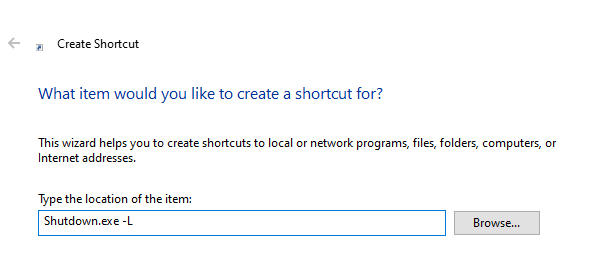 If you like using Shortcuts to execute commands you use often, then we have written an exhaustive guide on how you can create shutdown, restart, Log off shortcuts on Widows Desktop. You can also choose to assign a keyboard shortcut to that shortcut and execute it anytime you want.
I hope you find one of the methods that suit you to Log off the computer.