Windows Insider Program allows you to test unreleased Windows 11/10 versions. It is a formal process, and the option to register for Insider program is baked into the system. That said if you are unable to register because the Get started button greyed out, then here is what you need to do to enable it.
Get started button greyed out – Windows Insider Builds
The Get Started button is usually greyed out when the Telemetry is not enabled. Telemetry or Diagnostic feature allows Microsoft to collect data from Windows, i.e., diagnostic data.
Enable Full Diagnostic Data
Enable Telemetry data via a registry
Use Group Policy to enable Telemetry
Windows users need to enable this feature in full to enable the Get started button.
1] Enable Full Diagnostic Data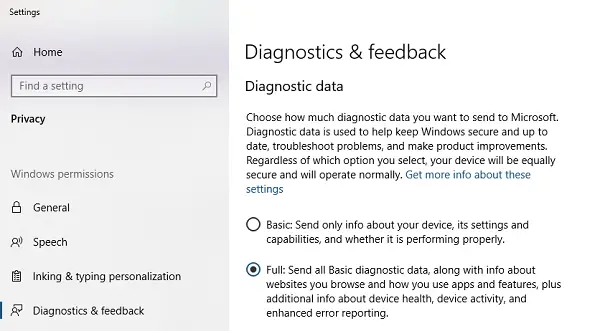 To enable Full telemetry, go to Settings > Privacy > Diagnostics & feedback> Diagnostic data. Choose Full as the option.
It is vital for Insiders for its complete evaluation of the current system, and help Microsoft to understand the error, and resolve them before the final release.
Fix: Error Code 0x0 for Windows Insider Builds during upgrade
2] Enable Telemetry Data via Registry
If you like editing via the registry, then it's easy as well. It is useful when you want to remotely enable this feature on a computer connected on a local network. You can even export the registry key, and then install it on multiple computers.
Open Registry Editor, and navigate to-
HKEY_LOCAL_MACHINE\Software\Policies\Microsoft\Windows\DataCollection
Right-click DataCollection, click New and then click DWORD (32-bit) Value.
Name it as  AllowTelemetry, and then press ENTER.
Double-click AllowTelemetry, set the value as 3, and then click OK.
Repeat the same for:
HKEY_CURRENT_USER\Software\Policies\Microsoft\Windows\DataCollection
You will have to restart the computer to see the changes.
3] Group Policy to enable Telemetry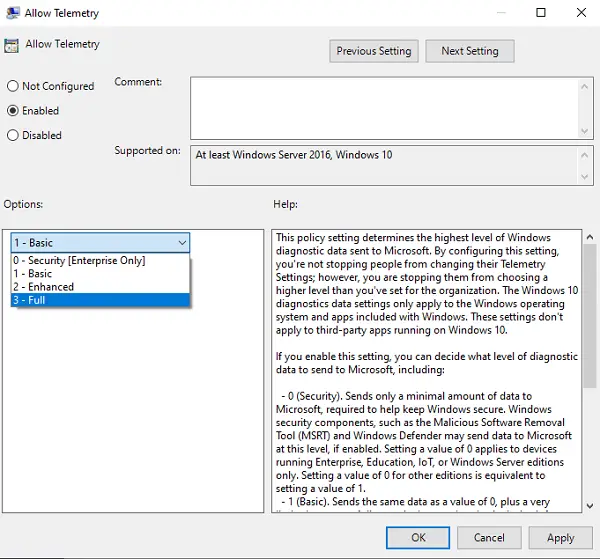 To set telemetry data to level 3, i.e., full diagnostics, we can also use Group Policy Editor.
Type gpedit.msc in the Run prompt, and hit enter to launch group policy editor.
From the Group Policy Management Console, go to-
Computer Configuration > Administrative Templates > Windows Components > Data Collection and Preview Builds.
Double-click Allow Telemetry. In the Options box, configure the level as 3, and then click OK.
Once you set the diagnostic data or telemetry data as full, the button will no more be greyed out.
Related read: Your Microsoft account requires attention to get Insider Preview builds.