Let us assume this situation where a user is a part of Microsoft's Insider Program for quite some time and his Windows 11/10 PC is synced to the same. One day, while trying to login to the Windows Insider Program, he suddenly gets the message – Your Microsoft account requires attention to get Insider Preview builds.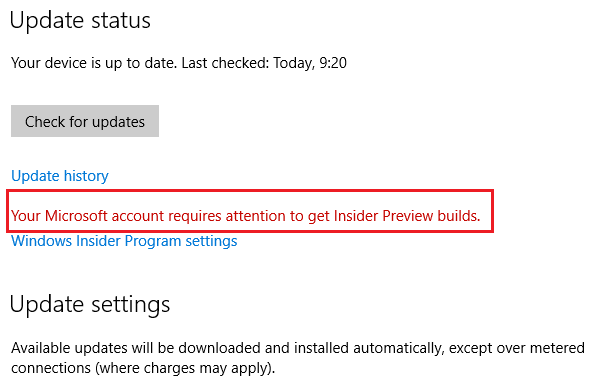 The error box has an option "Fix me," but clicking it simply asks the user if he wants to stop getting Insider builds. Now the user doesn't want to stop receiving the updates, yet there's no other fix.
Your Microsoft account requires attention to get Insider Preview builds
The cause could possibly be the interaction between the Microsoft account and the Insider Program. Here are a few suggestions that can help you fix the issue.
1] Use your Microsoft Account
The first approach to this issue should be to switch to the Microsoft account on the system (instead of the local account), but most users have reported that it doesn't solve the issue.
Fix: Error Code 0x0 for Windows Insider Builds during the upgrade
2] Use Microsoft Accounts Troubleshooter
The Microsoft Accounts Troubleshooter can fix most issues with Microsoft accounts. Rather, going by the checklist, if the issue is with the account itself, using the troubleshooter must be the ultimate solution.
3] Rejoin the Insider program
Leave the Microsoft Insider Program and rejoin it. At times, it could be possible that the issue is with the syncing between the program and your account. If the Microsoft Accounts Troubleshooter doesn't help, rejoining the program could make a difference.
4] Registry level fix
Please backup your data before performing the registry level fix.
If everything else fails, a registry level fix might be needed. However, let's keep it final in the sequence. The procedure is as follows:
1] Press Win + R to open the Run window and type the command regedit. Press Enter and it will open the Registry Editor.
2] Navigate to the following registry key:
HKEY_LOCAL_MACHINE\SOFTWARE\Microsoft\WindowsSelfHost\Applicability
3] After opening the Applicability folder, locate the registry string FlightingOwnerGUID in the right pane. Double-click on it to open its Properties. Erase the Value data and make sure the string is an empty value string. Click on OK to save the settings and then close the Registry Editor.
Restart the computer and check if it fixes the issue. We have exhausted every possible solution and believe that by the last step, the issue should be fixed. However, if it persists, please feel free to comment below.