This is a problem you will find in Windows Settings if you are a Windows 11/10 user. Being a Windows Insider, you might come across this error when you try to configure the device build receiving settings. If you encountered this problem, but you are the only admin to the best of your knowledge, it is frustrating and confusing. But don't worry, you have already landed in the right place for a solution.
Another Administrator Has Set Up This Device To Successfully Receive Builds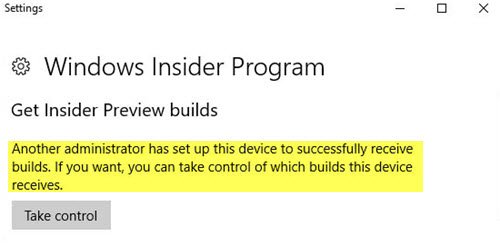 You must have obviously already tried clicking the Take Control button, and you already know it does nothing in this situation apart from refreshing the page. So, here is a solution for you that you need to carefully follow in order to solve this issue. It could get a little time-consuming but have patience; it will be rewarding.
The solution will require registry manipulation. Be very careful when you do that because errors during editing the registry entries could add to your troubles. Create a System Restore point to be safe.
Anyway, coming straight to the solution now:
1] Go to Run and type "regedit" to open the Registry Editor dialog box.
2] Look at the left pane of the window and find the HKEY_USERS part and expand it to get SID registry key that ends in 1001.
3] Jot down this registry key name for later use. This key is from the first admin account created on this device.
[Note: If you are not sure about the registry key with1001 being the one corresponding to your account, you can do this:
4] Go to the location-
HKEY_LOCAL_MACHINE\SOFTWARE\Microsoft\Windows NT\CurrentVersion\ProfileList

5] Expand the ProfileList key.
6] Check the string value for ProfileImagePath to make sure it shows C:\Users\<account name>. The one with your account name will have the SID registry key for your account.
Proceeding to the next step of the solution:
7] Navigate to the location-
HKEY_LOCAL_MACHINE\SOFTWARE\Microsoft\WindowsSelfHost\Applicability
You will find the Applicability registry key in the right pane.
8] Right-click on New, go to String Value, and modify the value to create a new registry string.
9] Name it FlightingOwnerSID and enter the value you jotted down.
10] Click OK and close the Registry Editor.
11] Now go to Settings and check your Windows Insider Program to see if this solved your problem.
This is the fix to the "Another administrator has set up this device to successfully receive builds" problem.
If you find it difficult following the steps read through them twice before you start using it, things will get clearer.