Many Windows users report that their desktops aren't responding or are frozen in Windows 11/10. If you are also experiencing this problem on your Windows 11/10 device, here's something you might find useful. This article provides some troubleshooting tips you can follow to resolve the issue.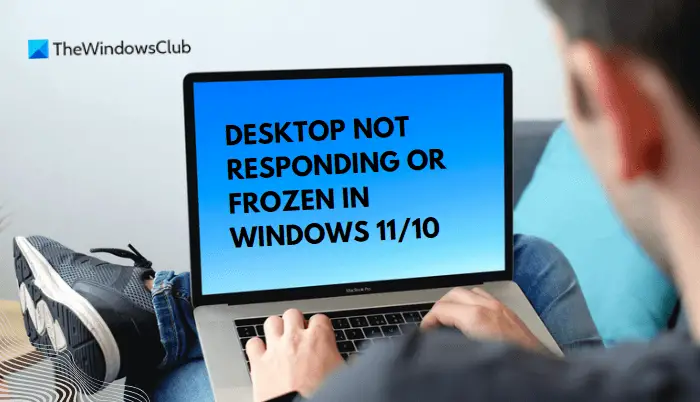 Desktop Not responding or Frozen in Windows 11/10
If your Windows 11/10 desktop isn't responding or has frozen, here's what you need to do:
Restart Explorer
Restart Display driver
Rollback the Graphics Drivers
Update the Graphics Drivers
Troubleshoot in Clean Boot.
Now let's look at them in more detail.
1] Restart Explorer
Restart Explorer process and see if that helps.
2] Restart Display driver
Restart the Display driver and see if that makes the problem go away. Pressing Win+Ctrl+Shift+B in Windows will reset your Graphics or Display Driver. It will cause the screen to flicker for a moment.
3] Rollback Graphics Driver update
If it's the Graphics Driver that is causing the problem, especially if you recently updated it or ran Windows Update, then it is best to uninstall it. Chances are the driver is going to be a cause of future problems because it doesn't work correctly.
Open the Device Manager ( WIN + X, followed by M)
Expand Display adapters
Right-click on the adapter, and click on Properties
Switch to the Driver tab, and then choose Roll Back Driver.
The button will be enabled only when the driver was recently installed. The other way out is to find the previous version of the driver and install it. You will have to go through the OEM website, and download and install it.
If you are using an old driver, maybe you need to update your Graphics driver.
Related: Desktop and Taskbar keeps refreshing constantly in Windows
4] Update the Graphics Drivers
This solution requires you to update the graphics drivers and see if it helps. Follow the steps below to do this:
You may visit your computer manufacturer's website, or you may visit the graphics hardware manufacturer's site:
HP | Dell | AMD | Intel | NVIDIA | GeForce.
Some of you may want to use free Driver Update software or tools like AMD Driver Autodetect, Intel Driver Update Utility or Dell Update utility to update your device drivers. NV Updater will keep NVIDIA Graphic Card Driver updated.
5] Troubleshoot in Clean Boot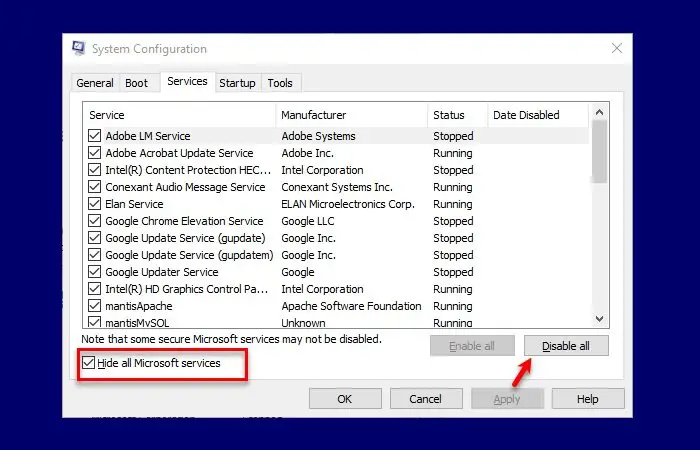 If your computer works in Safe Mode, you should try troubleshooting it in Clean Boot Mode to see if any startup applications cause the problem. In a clean boot state, the most essential system files and services will only be loaded. This will let you determine if any background applications or third-party services are causing the issue. Below you will find the steps to follow:
Right-click on the Start button, and then choose Run from the menu list.
Type MSConfig into the search box, then click OK.
On the System Configuration page, go to the Services tab.
Check the box next to Hide all Microsoft services, then click Disable all.
Click OK to save the changes.
On the Startup tab, select the Open Task Manager link.
In the Task Manager window, select the Startup tab.
Select each startup service and click Disable to stop it.
Next, restart your computer and see if this fixes the problem.
After that, you should run the System Configuration tool.
On the General tab, select the Load system services checkbox.
Click Apply > OK to save your changes and restart your computer.
Clean-boot troubleshooting is designed to isolate a performance problem. To perform clean-boot troubleshooting, you must take a number of actions, and then restart the computer after each action. You may need to manually disable one item after another to try and pinpoint the one that is causing the problem. Once you have identified the offender, you can consider removing or disabling it.
Hope this helps.
Read: Explorer does not refresh automatically.
Why does Windows crash so often?
The most common cause of Windows crashes is faulty software or driver issues, which are almost always the consequence of third-party issues. Hardware problems may also cause this issue, which results in the memory contents being corrupted and causing the system to crash.
Related: Windows screen keeps refreshing itself automatically.
What should I do if my PC keeps crashing?
Your Windows computer might keep freezing or crashing due to overheating. If this is the case, make sure that your CPU is functioning properly. When there is dust on your computer case or laptop, it can clog the fan and prevent it from working correctly. In such a case, you must clean dust from the fan area so that it can work effectively.
Related: Windows Start Menu does not close and remains frozen.
Why is my computer not responding?
Windows programs that stop responding, freeze, or become unresponsive can be caused by a variety of problems. In some cases, the Windows programs are unable to respond because of a conflict between the software and the hardware of the computer, or because there are insufficient resources in the system.