The Windows operating system offers you great liberty in customizing its user interface. Users like to change themes, windows colors, icons, mouse pointers, desktop wallpapers and even tweak the Windows Registry or hack system files to give it and its built-in application a cool new look. One of the most popular customization options is changing the themes. Changing a theme in Windows 11/10/8/7 typically involves changing the desktop wallpaper, the window color and maybe sounds, mouse pointers, and icons. If you like your icon-set and wish to prevent the theme from changing your desktop icons, you can do so, by following this easy tutorial.
Prevent themes from changing Desktop icons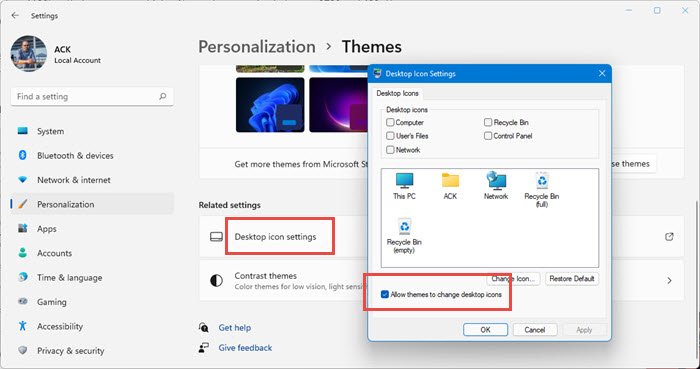 To stop themes from changing desktop icons in Windows 11:
Right-click on an empty area on your Windows desktop, and click on Personalize.
The Personalization settings app will open. Click on Themes in the left panel.
Under Related Settings, click on Desktop icon settings to open its configuration box.
Here, uncheck the Allow themes to change desktop icons option,
Click on Apply/OK.
Close the Personalization window and allow the changes to take effect.
This is how it looks in Windows 10: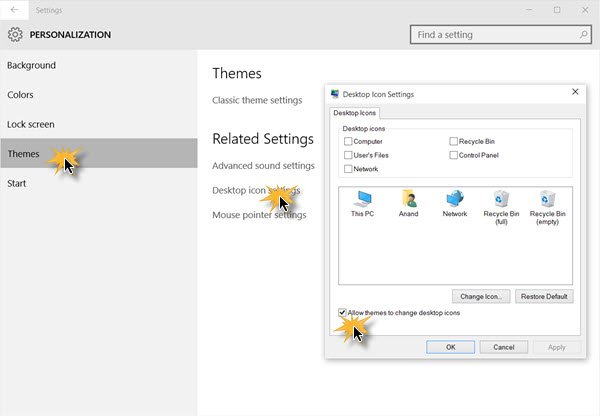 Now no theme will be able to change your favorite icons automatically. This tip can also be useful if your Desktop icons rearrange and move after reboot.

There are several other interesting things you can do with your desktop icons. You can resize icons on the desktop, display the desktop icons text on the side and quickly hide or unhide them.
TIP: Go here if your Desktop Icons are not working.
UPDATE: MmeMoxie suggests in the comments that you download the freeware Iconoid program and use the "Save Icon Positions (relative)" and "Restore Icon Positions Now" option. They work.