What do you think about the default icons on Windows 11/10? Well, they look great, but with time appear boring, isn't it? You would have tried to cut the boredom by customizing your device by changing the themes and fonts. But you can take this customization to a whole new level by changing the default Windows icons and making your PC look unique and better sorted. In this Windows guide, we take you through the different ways to change any icons on Windows 11/10.
Why customize Windows 11/10 icons?
Killing ennui is just one reason, customization can be done for many different purposes. A few of them include:
Give your PC a personal spin
Make your environment look catchy and trendy
Make your system more user-friendly
Highlight the importance of a particular icon by making it look unique
To locate an important icon immediately from a huge crowd of icons
Along with the array of benefits listed above, there are many different types of icons that can be modified on Windows 10. These include desktop icons, taskbar icons, folder icons, and shortcut icons. To know how to customize these, let's move on the method.
Where can you find new or custom icons for Windows 11/10?
Before we can start changing icons on Windows 11/10, we will need some icons to replace the existing ones. The Operating System has a collection of built-in icons, but they might not be that great. The good news is that there are many online resources offering millions of high-quality impressive icons. You can grab them in a pack at once, or download single icons based on your likings. Few popular icon repositories are FlatIcon, Findicons, IconArchive, DeviantArt, or GraphicBurger – all of these have loads of free icons.
In case you just can't find the icon of your choice, you can even try making high-resolution icons out of any image.
How to change Icons in Windows 11/10
Now let's look at the methods of changing different types of icons one after one-
Desktop icons
Shortcut icons
Taskbar icons
Folder icons
File icons
Drive icons.
1] Customize your Desktop Icons
What are 'Desktop Icons'? The icons like This PC, Network, Recycle Bin, and your User folder all fall in this category. Even though modern versions of Windows do not show them all on the desktop, users can always restore these missing icons and have them appear on your system's desktop or even change these icons even if they appear elsewhere on your system.
To customize or change your file or folder icons in Windows 11, do the following: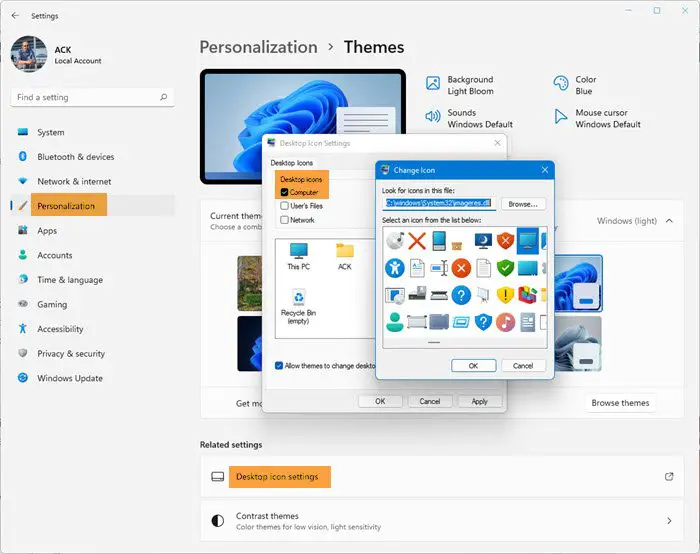 From the WinX Menu, open Windows 11 Settings
Click on Personalization settings
Select Themes
Scroll down a bit till you see Desktop icon settings
Clicking on it will open the Desktop Icon Setttings box
Select the checkbox corresponding to the specific item whose icon you wish to customize.
Hit the Change Icon button.
From the new panel that opens, choose from these in-built Windows icons or Browse to your own icon.
Once set, click on Apply and exit.
For customizing desktop icons in Windows 10 follow the below-mentioned steps which are similar:
1] Go to 'Settings'
2] Hit 'Personalization'
3] Now click on 'Themes', and go to 'Desktop Icon Settings'.
4] Once you click on 'Desktop Icon Settings' a separate 'Desktop Icon Settings' window will appear.
5] In the 'Desktop Icons' section, check the checkbox corresponding to the specific item whose icon you wish to customize.
6] Now hit the 'Change Icon' button.
7] Once you click the 'Change Icon' button, a list of different in-built icons will appear on the screen. To choose from these in-built Windows icons select one and hit the 'OK' button.
This will change the icon.
To select a custom icon hit the 'Browse' button to go to the folder having the icon of your choice and hit 'Open' to upload the icon on the Windows icon list; then select the uploaded icon. Also, if you browse for your own icons, you can select any EXE, DLL, or ICO file.
8] Finally, click the 'Apply' button and then hit on the 'OK' button to save your settings.
Now, your 'Computer' icon will look like the below image.
To reverse the change, go back to the 'Desktop Icon Settings' window, hit 'Restore Default' button and hit 'Apply' and then click 'Ok' to save settings.
2] Customize Shortcut Icons
Adding a shortcut for folders and applications makes things very easy and simple on any operating system. Users can alter the icon for a shortcut in Windows and this works for all sorts of shortcuts including a shortcut to an app, folder, or even Command Prompt command. Here are the steps to customize any shortcut icon:
1] Go to your 'Desktop' and select the shortcut you wish to change the icon for
2] Right-click the shortcut and select 'Properties'.
3] On the 'Shortcut' tab, select the 'Change Icon' button.
4] This opens the standard 'Change Icon' window you saw above.
5] Now follow the same steps as listed in the above 'Desktop Icon' option to select the icon and apply settings.
3] Customize your Taskbar Icons
The icons pinned to your taskbar are also shortcuts; you can customize these in nearly the same way that you customize any shortcut icon. But there are a few things you would need to keep in mind here:
You can customize only those icons that are pinned to the taskbar and not the ones which are currently running and appearing there.
For an app that is pinned, but is currently running, you will need to close the app to begin customizing the shortcut icon.
Start by holding the 'Shift' key and right-click the app icon and choose 'Properties'.
Now, follow the same steps as listed in the 'Desktop Icon' option above to set a new icon.
4] Customize Folder Icons
To customize the Folder icons in Windows 10, perform the following steps:
1] Right-click the folder and select 'Properties' in the context menu.
2] Select 'Customize' and hit 'Change Icon' in the Properties window.
3] You can replace the folder icon with a basic/personalized icon.
4] Now click 'OK' to save the changes.
5] Finally, hit 'OK' to finish changing the folder icon.
Done, this will change your specific folder icons.
You might want to also take a look at these Free software to change the Folder icon color.
5] Customize Specific File Types Icons
Personalizing the icon of a specific type of file demands third-party tools like File Types Manager. Follow these steps:
1] Get freeware FileTypesMan on your system
2] In the 'Find Box' locate the file type that you want to change its icon for.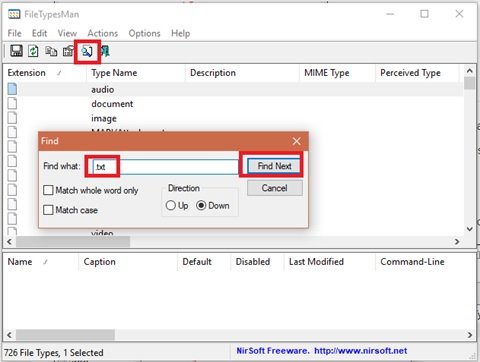 3] Now close the Find box.
4] Right-click the file and choose 'Edit Selected File Type'.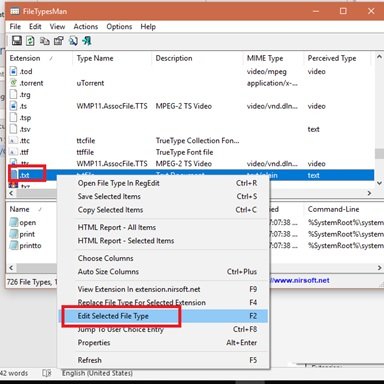 5] In Default Icon option, click the 3-dots button in the pop-out window.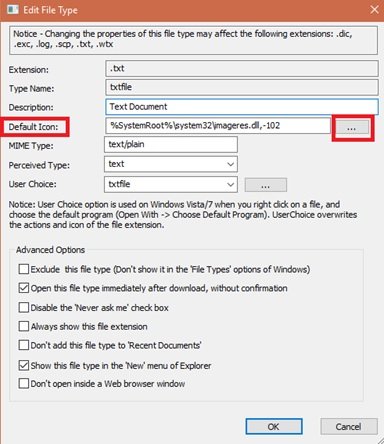 6] Select one of the existing icons or input your own icon by clicking Browse > click OK.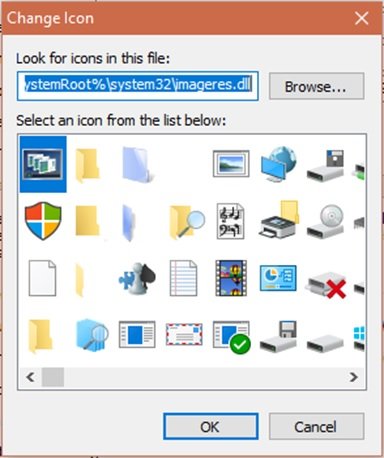 7] Finally, hit 'Ok' to execute the changes.
7] Change Drive icons
You can change the Icons of your Windows Drives by tweaking the Registry or easily using freeware Drive Icon Changer or My Drive Icon.
In this way, you can customize different types of icons in Windows 10. So, keep customizing and add new and interesting icons to your applications or folders. And yes, if you wish to revert the changes, you will only need to hit the 'Restore Defaults' button in the corresponding Properties window and click on it.
How do I customize Windows 11 File Explorer?
You can try some things to customize Windows 11 File Explorer. These things include changing the icon size of files, showing or hiding Navigation, Details, and Preview panes, showing the hidden items, enabling or disabling the checkboxes, showing or hiding the file name extensions, etc.
Read next: How to Resize Desktop icons or Change Explorer View type quickly.