Windows is the most popular operating system and is the first preference for people because of its user-friendly nature. It also supports a large ecosystem of freeware. One such we will see today is FileTypeMan, a portable tool, that allows you to view, edit, add, remove file extensions and types on Windows 11/10.
Edit file extensions and file types in Windows
If you are familiar with the features of Windows, then you might know about the file types. If you visit Folder Options there you will find the 'File Types' tab. Here you can view the file types and extensions of your computer. You can always manually set or change File Associations & Extensions. But you might face a bit of difficulty viewing and editing the file type from the Folder Option because of hidden properties. However, an alternate freeware called FileTypesMan will let you do all this and more easily.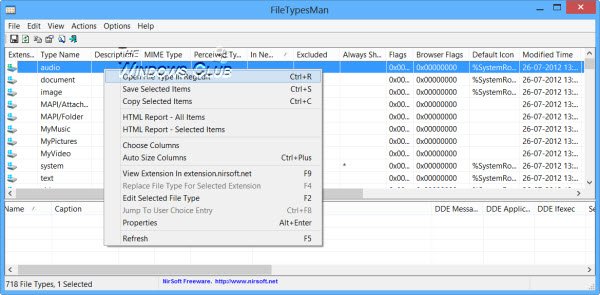 FileTypesMan is the tool that allows you to make changes with the extension of the file, type name, description, MIME type, Perceived Type, In New Menu, Excluded, Always Show Extension, Flags, Browser Flags, Default Icon, Modified Time, File Type Group and many other options. This tool has more options than the default File Type Tab of Folder Option.
Editing the extension file is easy, but you cannot modify the application Entries and Perceived file types of Windows system files. You can view the details of Perceived file types and application entries. Editing of any Windows system file can harm the system, so unless you are confident about the modification, then make changes.

All files are registered with default settings. You can make the changes; however, it is necessary to understand the process of file types. Modifications done with no knowledge of file type can cause damage to your computer.
In the lower pane of FileTypesMan you can view the dependent file of Windows. In this pane, you will get the information related to the process file name, name, command line, and some other default setting details.
Suppose you want to edit the vxdfile of Windows, then you have to double-click the file entry in FileTypesMan tool. Here you will get the options like Description, Default icon, extension, type name, user choice, etc. This tool also allows you to make some advanced changes to the file, like, you can exclude this file type, disable the Never ask me option while downloading, always show file extension, and so on.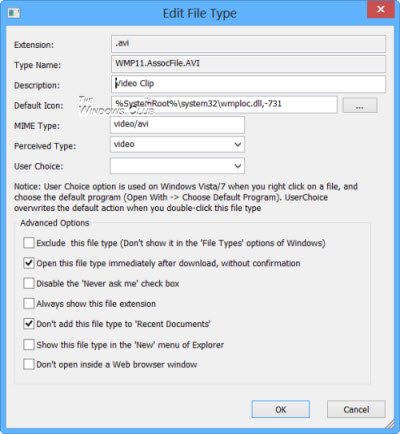 Talking about the File Menu bar of the FileTypesMan tool, you are offered options like 'Refresh Desktop Now', Save Selected Items, Properties, and Exit.
FileTypesMan download
You can download FileTypesMan tool from its home page.
Learn how to show file extensions in Windows.