This guide shows you some methods to convert PST to EML in Windows 10. PST, an acronym for Personal Storage Table, is an Outlook Data File that contains messages, contacts, tasks, notes, and other Outlook items. Similarly, EML (Electronic Mail Format) is an email message file stored in the Internet Message Format protocol. In case you want to convert emails from PST to EML format, keep on reading this article to find solutions.
Before actual solutions, let us try to understand the differences between these two email formats and why we need to convert PST to EML.
PST v/s EML:
EML is a widely adopted email format supported by several email clients including SeaMonkey, Mozilla Thunderbird, Apple Mail, Microsoft Outlook Express, etc. While PST is supported and restricted to only MS Outlook.
EML is also cross-platform and is supported across various platforms including android. While Outlook PST files are supported on Windows only.
EML can also also be viewed in a web browser like Chrome, Edge, or IE.
There is a higher chance of a PST file getting damaged as it saves all emails in one file. On the other hand, EML saves a separate file for each email.
You might want to convert a PST file to EML format due to one or more of above-discussed reasons. Now, check out the methods to convert these email files in Windows 10.
How to convert PST to EML in Windows 11/10
There is one freeware plus Outlook add-in and one web service that let you convert a PST file to EML format in Windows 11/10:
Free PST to EML Converter Software plus Add-in for Outlook
Free Online Service
1] Free PST to EML Converter Software plus Add-in for Outlook
There is this dedicated free software for Windows 10 to convert your PST files to EML format called CONVERT PST TO EML. It lets you convert multiple PST files to EML format at once. Follow below steps to perform conversion through it:
Launch its standalone application and provide the path to PST files.
Now, enter the output location where you want to save EML files.
Next, press the Run button to start the conversion.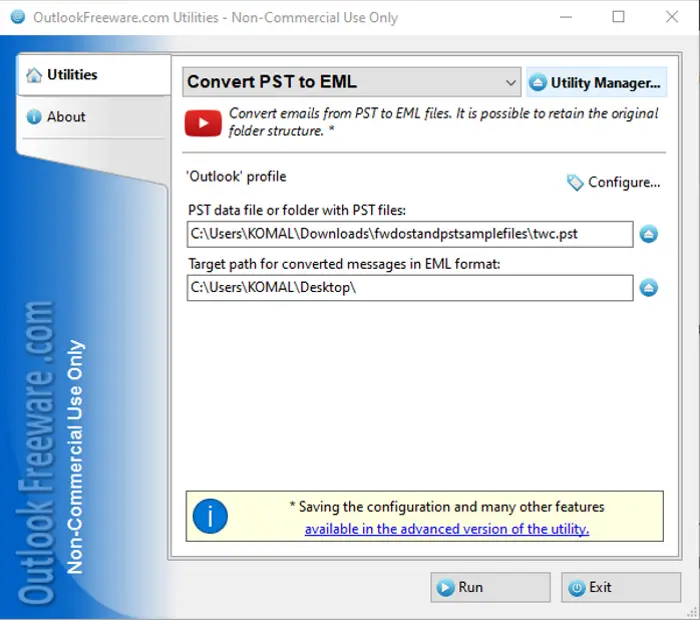 Apart from the standalone application, it can also be used as a Microsoft Outlook Add-in. While installing this software, you can choose to add it to your Outlook and then use it directly from the Outlook application.
As you install its add-in service, a separate OutlookFreeware.com tab will be added to the MS Outlook ribbon. Simply go to the tab and click on the Convert PST to EML button.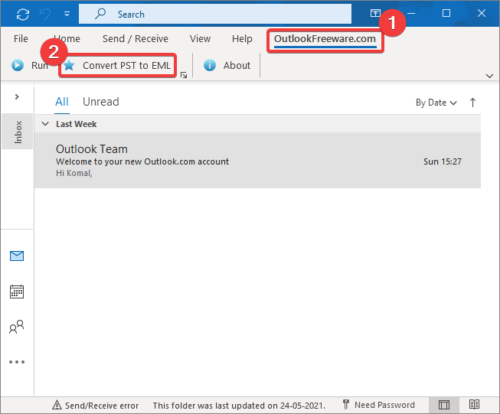 A conversion wizard will open up where you need to enter the input (PST) and output (EML) folder path and then click on the Run button to start conversion.
You can download its free edition for non-commercial use from here: outlookfreeware.com
2] Free Online Service- Aspose
You can use this free web service called Aspose. It provides several tools for file format conversions. Along with multiple converters, it also offers a PST to EML converter that allows you to convert multiple Outlook Data Files to Electronic Mail Format. Let's check out how you can perform the conversion with this free online app.
Firstly, open a web browser and go to products.aspose.app. Now, browse and import PST files from your PC or simply drag and drop input files onto its interface. After that, set Save as type to EML and then click on the Convert button to start conversion.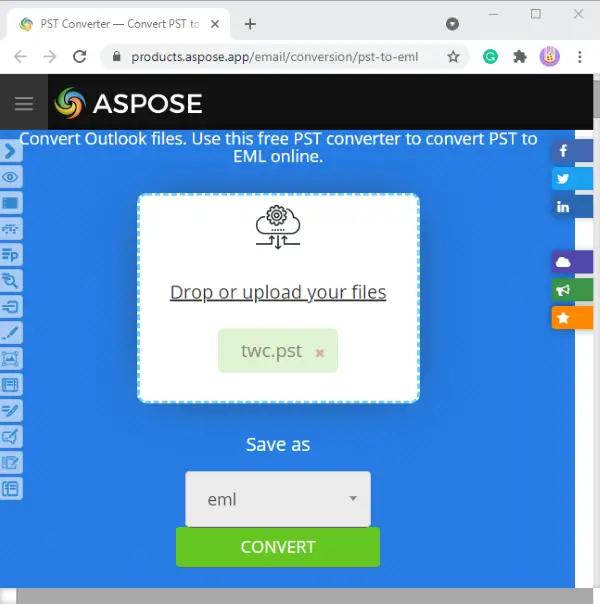 Besides EML, you can convert PST to various other file formats including MSG, MBOX, HTML, PDF, etc.
Hopefully, this article helps you find a suitable method to convert PST to EML in Windows 11/10.