Quick Any2Ico is a tiny portable free icon creator & converter software that lets you create ICO icon files for your programs, websites, or any other purposes, as well as extract images from icon resource files. It works very efficiently and is completely customizable. It features both command lines as well graphical user interfaces and it can even automatically set your image according to a square icon file.
Quick Any2Ico Icon creator & converter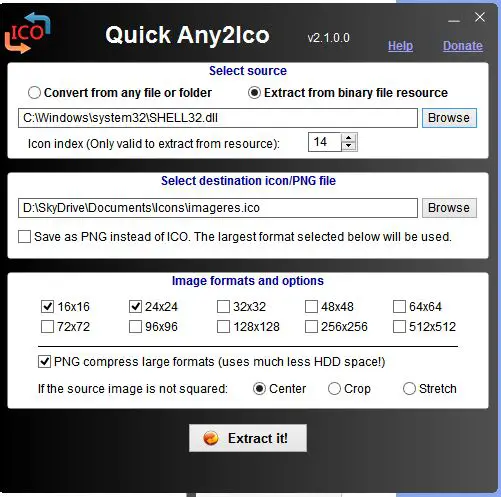 There are two options given in the program
Convert From Any File or Folder
Extract from Any File or Folder
The first one means it will create an icon file from any specified graphics image file. The second option means it will extract images or icons from a given DLL file.
Create icon from the image file
First of all, you need to select the source image; you can either choose it from your computer or extract it from some binary resource. Remember if you are extracting from a binary source, you need to enter the icon index.
The second step is about choosing the destination file and format. You can save the file in ICO as well as PNG format. Both the formats are converted very efficiently and properly.
In the third step, you need to choose the size and some other options. You can save the ICO file in the following different sizes:
16×16
24×24
32×32
48×48
64×64
72×72
96×96
128×128
256×256
512×512
But if you are saving it as PNG, then the largest size will automatically be saved. Quick Any2Ico offers PNG compression of larger formats in order to decrease the size of the ICO files. You can enable this option while converting in order to generate ICO files of the least possible size.
Then comes the basic automatic editing was done by the program. If your selected image is not properly squared (icons are always square), the program can automatically square them before conversion.
Under this feature you get three options:
Centre: The selected file would be centered and then converted.
Crop: Selected file would be cropped to a square, and there is a tendency that you may lose some part of the image.
Stretch: The image would be stretched to a square without losing any part of it.
Once you've chosen all these settings, you need to hit the 'Convert It' button, and in a fraction of a second, the ICO file will be saved to the chosen location. The program is very easy to use and operate. The UI is very simple to understand, and all the features are placed perfectly into it. You can even use the program from the command line; you can know the commands from the program website.
Extract images or icons from DLL file
As mentioned earlier, his tool can help you extract icons from a DLL file. You can do one of the two following things:
Create individual icon files for all files contained in a DLL file (this would be a waste of time as you can select the icon by right-clicking a folder whose icon you want to change, selecting properties, and then selecting Change Icon.)
Create image files in PNG format for the icon you select in the DLL file.
Overall, the software is useful, and it was more than I expected in 230 KBs. The minor automation feature makes the process of making icons a breeze.
Click here to download Quick Any2Ico.