If you are an avid computer user, your desktop must be full of folders containing important files and subfolders. Have you ever faced a situation when you are looking for a particular folder but couldn't find it? Scrolling your eyes to all folders just to find the desired one becomes really difficult at times. But there is a solution to this problem. Yes, you can actually change the colors of your folders and differentiate them easily.
If you are looking for how to change folder colors, then this posts has a list of free software to change Folder icon color in Windows 10/8/7. Changing the default cream-yellow color to some other like red or blue will make the folder stand out for easy identification.
Change Folder colors
Below is a list of some good freeware available on the internet for your Windows PC that helps you to change the color of your folders thereby helping you to find them easily and quickly.
StyleFolder
As the name suggests, this freeware lets you style your folders in your own way. Besides changing the color, this freeware also lets you change the folder icon, folder background, folder font, folder color and folder size. So basically with StyleFolder you can give your folder an entirely new look and make it stand out from the bunch of folders on your desktop.
This is a small utility and takes less than a minute to land on your PC (depending on your internet connection of course). Just launch the program, select the folder you want to style, right-click and customize it according to your own preferences. It works on Windows 10/8/7/Vista too.
Folder Marker
Folder Marker is again a small freeware which lets you change the color of your folder icons. Assign different colors to your folder icons so that you can find the desired folders quickly. With this freeware, you can even change the icon of your folders on your own preferences. With a new icon and a new color, you give a new look to the folders on your PC.
You can assign your own icon to the folders only from ICO, ICL, EXE, DLL, CPL or BMP file. This tool is available both as a free as well as a paid version which certainly has some extra features.
Shedko FolderIco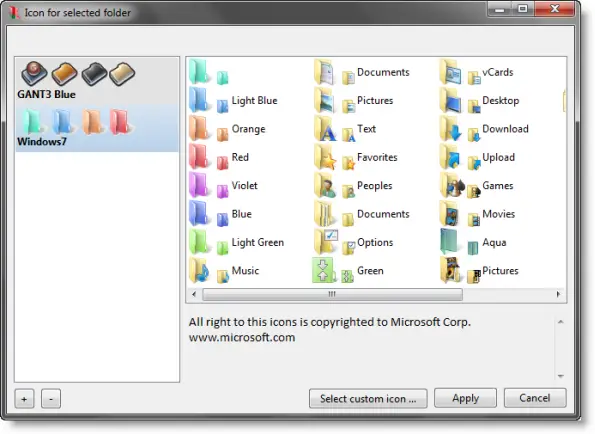 Shedko FolderIco is yet another free utility which helps you to color your folders in your Windows 10/8/7 PC. Coloring and customizing the folder icon helps you differentiating them and locate the often used folders easily and quickly.  It is a quick program, and you can change the color and icon of your folders in just a few clicks. You can restore the original icon and color anytime you want in s single click.
FolderIco program also supports some additional themes which you can download. These the fully processed themes and are available in the SFT format and are automatically associated with the program.
Folder Painter
Folder Painter is a free portable program which lets you change the folder icons so as to make them easily locatable. You can give different colors to different folders in just a few simple clicks. The tool comes in a zip file; you just need to download, unzip it and run the setup. The submenu of the program contains few colors to select from.
You can also add your own custom colors in Folder Painter and can customize Icon folder by your custom color icons. It is a simple portable application and needs no installation. It doesn't affect your PC's performance at all and works smoothly. You can download Folder Painter here.
Rainbow Folders
Just like the other programs mentioned above, Rainbow Folders is also a freeware which helps you differentiate your folders by changing their icon color. You can make all your work folders red to quickly spot them when required. In short, this software helps you colorize your folders in different colors. There is no particular set of colors, but it offers you the unlimited hues to select from.
Folder Colorizer
Folder Colorizer [UPDATE – It is no longer free] is one of the most popular software used to color the folder icons. It is a freeware but may ask for a charity donation during the installation which of course is not compulsory. You can clearly uncheck the donation button and install the program for free on your PC. It is a simple program with a user-friendly layout.
Just download it, install and launch it. To color the folder icon, all you need to do is to select that particular folder icon, right click and click on Colorize icon and select the color you want. When you click on colors, the program takes you to a Color Editor which supports your own colors and labels too. It's very easy and requires no technical knowledge. Even a novice computer user can use this program and change the colors of the folder icons.
So this is my list of free software to change Folder icon colors in Windows 10. Do let us know if you have any favorites.